The crypto market is a genuine rollercoaster: some currencies stream up, others take a nosedive, and so on. What to expect from the top cryptocurrencies this year? Let's read price predictions for BTC, ETH, XRP, LTC, and EOS — five leading crypto assets that comprise a portfolio for the vast majority of traders. Find out which of top crypto assets are great for long-term holding, and which should be used for trading and gaining instant profit this spring.
Bitcoin – Another bottom is inevitable
If we look at Bitcoin's recent performance, we see that since March 17th, 2019, Bitcoin has been moving within an ascending triangle. This is a bullish pattern which promises continued price increases for BTC. BTC will continue moving within this triangle, but let's not exclude the risk of price volatility — falls and rises are expected to happen within the pattern. Sooner or later, BTC should break out of the resistance and soar to the moon.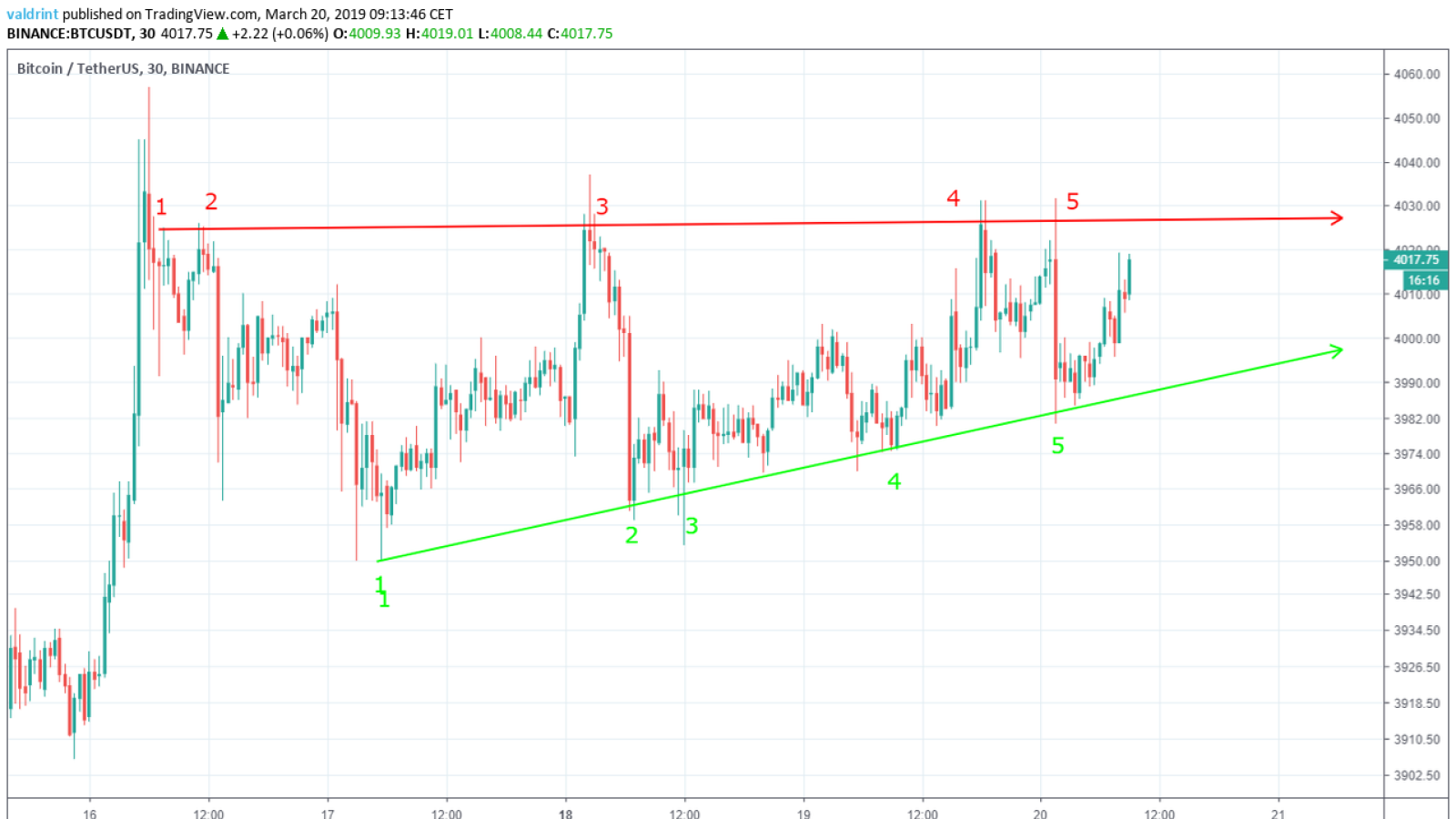 To make our BTC price prediction, we can use the RSI indicator — the financial index which calculates the size of the price fluctuations in order to determine oversold or overbought conditions in the market. During 2015 correction (January 14), the lowest RSI value recorded was 23. In the current correction, the lowest RSI recorded was also 23, which took place on November 20, 2018.
Subsequently, it gives the idea that in terms of both value development and the RSI, the present adjustment is reflecting the pattern developing besides the 2013 correction.
Based on the RSI fluctuations, we believe that the BTC cost will make another bottom around $3,000 by the beginning of September 2019.
From the December 6, 2013 high, it took 625 days for the BTC cost to bottom out on August 17, 2015. If we apply a similar pattern and timeframe to the 2017 adjustment, the BTC cost is expected to make a bottom close to $3,000 on September 4, 2019. That validates the RSI-based predictions.
To predict a possible BTC cost toward the end of 2019, we consider that there'll be 119 days between Sept 4 and Dec 31, 2019. Judging by the previous pattern and logic, we get BTC price of $7,000 by the end of 2019.
Ethereum: Hope dies last
For Ethereum's price prediction, we'll also take the RSI index. For Ethereum's 2015 price correction, the lowest RSI value recorded was 25. It lasted only several weeks before price bottomed out.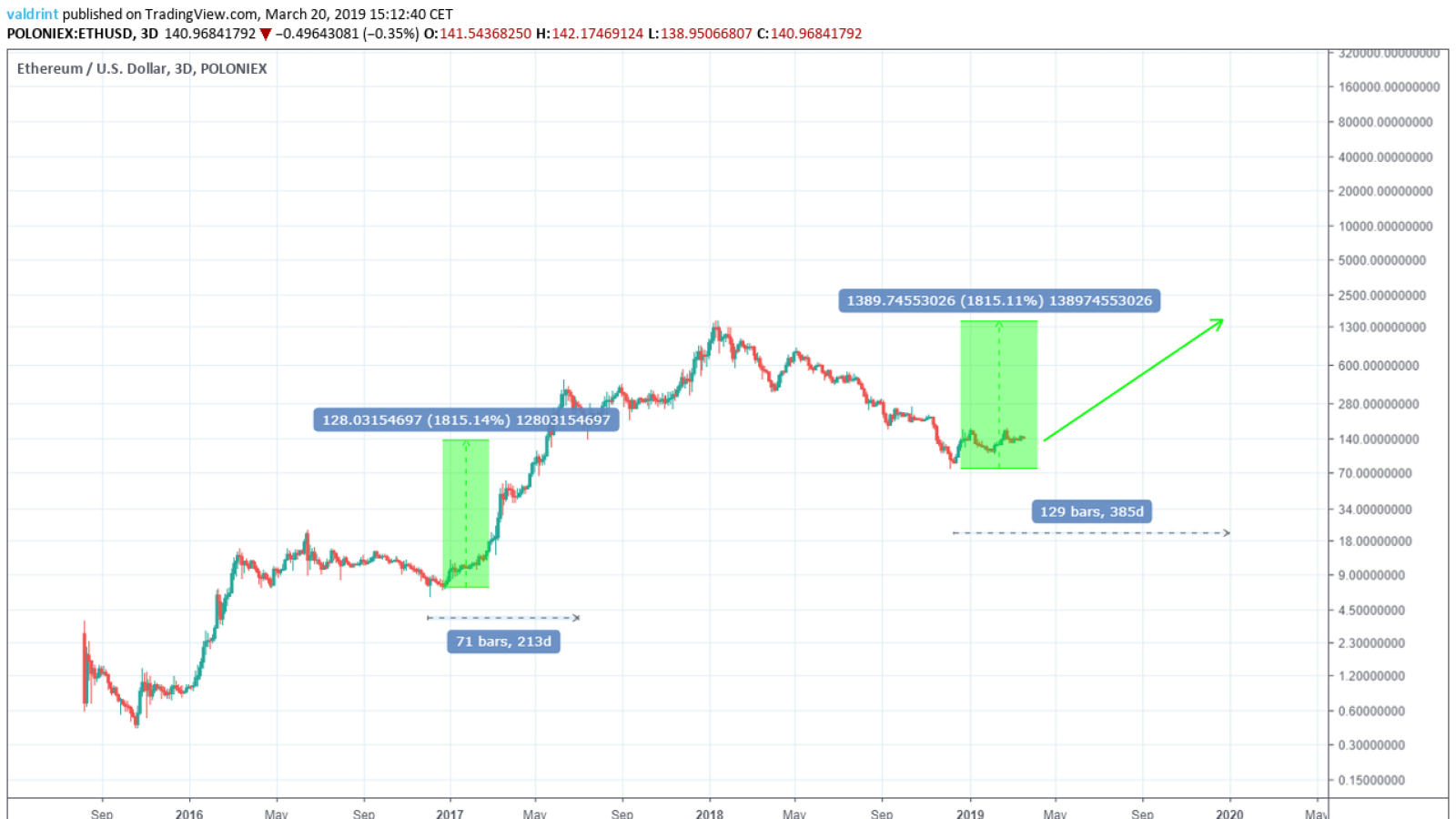 RSI of 25 was also noticed on Dec 2, 2016 — three days prior to the 2nd bottom. Likewise, a somewhat lower RSI of 22 was seen on Dec 12, 2018 — just six days after the third bottom.
This gives us a hint that RSI achieves the same low levels between 22-25 prior to or after Ethereum bottoms out after a huge long haul downtrend. After these lows were achieved, we saw costs rising after new heights were reached.
This gives us three reasons to be sure that ETH is now on an upward pattern that will lead it to higher highs in the long run:
Ethereum's cost is currently ascending after reaching the higher bottom than the previous one on March 16, 2019.

A low RSI was witnessed amid this third bottom — similar to what was seen during the other two bottoms.

Ethereum has not yet achieved a high higher than the past high.
There are a few minor differences, but they don't matter much. In this case, the low RSI happened after the bottom, not before — as it was amid to previous bottoms. This time, RSI was lower than usual.
In light of these examples, a fourth bottom isn't expected until the third ascent tops. When that happens, expect a reversal to a low higher than $74.
On Jul 3, 2017 — 213 days after the $5.70 low in December 2016 — Ethereum cost $244 (it means 1800% profit for traders). Accordingly, if we apply a 1800% increase, ETH should cost $1,400 by the end of the year.
XRP – Partnerships are to drive Ripple growth
Although Ripple seems to be stuck in the channel holding around $0.31-0.32, the crypto community believes in its potential. We have mentioned that Ripple $10 price might be hard to reach by the end of 2019 — Ripple must have a huge market cap for that.
But what about the $5 threshold? Is it possible for Ripple to overcome it?
Numerous specialists from the crypto field from various sources — for example, fxstreet, express.co.uk, investingpr — made their own Ripple value forecasts, in which they expressed that XRP can triple its value or achieve an estimation of $3-$5 before the year is over.
As for Ripple's price, forecasts are $100 or even $20 (which would mean 5300% profit for traders), which is very unlikely for any market. However, the crypto community admits that "Ripple is the Blockchain or crypto company with the highest potential in the world", so there's nothing that is impossible.
Some of the predictions say that XRP coin may come to a $3 edge, which seems to be a more realistic approach. As more investors and organizations start using Ripple to digitize the exchange of money, there is huge developing potential for this monetary system, which makes XRP a standout amongst the best cryptos to invest resources in 2019.
We're witnessing massive XRP adoption:
"Eventually, we are considering implementing a foreign exchange remittance function that utilizes "XRP" on the money tap."https://t.co/4HIhzqNLoy

— freefromthegrip (@regretandreward) March 21, 2019
With so many positive changes, Ripple promises to triple its price during 2019 or reach even higher highs.
While claiming that Ripple will reach $1.2 is too conservative, $2-3 seems to be a more or less viable prediction. 225-400% profit for current investors is the average rate we expect.
Litecoin – There's nothing impossible
Litecoin is one of the 'unforeseen' coins we have. It made some advances during 6 years of its existence, but it's not enough. Litecoin's growth cannot be compared with the development of different coins like BTC and BCC, nonetheless, as an altcoin, it carries out its role of Bitcoin's alternative.
Litecoin has all chances to reach $80-100 by the end of 2019, which would mean 100% profit — it's a very realistic prediction. It's not impossible to reach the price of $200, either.
EOS – Potential finally realized?
So far, EOS is one of the most underestimated cryptocurrencies around. Even in the most pessimistic case, EOS must be $20 in 2019, however, it can possibly be a lot higher. So, what might happen this year?
The market can increase fourfold ($150B - > $750B).

As more STOs and ICOs are entering the market, both Bitcoin and Ethereum will decrease market caps by 15%.

BTC and ETH might lose some fraction of their price giving way to altcoins.

EOS might reach top-3 cryptocurrencies by market cap and be about $70 per one EOS coin.
Yet, $70 per coin by 2019 may appear to be insane and doubtful. Several things should happen for EOS to reach such a height.
First, new cash needs to enter the market, particularly from China and financial institutions. So as to draw in new cash, Chinese and US governments should introduce official regulations for crypto. EOS needs to develop a larger community than Ethereum and different contenders that hold control over a larger part of the market.
2018 was a tough year for cryptocurrencies, but in 2019, the crypto market stabilizes. In fact, we shouldn't expect mind-boggling profits like 4000% or higher. However, moderate income will come to traders who can wait.
This spring, the above-mentioned top-5 cryptocurrencies are expected to break resistance and reach new highs (it particularly concerns Ethereum and Ripple). Keep an eye out for patterns and technical indicators to be able to predict minor price fluctuations. If you're a long-term holder, it's the right time to invest in XRP, ETH, and LTC.
Disclaimer: The opinion expressed here is not investment advice — it is provided for informational purposes only. It does not necessarily reflect the opinion of U.Today. Every investment and all trading involves risk, so you should always perform your own research prior to making decisions. We do not recommend investing money you cannot afford to lose.