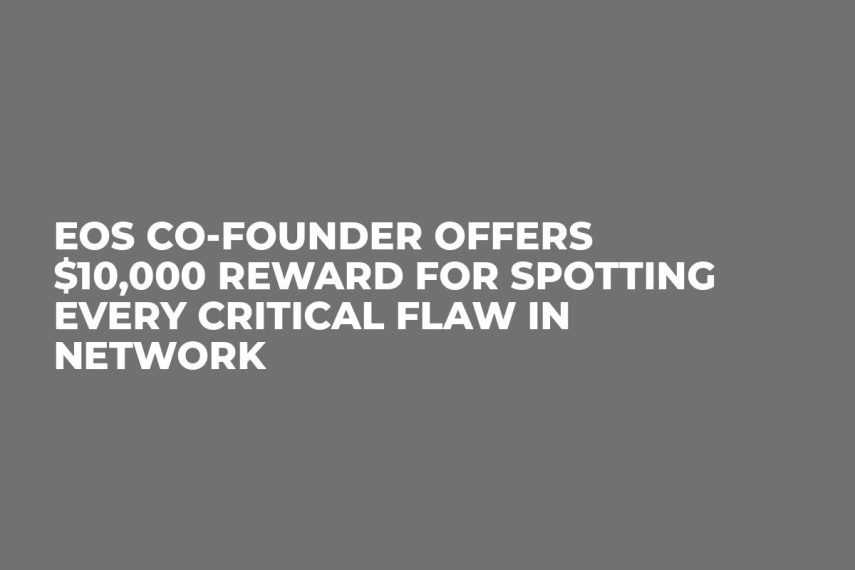 Cover image via U.Today
Daniel Larimer, chief technical officer of the popular crypto platform, promised $10,000 to attentive users who spot any incorrect performance of smart contracts on EOS or for finding vulnerabilities that may get the software to misperform.
Larimer is known as the creator of the digital currency platform BitShares and as the co-founder of Blockchain social platform Steemit.
Crypto community's reaction
Responding to this offer, the founder of Litecoin (LTC) platform Charlie Lee ironically expressed his doubt regarding the ability of EOS to perform properly, especially due to the fact that its team had failed to see the deadly vulnerabilities in the mainnet code. The ones that the Chinese company Qihoo 360 found yesterday.
According to the report, those bugs could let attackers execute arbitrary code on any EOS node, and this might give them a chance to take over all the nodes of the platform.
Bugs detected on time
The Chinese cybersecurity giant contacted the EOS team immediately, and the latter got down to fixing the problems saying that the mainnet will not be launched until the network is debugged. Fortunately, the bug was eliminated within a few hours.
Daniel Larimer has reminded users that the mainnet will be launched June 2 and that they still have the time to register their wallets to avoid getting their EOS balances frozen.