The price of Dogecoin surged by an impressive 30% following Elon Musk's decision to change Twitter's logo to feature the popular meme cryptocurrency. This unexpected move by the Tesla CEO triggered a massive inflow of investments, resulting in one of the most significant price increases for Dogecoin in recent months. However, history suggests that such rallies tend to be short-lived and fade quickly, as they do not contribute any real fundamental value to the asset.
Dogecoin, initially created as a meme, has often been the subject of Musk's tweets and has gained a considerable following among retail investors. While the recent price spike can be attributed to the CEO's influence, it is essential to remember that Dogecoin has not demonstrated any substantial use cases or technological advancements that would justify a sustained upward trajectory.
Past rumors of implementing smart contracts on the Dogecoin network have generated some excitement within the community. However, these rumors have yet to materialize into concrete developments. As a result, DOGE remains primarily a meme asset without any real-world applications that could support its long-term growth.
Historical analysis of Dogecoin's price performance reveals that its value is largely driven by social media attention and celebrity endorsements. These factors can cause temporary price spikes, but they do not provide a solid foundation for the cryptocurrency's long-term success. As such, it is crucial for investors to approach these short-lived rallies with caution.
Shiba delivers surprise
Shiba Inu (SHIB) has made an unexpected turn, bouncing back to the price level we previously discussed after its unnaturally poor performance following the triangle breakout. This recovery brings relief to investors, as it may signal that the meme coin still has the potential to return to an uptrend and exhibit a more favorable price performance.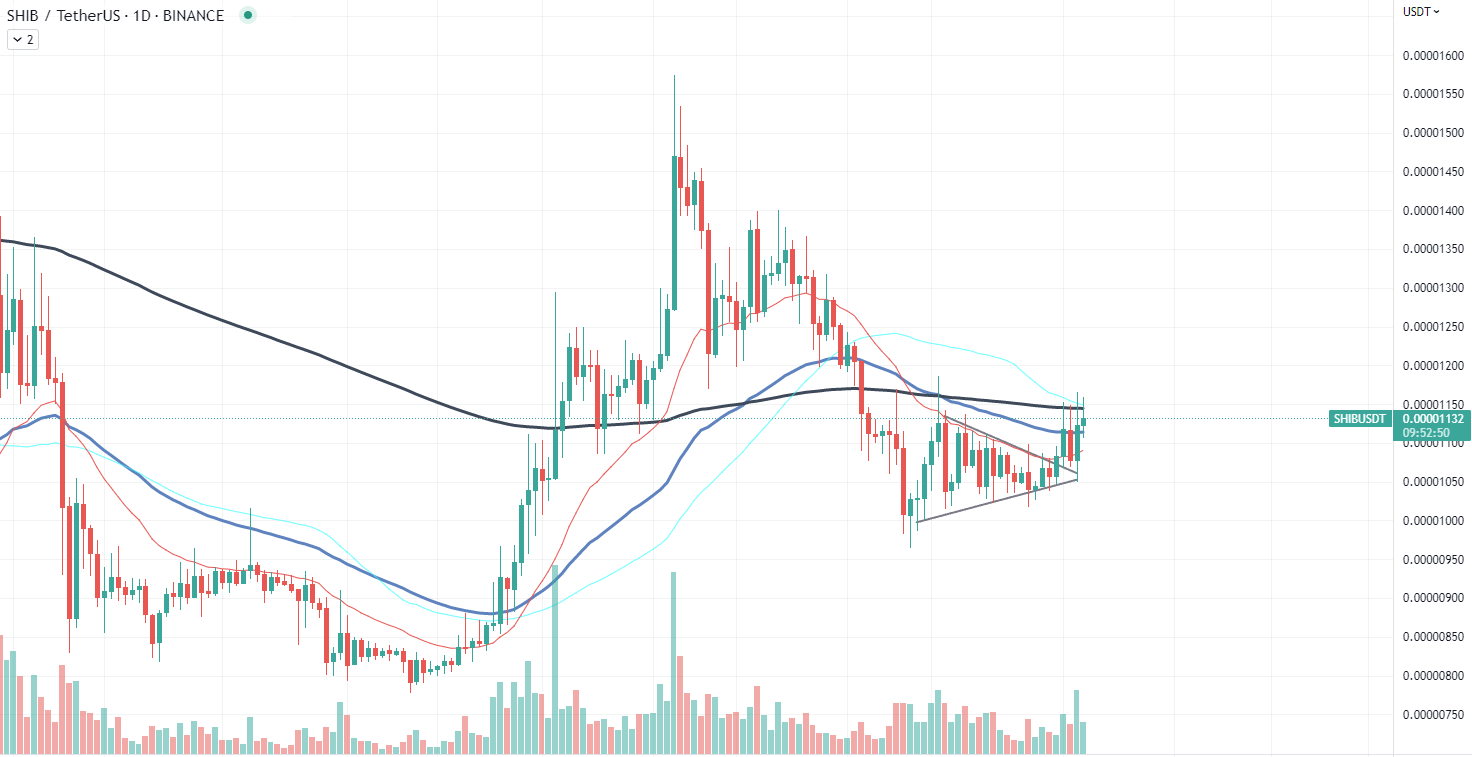 The recent reversal in SHIB's price trajectory could be indicative of renewed interest and a possible return to its previous bullish trend. This development offers a glimmer of hope to investors who have been eagerly waiting for the token to regain its footing on the market. It is essential to monitor the price action and trading volume closely to determine if this unexpected turn is merely a temporary retracement or a genuine trend reversal.
Cardano reaches turning point
Cardano (ADA) appears to be on the verge of a significant breakout as the cryptocurrency's price approaches the crucial 200-day moving average (EMA). This milestone could trigger a trend reversal and acceleration, potentially leading to the long-awaited prolonged uptrend that many investors have been anticipating.
At the current price of $0.39, Cardano is trading below the 200-day EMA but above the 50-day EMA, signaling a potential turning point in its price trajectory. Over the past few weeks, ADA has experienced a 25% price increase within an ascending narrow price channel. Despite the positive price action, trading volume has been on a downward trend, which could indicate an impending breakout as traders reenter the market.
A successful breach of the 200-day EMA would confirm the bullish trend reversal for Cardano, setting the stage for further price gains. If ADA manages to maintain its momentum and establish support above the 200-day EMA, the next resistance level to watch would be $0.41. A strong breakout and consolidation at this level would further bolster investor confidence and potentially attract more market participants.