Main facts about DigiFinex Exchange
DigiFinex (Digital Asset Financial Exchange) is a popular Chinese cryptocurrency exchange that is currently headquartered in Singapore. The company DIGIFINEX LIMITED is registered in Seychelles along with some other big-name digital asset trading platforms in the likes of BitMEX. The exchange is specifically designed for the Asian market, but the website also supports the English language.
The Singapore-based cryptocurrency startup currently occupies a position on CMC by trading volume. Users are able to exchange the Chinese Yuan (CNY) into USD Tether (USDT).
However, this is definitely not an option for traders from the US and Singapore since their accounts are not accepted there (actually, the residents of these aforementioned countries are not even able to create an account).
Back in April, DigiFinex released its own ERC20 token dubbed DFT. As of now, the DFT token is yet to touch the top 1,700 on CoinMarketCap. At the time of writing this article, the token's price is sitting at $0.16 after hovering above $1 in August.
Despite being among the biggest names in the business, DigiFinex remains a hardly known trademark, which is perfectly reflected by its media presenc: their official Twitter page barely exceeds 1k followers. Their Telegram channel seems rather popular with 16,756 members. However, it is exclusively designed for Chinese users, with all messages also being in Chinese.
DigiFinex's founder Ned Kee has recently shared the insights into how the young startup took the market by storm and managed to shoot up from zero straight to CoinMarketCap's top 20 list.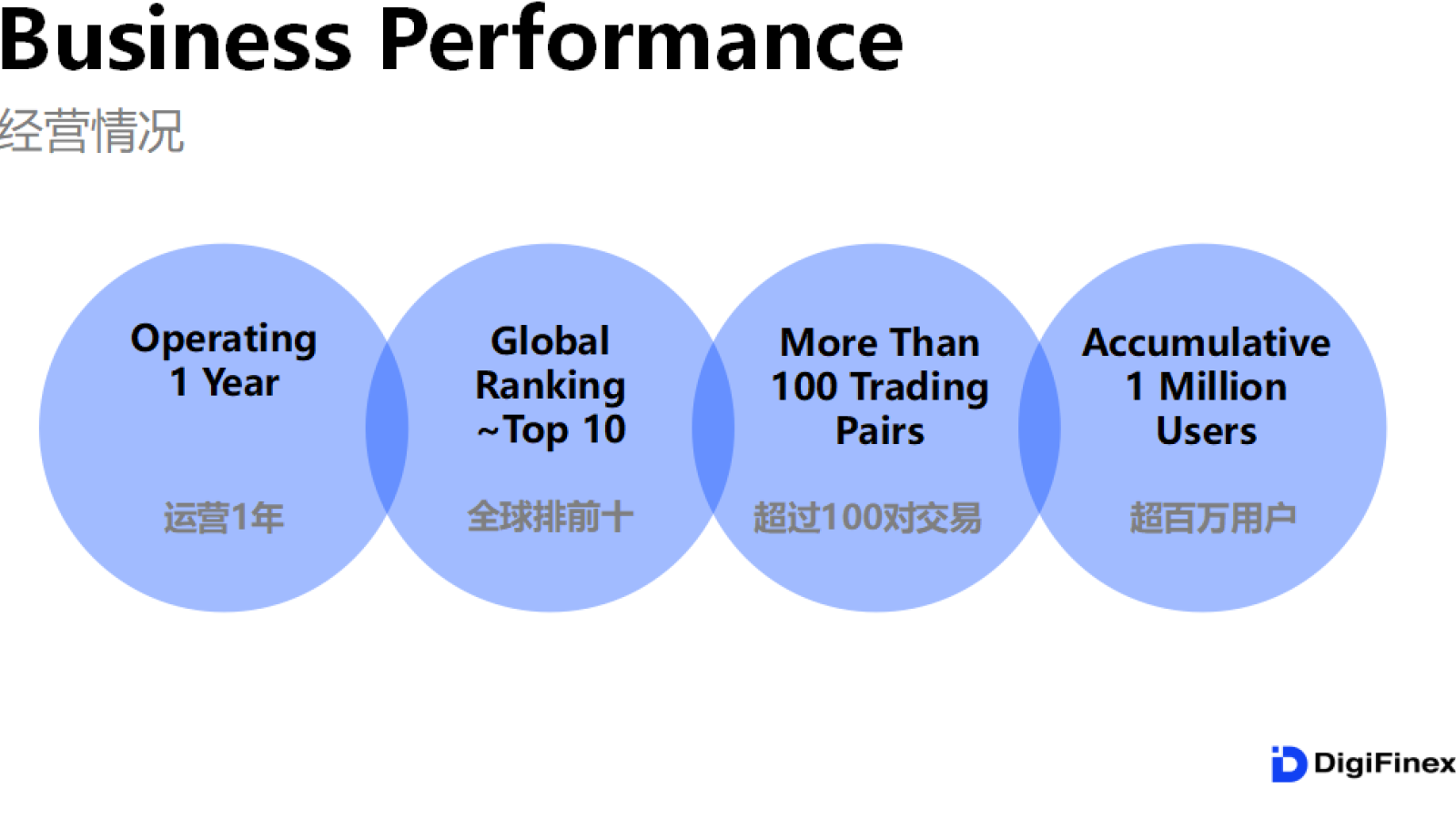 (Source: Steemit)
Kee acknowledges the fact that very few people know about DigiFinex's existence despite its massive trading volumes. The reason behind such low popularity, as he explains, stems from the fact that their business strategy doesn't include pouring money into marketing. Kee claims that the lion's share of their budget is spent on security since they prioritize the safety of its customers.
DigiFinex vows to protect investors by annually conducting an audit (one of very few exchanges that are fully compliant with the SOA auditing standard) and performing identity verification, thus complying with KYC regulations as well. On top of that, the company pledges to cooperate with authorities to determine any instances of suspicious activity.
In the hindsight, one of the main reasons behind the low popularity of this company it its focus on China. Despite the brutal crackdown on ICOs and crypto-oriented startups by the Chinese authorities, DigiFinex still primarily targets the domestic market, failing to increase its appeal to foreign traders. As U.Today reported earlier, the government's ban did very little to stop Chinese residents from trading cryptocurrency, but the country still poses a huge threat to Bitcoin.
All assets the exchange features
There is a myriad of coins available on this platform — from flagship cryptocurrencies (Bitcoin, Ethereum, Litecoin) to the most popular stablecoins and lesser known tokens. Still, it is worth mentioning that the company has a rather strict listing policy.
According to the website, different projects can list their tokens on DigiFinex by means of voting and cooperating. One can apply for a token listing at the bottom of the main page.
DigiFinex has a point-based listing policy. All potential tokens have to undergo a verification procedure. If the trading volume of a token drops below the 200,000 CNY per day (for 5 days), the token will be delisted. The same goes for those assets whose price drops below 90 percent compared to their initial valuation.
Back in September, the Singaporean startup made a substantial amount of buzz in crypto news outlets by delivering a major blow to Tether (USDT), a flagship stablecoin, by replacing it with TrustToken's TrueUSD (TUSD) due to numerous "trust issues".
According to DigiFinex's co-founder Kiana Shek, they've been plotting Tether's delisting for months. The biggest stablecoin has been under fire for alleged manipulation. After a prolonged bleeding, USDT also recently lost its peg.
Main advantages of strategic mining
On Apr. 16, DigiFinex started trade mining, issuing a whopping number of DFT tokens. Aug. 21 was supposed to be the last day of the DFT mining.
In August, DFT mining — which is considered to be the bread and butter of the company — was terminated. Since trade mining is becoming more and more popular, this was clearly an unexpected move. Due to trade mining, the exchange has managed to skyrocket from 50th to 11th place in practically no time, and its trading volumes have recorded almost a ten-fold increase. Zhu Wenjuan, vice president of DigiFinex, told NetEase technology that issuing more coins will result in reducing their value. They fear that the pace of the issuance may surpass the growth of the platform itself. Even if they did manage to maintain the price of the token, it wouldn't stand a chance to survive in the long run.
The reason behind this termination was supposedly a legal advice in order to get regulatory clarity in Singapore. They decided to terminate DFT mining for daily rewards, but they are still going to keep it for extra rewards.
Remarkably, an armada of Chinese exchanges generally deals with a similar issue, including Bit-Z and Xstar. The trend itself was started by the infamous FCoin. Since then, more than 1/3 of all exchanges have been reportedly involved in trade mining.
Bonuses to first users
There are numerous reward programs in place. Right now, it is hosting the Magicstonelink (MCS) airdrop, which is devoted to the launch of the new token listing (it will last until Nov. 14). Furthermore, it is currently offering ETH rewards to all new users.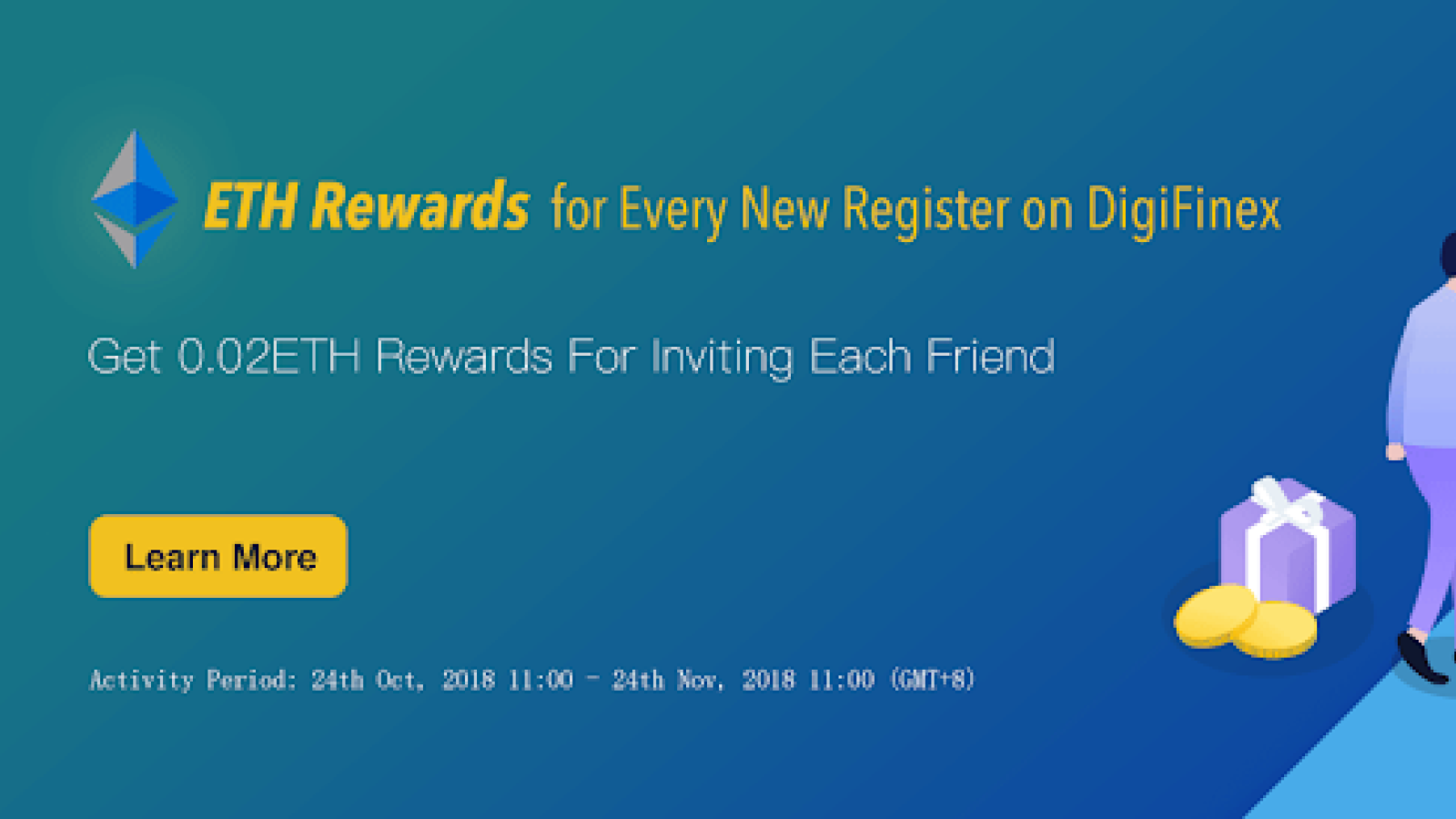 On Oct. 22, the exchange launched the "Spin to Win" gam: every user could win up to 1 BTC after purchasing 1,000 USDT worth of altcoins. The customers were also allowed to buy the opportunity to have one more spin with 1 DTF. During the FIFA World Cup, the company also offered its users rewards in its native coin.
Check out the "Announcements" section on the exchange's website in order not to miss the latest bonuses to first users.
Exchange Trading Volumes
The exchange appeared on the market back in 2018, but it has already managed to crack into the top 20 exchanges on CoinMarketCap in such a short span of time. As of now, it is sitting at 17th place with daily trading volume surpassing $429 mln.
Yes, the numbers are here and seem impressive. Did DigiFinex exchange really manage to pull a Binance and become a crypto behemoth in practically no time? Well, not exactly.
These huge trading volumes are only on the surface (that problem that is typical for many Chinese exchanges). Just last week, the Blockchain Transparency Institute (BTI) published a report that vividly shows how numerous cryptocurrency exchanges are boosting their relevance with the help of fake trading volumes. With the help of wash trading, they strive to lure in traders from other exchanges with more humble (but real) numbers.
DigiFinex also appeared on BTI's list of shame with a whopping 99.63 percent of its volume being fake (one of the highest numbers among all other entries that were "lucky" to appear on the list. Still, DOBI Trade, another Chinese exchange, gives DigiFinex a run for its money with 99.89 percent in fake trading volumes.
While it is undoubtedly remarkable that the exchange's volumes keep increasing, the shady practices behind this exchange cast doubts on the reputation of this fledgling Chinese startups.
Earlier, U. Today also reported that a lot of young exchanges are trying to cheat their way to the top of the CMC list. What is even more remarkable, Binance was also accused of wash trading.
How to use: Setting up a trade account
Creating an account
The registration procedure is typical for all exchanges, but here you also first have to read the risk warning that pertains to the volatile nature of the cryptocurrency market. The Chinese exchange that is currently based in Singapore also emphasizes the regulatory uncertainty that surrounds cryptocurrencies, claiming that DigiFinex could be closed at any time due to the enactment of the national law. Hence, in order to proceed with registration, you have to acknowledge the above-mentioned warning and confirm that you are neither an American nor Singaporean citizen.
Once you've done that, you can see a typical registration form that requires you to fill out all personal data. As mentioned above, the exchange does support the English language, which essentially means that you don't have to use Google Translate to cope with Chinese hieroglyphs. There are two options: you can register either with your e-mail or phone number. The first option is the only one for all non-Chinese users since DigiFinex only supports China's country calling code (+86).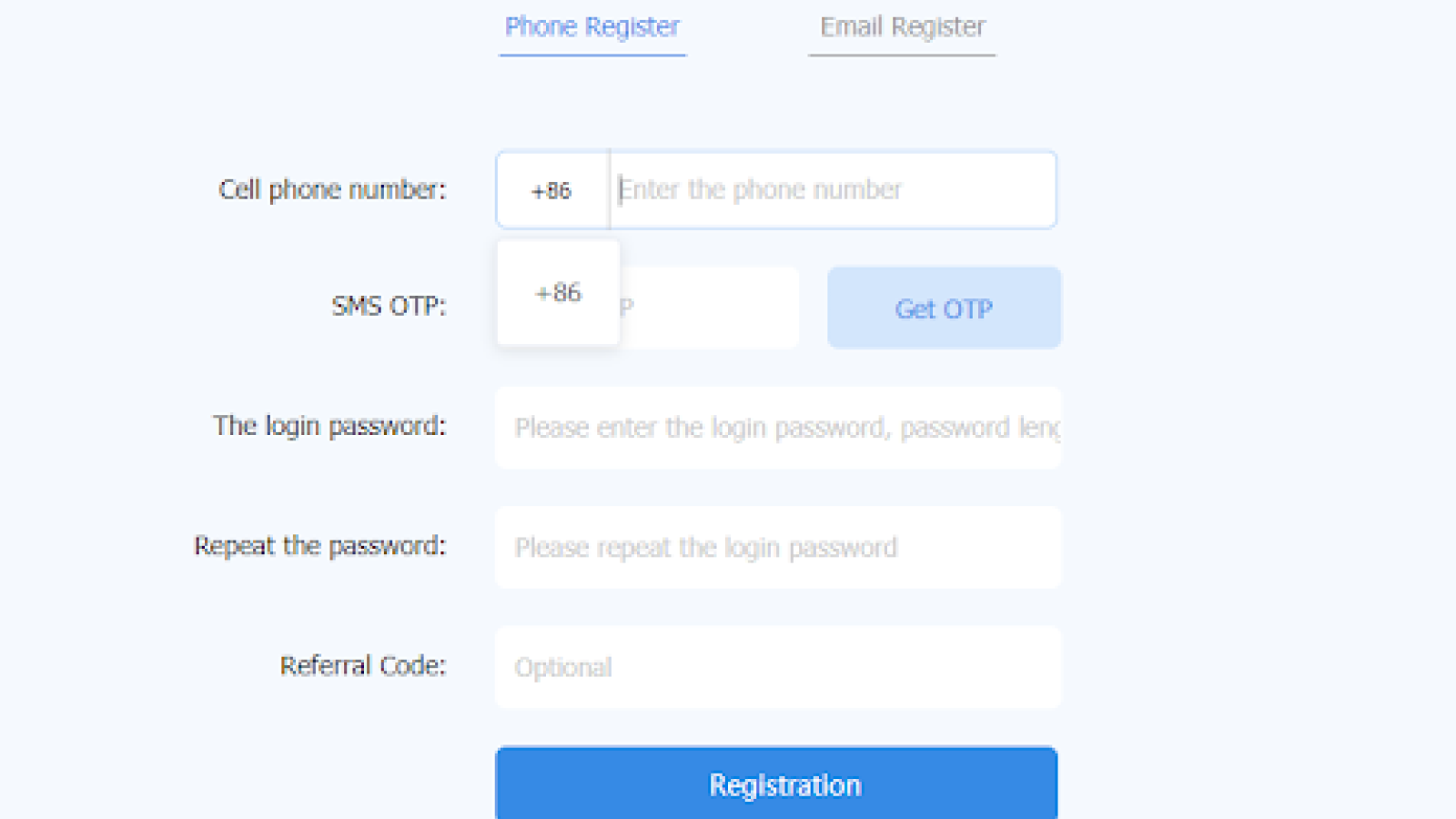 Once you've provided all the necessary information, click the "Get OTP" button in order to receive a verification code to your email (you only have 60 seconds to enter the code).
Congratulations! Now you can freely use DigiFinex, but pay attention to the fact that your daily withdrawal limit is strictly restricted to 1 BTC per day. To increase this number up to 50 BTC, users are required to go thought a verification process.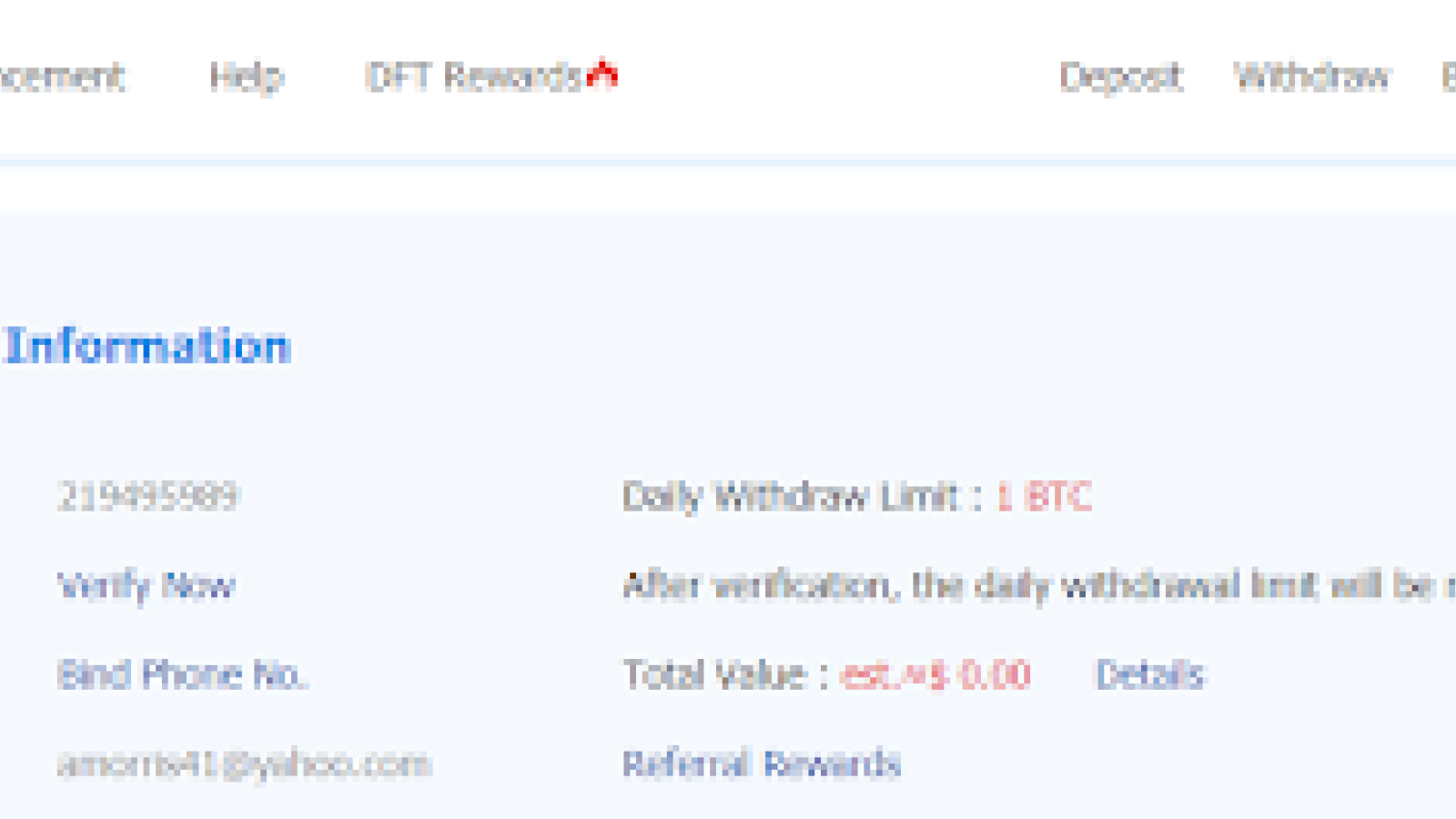 This procedure is conducted with the help of the DigiFinex mobile app that is only available for iOS (no other options). It presupposes a standard practice of taking a photo where you hold your ID next to a note that says the name of the exchange.
The identity verification of specific users requires providing the full name, the above mentioned photo of ID, as well as well as proof of residence (bank statements, utility bills, etc).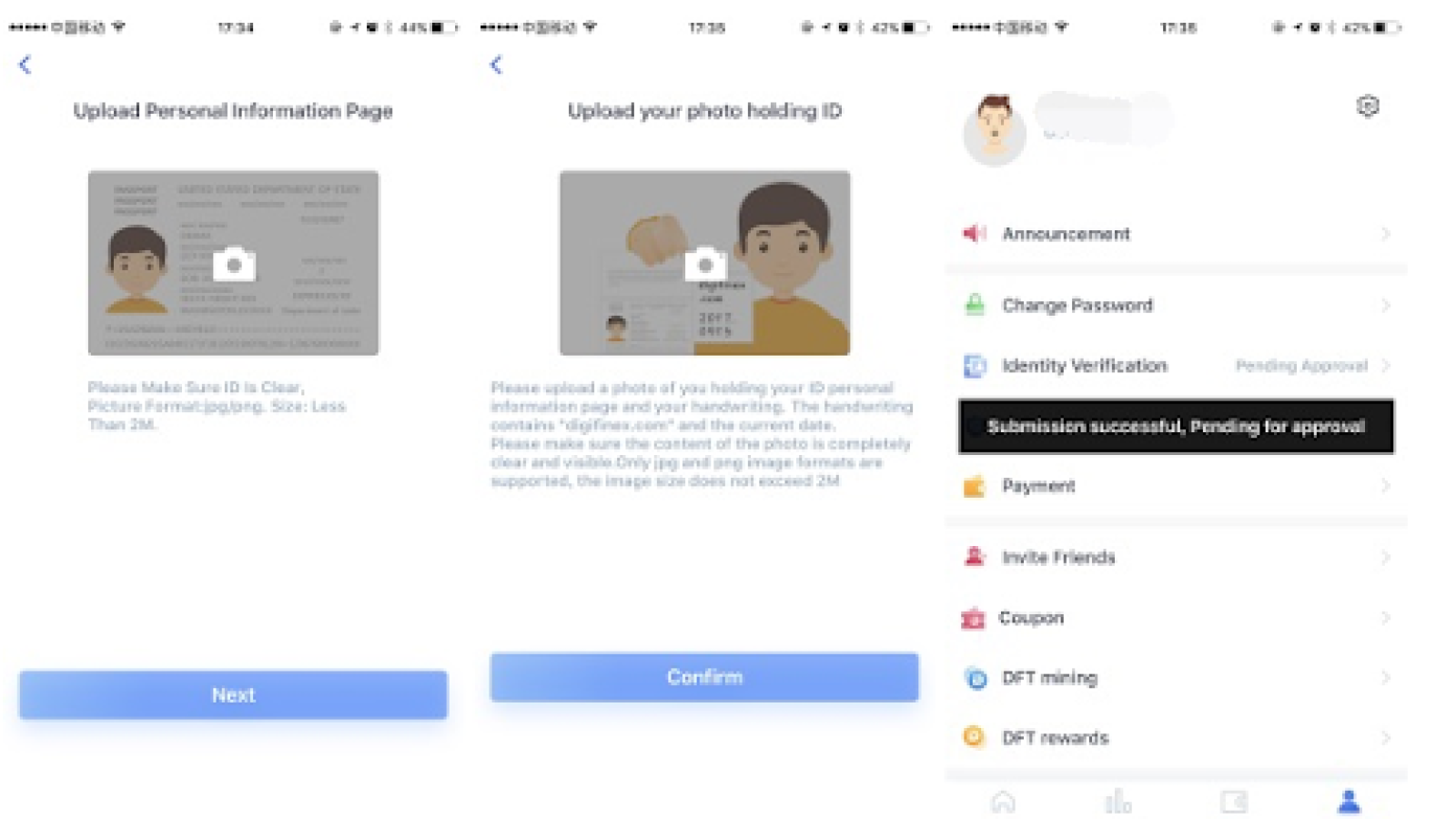 Trading Coins
DigiFinex allows trading both on the website and directly with the help of the iOS-based mobile app. Obviously, before starting trading, you have to make sure that there is enough funds in your account.
To jump right into trading, choose the "Exchange" section. It features a TradingView-powered candlestick chart that gives traders the ability to monitor any given trading pair with the help of a set of tools for technical analysis.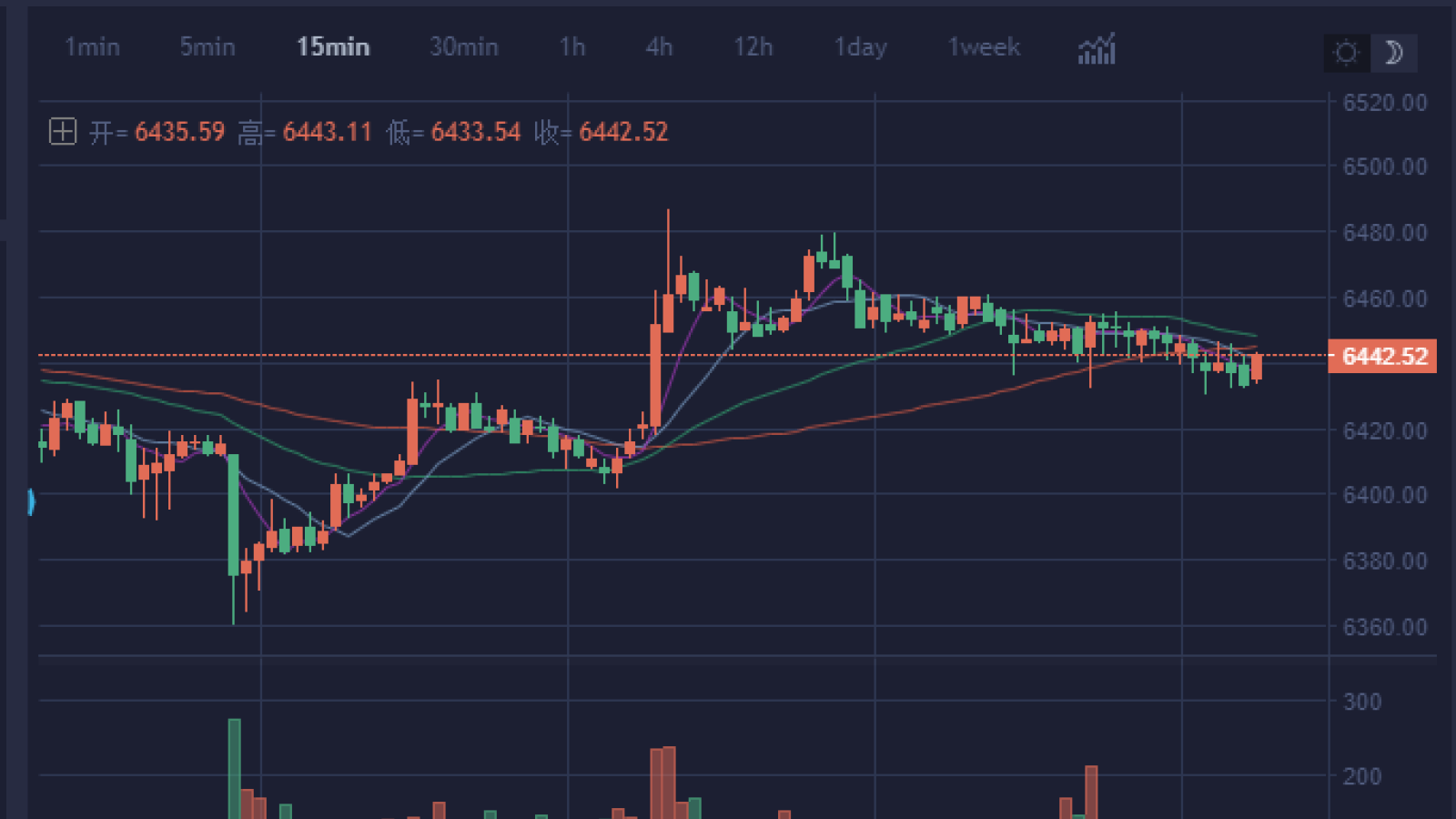 The list of all available trading pairs is situated on the right (the table displays the current price of a given asset along with the most recent change). On the left, there is an order book with all pending buy and sell orders.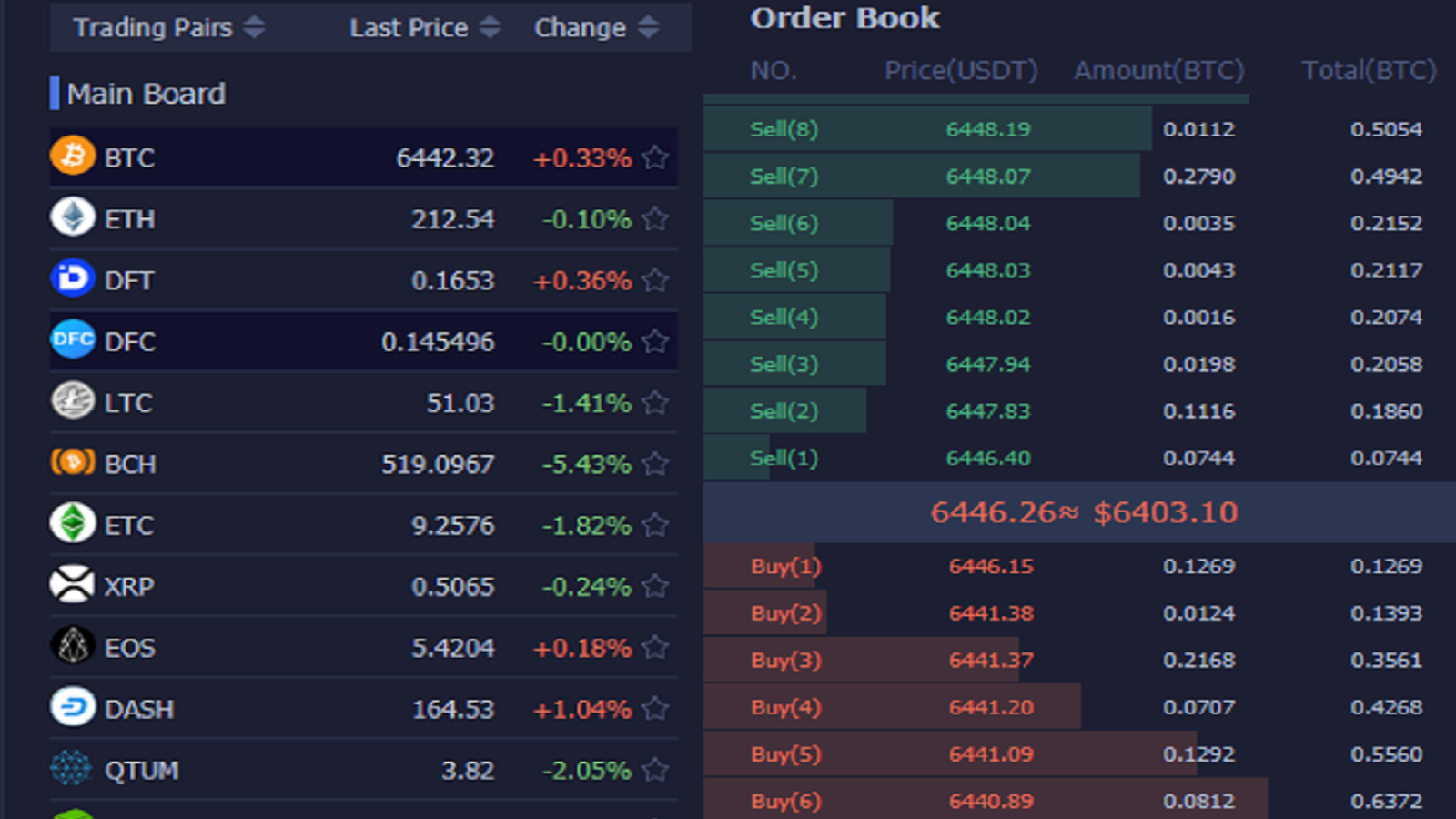 Purchasing Cryptocurrency
In order to purchase any asset, go right below the aforementioned candlestick chart where you can see the "Buy & Sell" section. DigiFinex only supports two types of orders: a limit order and a market order. The latter is suitable for traders who would like to purchase a certain amount of cryptocurrencies at market price. Meanwhile, the limit order will allow buying cryptocurrency at any price (it may take days or even weeks before an asset reaches this exact price depending on how far-fetched it is).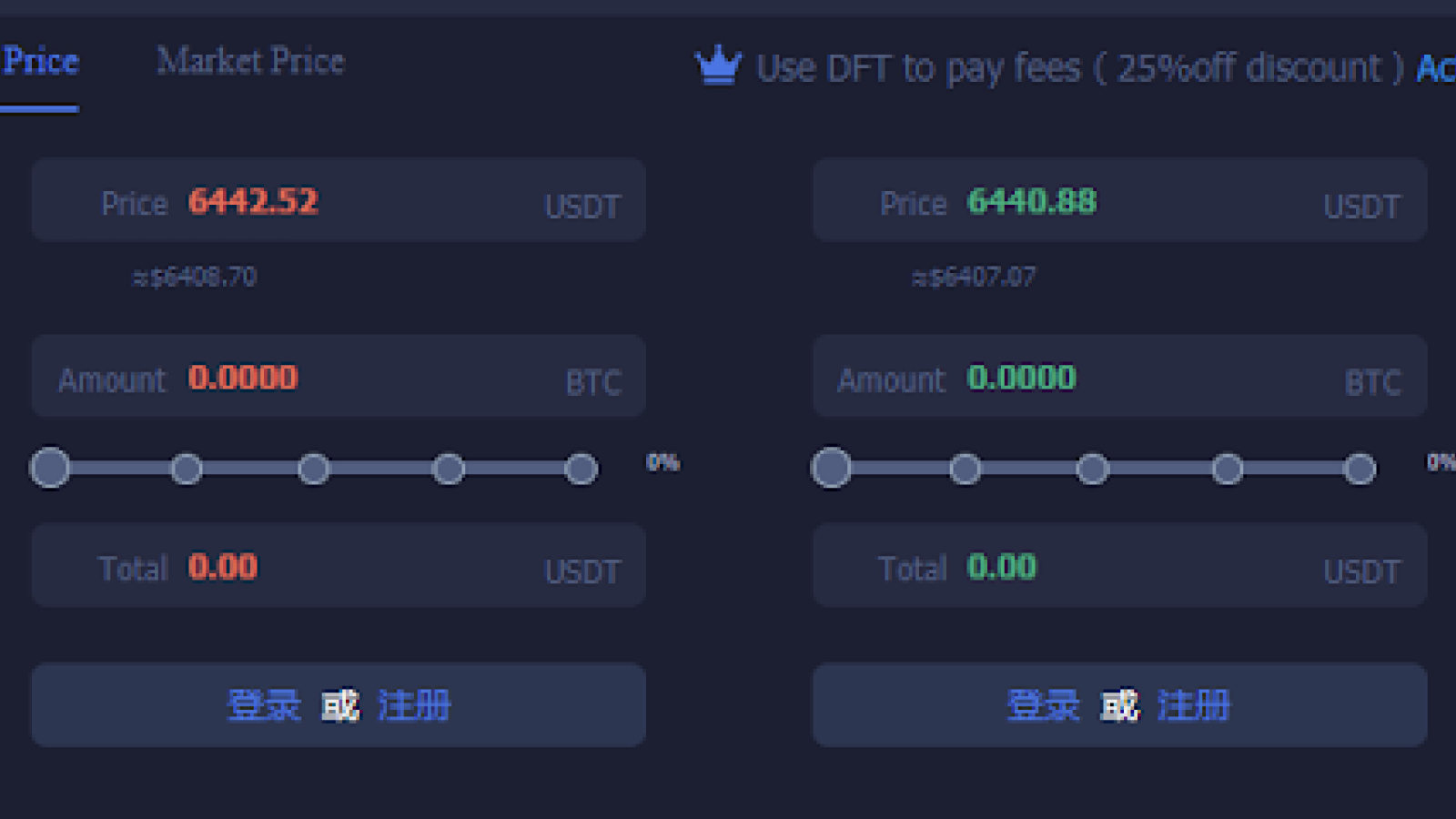 That definitely may sound disappointing for skilled traders who prefer using stop-loss orders to hedge against a sudden bearish downtrend. With stop-loss orders, you are not obliged to monitor a certain asset for an extensive period of time.
Once you've pressed the "Buy" or "Sell" button, check out the order book where you will be able to immediately see you uncompleted order (market orders usually get closed in a snap).
Trading Pairs
According to CoinGecko, DigiFinex Exchange features 98 cryptocurrencies that form a total number of 149 trading pairs. USDT is responsible for the majority of the market's volume. Tether (USDT) accounts for a tad more than 74 percent of the DigiFinex's total trading volume. Meanwhile, BTC comes in second place with only 22.3 percent.
Speaking of specific trading pairs, BTC/USDT is holding the lead with a 25 percent share of the total volume. BCH/USDT and EOS/BTC are in second and third places with 19 percent and 10 percent respectively.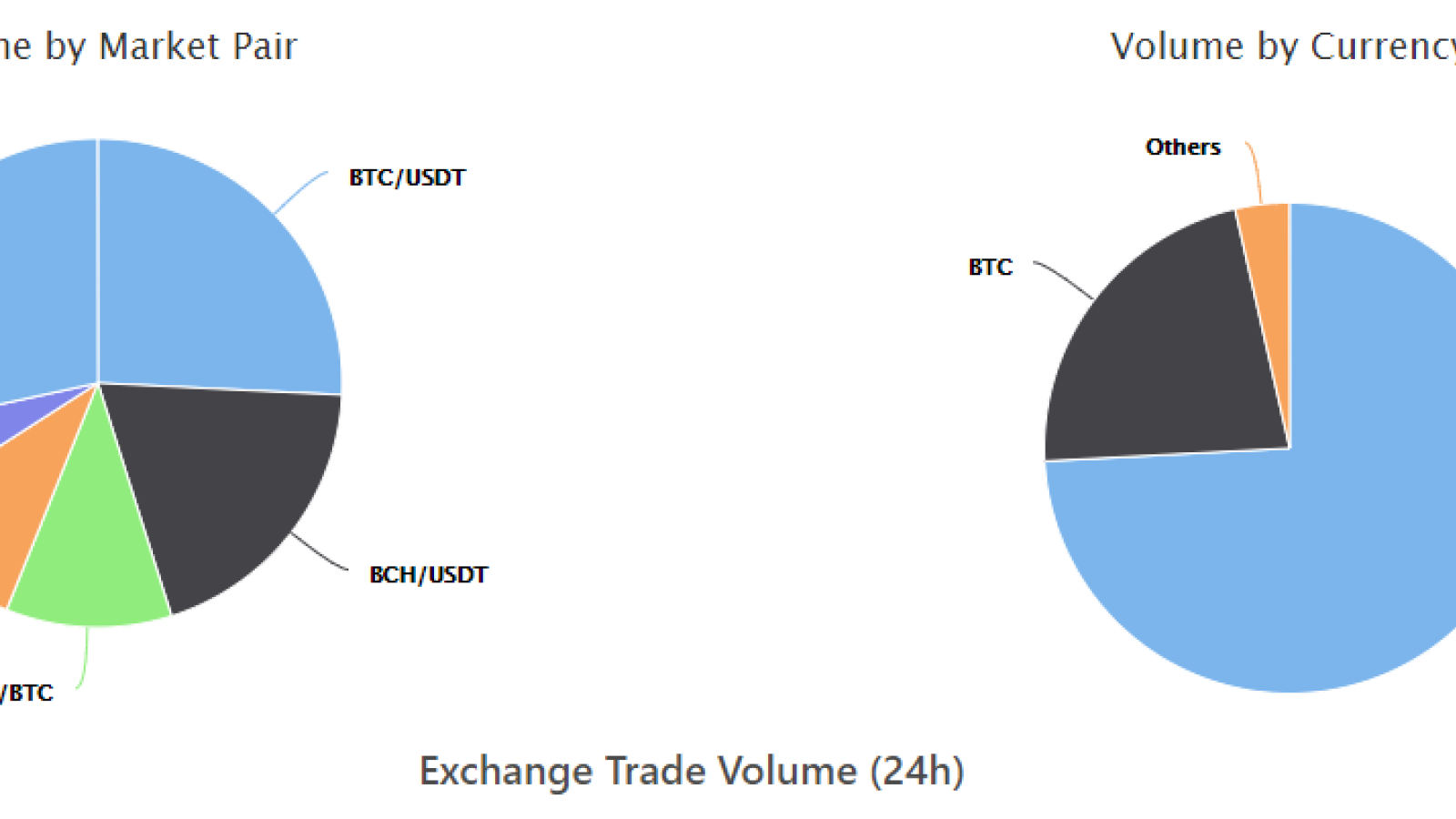 Evidently, Tether still remains the dominant cryptocurrency on the exchange despite its plan to phase out Tether, gradually replacing it with fully-collateralized TrueUSD (TUSD).
Trading Fees
On Nov. 5, DigiFinex introduced its new tiered trading fee model that is rather similar to that of Binance. The amount of the reward for both makers and takers depends on the total trading volume over the last 30 days coupled with the DFT holdings.
The major difference between makers and takes consists in the type of order (market or limit). Makers place a limit order that is not filled instantaneously (they literally "make" the order). At the same time, takers place a market order that gets closed almost immediately (subsequently, they "take" the funds).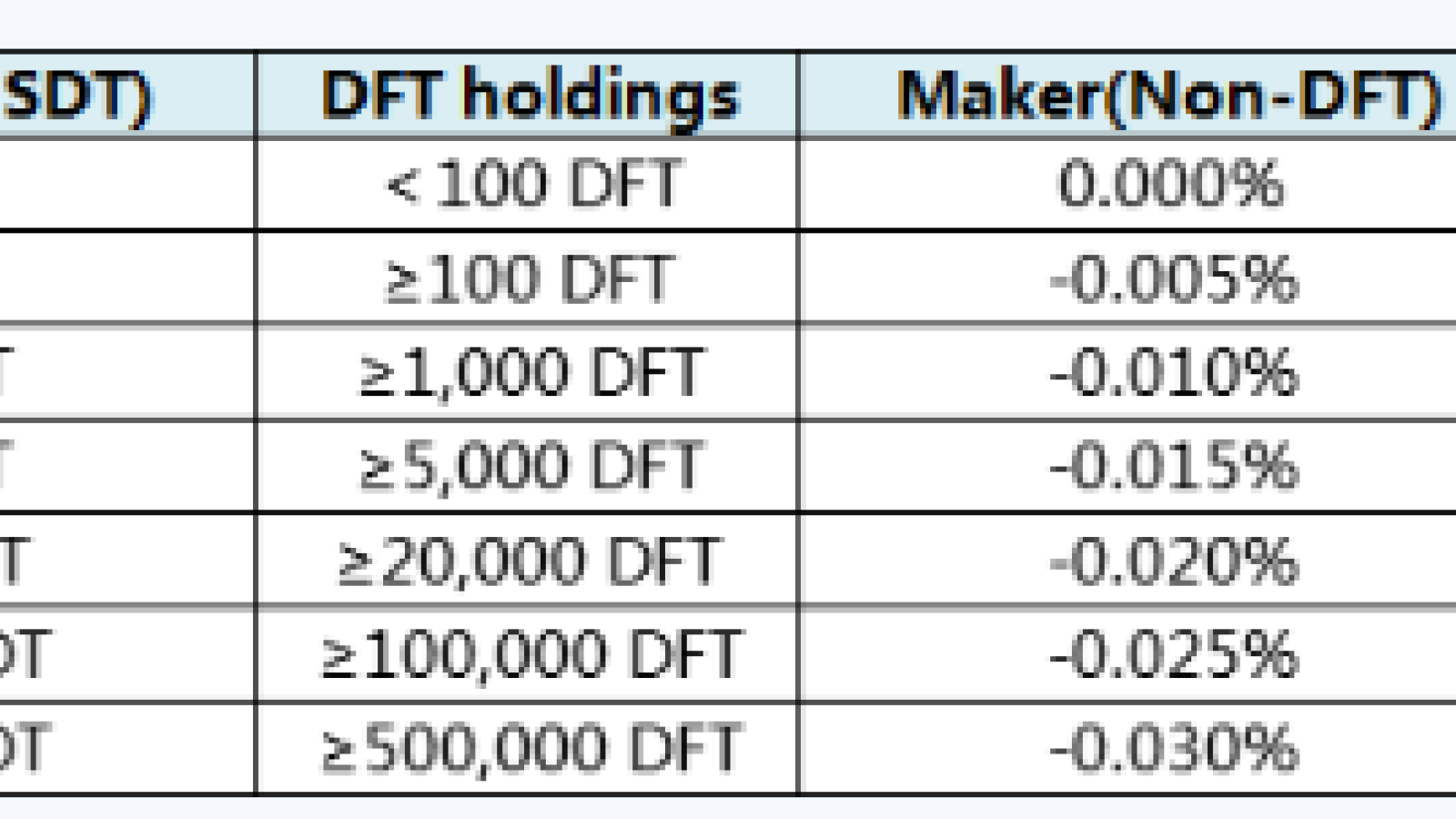 The transaction fee, which sits at 0.2 percent, is the same for both makers and takers. Speaking of fees, we can make a conclusion that they are rather competitive (the average industry fee is sitting closer to 0.25 percent).
As is the case with Binance, there is a 25 percent discount on all fees paid in the DFT token (originally, it was set at 50 percent).
Transaction Limits & Liquidity
According to the Terms for Merchants, there is a direct correlation between transaction limits and your verification level (or simply tier). In case the user exceeds the limit, the exchange will keep over-the-limit funds that won't be withdrawn unless during the same timeframe unless the additional documentation is provided.
Security
Do not forget to enable two-factor authentication (2FA)! That will effectively prevent hackers from stealing your funds. There are two options: Google Authenticator or Alibaba Authenticator (the former is more suitable for foreign traders). The exchange also asks you to save a special key that will come in handy if you delete your account by mistake.
One of the salient advantages of the site is that it has never been subjected to a single security breach, which speaks volumes about the security (although, Degifinex doesn't provide any insights into its safety features).
Adding Payment Methods
The "Payment Methods" section will help you choose among all available payment methods. Unfortunately, adding payment methods is impossible without undergoing an identity verification by downloading the aforementioned iOS app.
Is it possible to trade without completing verification? Yes, but your credit will be strictly limited to 1 BTC.


Depositing/Sending Cryptocurrency
As of now, all deposits and withdrawals are conducted automatically on the exchange. In order to deposit money, simply click the "Deposit" tab in the top right section of the page. You will see the list of all cryptocurrencies that are available for conducting a deposit, including the native token DFC. Choose any coin in order to generate a corresponding wallet address. The minimum deposit amount is set at 0.001 BTC.
Just like on any other cryptocurrency exchange, the withdrawals are conducted in a similar manner (remember that you are to confirm your identity to break the chains of the 1 BTC limitation).

NB: Depositing cryptocurrency doesn't incur any fees.
When it comes to withdrawals, there a flat fee that depends on a particular coin you want to withdraw. Here's a table that displays the amount of fees for some of the most popular currencies on the exchange. For instance, withdrawing BTC will only result in 0.0003 BTC, giving competitors a run for their money. The fees charged for withdrawing other popular currencies are displayed below: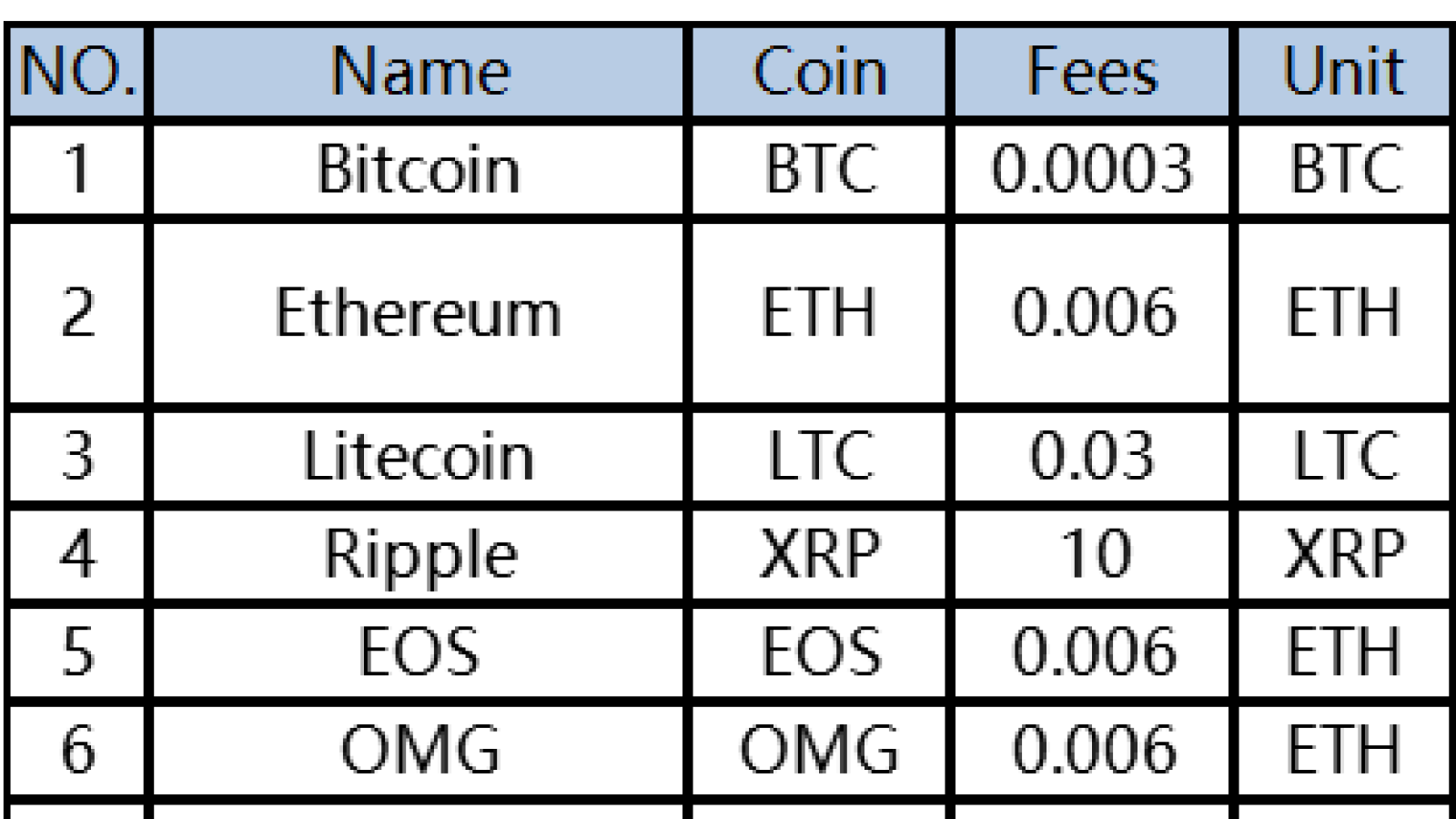 Those who consider themselves the "phone type" of users can also try depositing and withdrawing fees from their mobile app (again, the app is only available for iOS users). The withdrawal procedure takes no more than 10 minutes.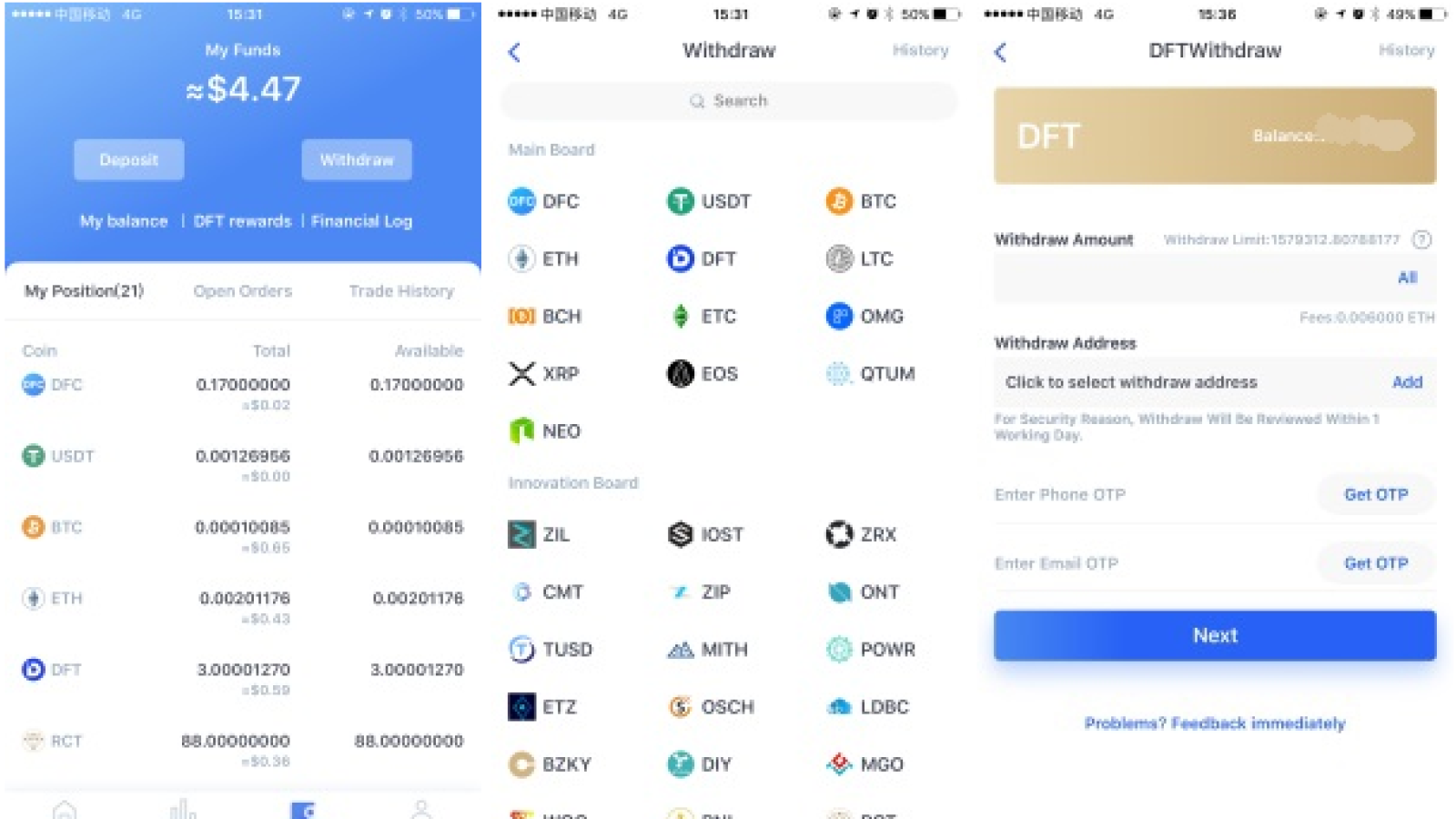 Kee (the aforementioned CEO of DigiFinex) confesses that sometimes there is a need for withdrawal verification of all transactions that occasionally can be conducted personally by him. Yes, the company does has its own customer support staff (at least it seems so), but the DigiFinex founder may voluntarily do the job himself in order to stay closer to the community.
Customer Support
There is the DigiFinex help center that contains answers to all most popular questions that are typical for beginner-level users. On top of that, there is also a section that is entitled "Blockchain school" — as its name suggests, it covers all the important issues pertaining to the cryptocurrency industry (from the very definition of the nascent asset class to an explanation why cryptocurrencies have value). If the presented information doesn't touch upon a certain problem, you can always submit a request by clicking a corresponding button at the top bottom of your screen.
Pros and Cons
Before opening an account with DigiFinex, each user preliminarily estimates whether it is suitable for him. U.Today made the task much easier for you by making a comprehensive list of all pros and cons of DigiFinex.

Pros:
A slew of cryptocurrencies (there are plenty of altcoins, including the recently launched Gemini dollar).

The fee schedule is rather competitive compared to other top 20 competitors (this is a salient feature of the majority of Chinese exchanges).

Just like with Binance, account verification is not mandatory, but it is required for increasing withdrawal limits.

A strong emphasis on security and regulatory compliance.
Cons:
The startup is not reputable enough to be your first choice

The trading features are very meagre – no margin trading, no stop orders (this is definitely not the option for seasoned traders).

The mobile app is not available for Android devices (sorry Android fans, but the DigiFinex mobile app is only compatible with iOS-based devices).

Geographical limitations (traders from Singapore and the US are not even allowed to create an account with the exchange).
Conclusion
Our consensus is that this exchange barely stands out among other similar platforms. While it does offer robust security and comparative fees, it doesn't have anything to offer to seasoned traders since it lacks margin trading, stop-limit orders, etc. On top of that, just like other Chinese exchanges, DigiFinex has been accused by numerous reputable research companies of artificially inflating trading volumes.

Hence, our consensus is that despite having fairly competitive trading fees and a lot of coins, this Chinese trading platform is not suitable for western traders (as mentioned above, US residents are even forbidden to create accounts). Binance, the famous crypto behemoth, would be by far a better choice. While Binance continues its global expansion, DigiFinex fails (or doesn't even try) to win over traders outside of China.

Does it stand a chance in trumping Binance? Absolutely not.

card