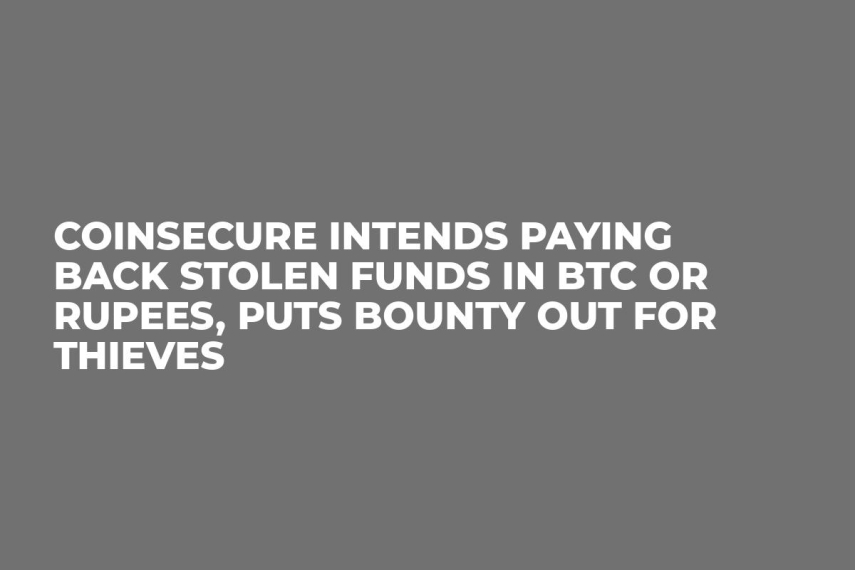 Cover image via U.Today
Indian cryptocurrency exchange, Coinsecure, which was hacked of over $3 mln, last week, has reiterated its intentions to pay back its customers the stolen funds. However, it has specified that the money will either be paid back in BTC or Rupees, depending if it is all recovered.
The exchange has also come out looking for the help of the community, by placing a bounty on the heads of the hackers in the hopes of helping to recover the missing funds.
Depending on the recovery effort
On a notice posted on their website, Coinsecure said that should the exchange recover all of the siphoned Bitcoin over the ongoing investigation, customers could expect to be see their accounts' balances refunded in BTC.
However, if the exchange is unable to recover the Bitcoin, users are likely to see a majority of their stolen Bitcoins to be returned in rupees.
"If recovery of siphoned BTC is not possible, then we will apply the lock in rates as of April 9, 2018. 10 percent of the Coin Holding Balance will be refunded in BTC and 90 percent will be returned in INR [Indian rupees]," The exchange said.
Adding a bounty
The exchange reported at the time of the theft that their primary suspect was their head of security, Amitabh Saxena. To this end, the exchange is looking to try and get to the bottom of the theft, and to recovery the stolen coins.
Bitcoin price has made notable upward gains since the closing of trading on April 9 when it was valued at just under $6,850 per coin. Coinsecure users stand to lose over 18 percent in Bitcoin value gains, at current Bitcoin prices, if the exchange is unable to recover the stolen coins.
A bounty of 10 percent, around $356,000 at press time, is being offered to any information leading to the recovery of funds.
Coinsecure said:
"We are happy to issue a bounty of 10 percent to the community for help rendered for recovery of BTC."