The fuel of the New Year's market recovery seems to be evaporating as most assets are starting to lose a large part of their value despite some signs of recovery a few days ago. The most recent breakdown happened on Cardano, which seems like it is trying to enter a new uptrend.
Rally's fading followed by volume
According to the daily chart of Cardano, the Ethereum competitor has been gradually losing a large part of the momentum it gained at the beginning of the year. Unfortunately, the trading volume, which dropped by more than $70 million in the last 24 hours, suggests that major traders are not yet ready to support the upward movement of the asset.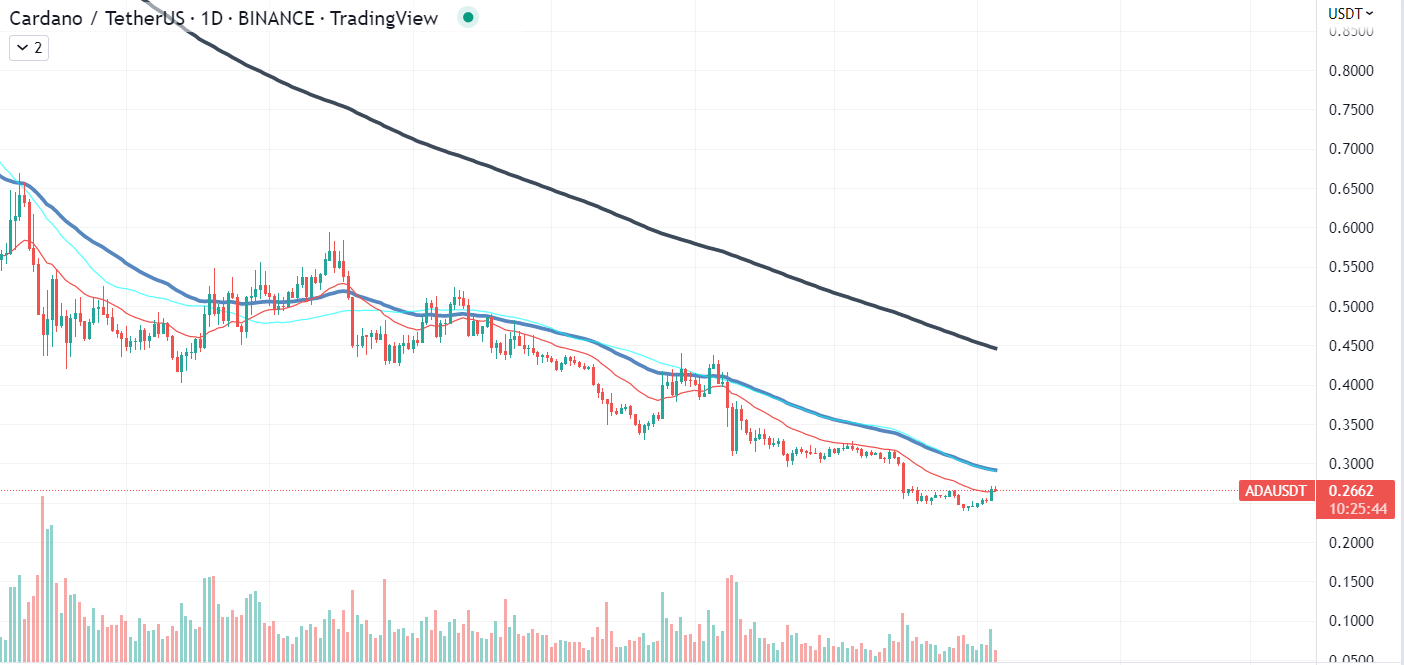 Despite the most recent NFT controversy in the Cardano community, the reason behind the deceleration of the rally is more vague. Cardano has been mostly following the general sentiment on the cryptocurrency market, and the most recent drawdown is just a part of the general correction on the cryptocurrency market.
At press time, we are seeing a continuous fading of Cardano's recovery, which makes us think about upcoming resistance levels that investors may use as the positions' averaging points. If the tendency that exists today prevails, ADA will most likely fall below the local support level of $0.24 and reach a new local low.
The guideline for the current downtrend is reflected in the 21-day Exponential Moving Average. It often acts as a tool for determining local reversal points and breakouts.
Ethereum PoW's surprising rise
The last thing most cryptocurrency market participants expected was the sudden rise of a PoW version of Ethereum that has been really quiet after the implementation of the Merge update on the main network.
However, in the last seven days, ETHPoW has been showing solid performance on the market, gaining more than 5.7% to its value in the last 24 hours and more than 10% in the last week. The existing tendency on the market could be the result of an underperforming Ethereum network that recently reached an unpleasant threshold: the issuance surplus since the Merge reached 5,000 ETH.
The lack of network activity has been directly tied to the decreasing intensity of burning operations. Despite the slowly recovering utilization of the network, the Ethereum that we know today is far from 2021's version of the same network that has been on the verge of becoming unusable due to elevated transaction and operation fees.
Ethereum PoW, on the other hand, is considered a strong alternative to the PoS network and even highlighted as a more resilient version of Ethereum thanks to the conservative mechanism at its core. At press time, the capitalization of Ether's older brother is at $335 million, while the coin itself traded at $3.3 on the market today, compared to Ethereum's $1,253.