The recovery of the majority of digital assets on the market continues: after an extremely depressing December, markets have finally found their wave and are currently moving upward. However, it is too early to celebrate a market-wide recovery, as one could result from a correction within the prolonged downtrend.
Solana's meme rally might be problematic
The most recent price spike of Solana was the last thing the majority of investors was expecting, according to various sentiment indicators and metrics. The reason behind it is the previous performance of the assets on the market. But the fuel for this rally is something a solid network would not want to see.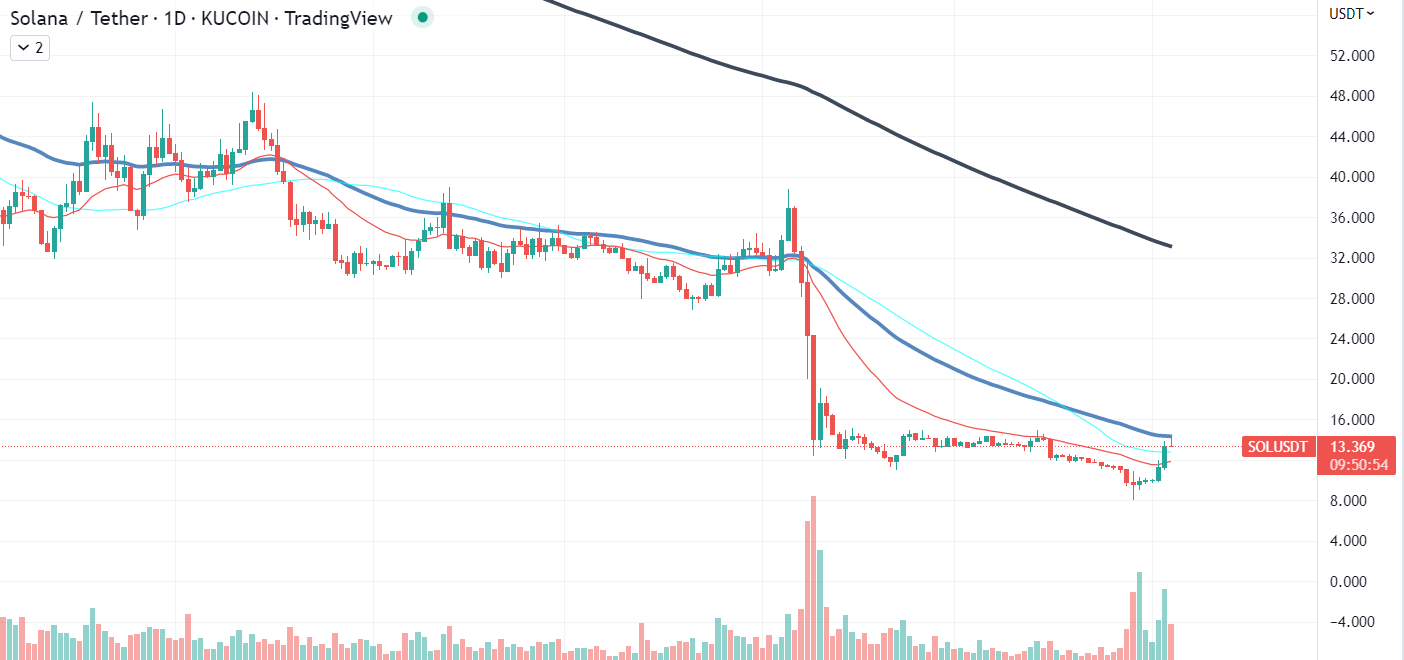 The recently released Bonk meme currency and its AirDrop cause a surge in network activity on Solana, bringing back some retail investors. However, rallies based mostly on speculative interest from retail are short-lived and might lead to severe sell-offs, which is the last thing Solana needs right now.
At press time, Solana is trading at $13 with a 37% price increase in the last three days. SOL reached the local bottom on Dec. 29, when the price of what used to be an "Ethereum killer" plunged to $8.
Cardano's strong start
Unexpectedly, one of the strongest performers at the beginning of 2023 was Cardano and its underlying coin, ADA. The decent spike in the price momentum has not been fueled by any major releases on the network or events that would have pushed ADA's price to new highs.
The main reason behind the current performance of Cardano is most likely tied to the preexisting pressure on the market that could have made ADA fit for a short squeeze. A lack of liquidity and depth on the market is also an important factor that we would not want to set aside.
Cardano has always been one of the favorite assets for bears on the market as its extremely low profitability often became strong fuel for a downtrend continuation accelerated by continuous pressure from speculative traders.
LDO's growth
Lido Finance has often entered the profitability top of the cryptocurrency market, and what we are seeing today is no exception. The sudden spike in the value of Lido's underlying token, LDO, could be considered an important signal to Ethereum holders, as Lido's main functionality is liquidity provision for those who are willing to stake their Ethereum and yet be able to trade it openly with the help of stETH token.
Whenever Lido shows strong performance on the market, Ethereum users should expect a gradual recovery of the network usage on Ether and an increase in the overall number of staked ETH, which has recently reached an important new milestone: more than 13% of the whole supply has been locked in staking contracts.