There was something to smile about for Bitcoiners as the major cryptocurrency showed a bit of fight against the bearish sentiment as it climbed $400 in 20 minutes to set a new two-week high.
It is a generally good feel across most of the markets with the majority of coins, especially those in the top 10, posting moderate gains and green numbers. The market rose by a total of $11 bln in one hour as a large injection of capital entered the market seeking Bitcoin amidst the move.
Bitcoin's breakout
Bitcoin, which had reach lows of under $6,000 in the past two weeks, and was threatening of breaking a new low for 2018, suddenly kicked up a big spike in price that saw it go from about $6,400 to topping $6,800 before settling down to about $6,700 and staying in and around that price at the time of publishing.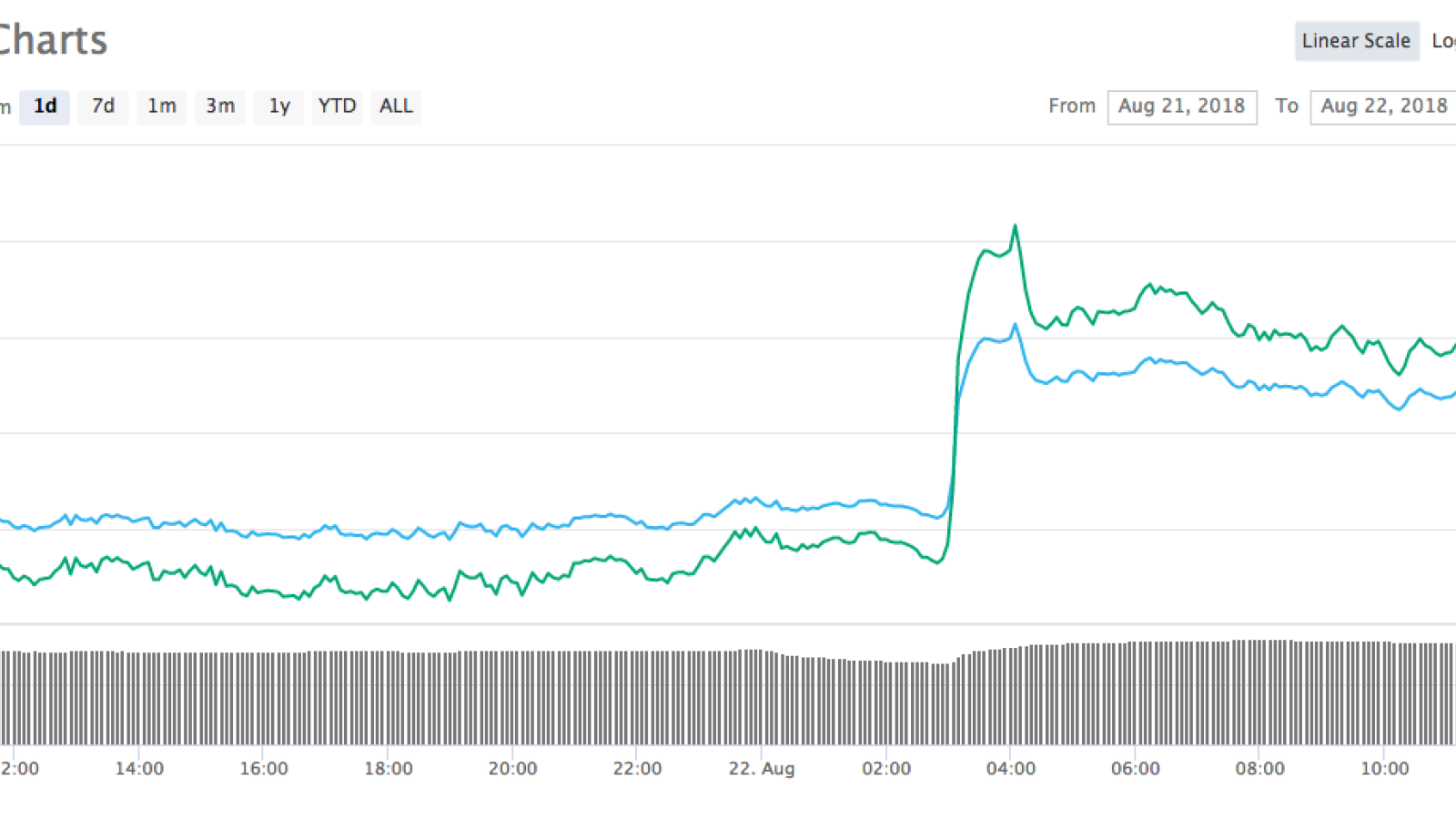 It would be difficult to put this down to a change in the market sentiment, as, on the broader spectrum, Bitcoin is still in a lull. However, it is a pleasant change and good to see the major cryptocurrency putting up a bit of a fight to break away from a key support of $6,200.
However, as is often the case, with Bitcoin price spiking, there has been some positive number posted by the remaining cryptocurrencies, especially those in the top 10.
Moderate gains
There have been moderate gains posted by the rest of the top 10 coins over the last 24 hours, but these gains range from small fractions of a percent to EOS which is up almost five percent.
In fact, out of the top 100 coins, only 22 are in the red, and some of these numbers are very negligible. However, the biggest loser on the day is the 100th placed coin, Veritaseum, which is down nine percent, but this follows the coin jumping 124 percent in a week previously.
Some of the bigger, and more well-known, winners, include Nano, which is up about 11 percent, and VeChain, up nine percent.