The success of Binance Coin, which has shown pretty good results this year so far and has firmly taken position 6 on CoinMarketCap, is explained by the Weiss Ratings agency. They believe the trick is that BNB is a centralized asset.
Because #BNB is centralized, its creators are constantly creating new use cases for it, which increases its market cap and keeps the asset going. BNB is successful BECAUSE it's centralized. Interesting.#BinanceCoin #BTC #Altcoins #crypto #cryptocurrency

— Weiss Ratings (@WeissRatings) July 25, 2019
BNB price skyrockets in 2019
At the time of writing this, BNB is sitting at the $28.93, having declined slightly less than 2 percent over the last 24 hours. This is quite significant, because since the BNB price after the launch was $6.19.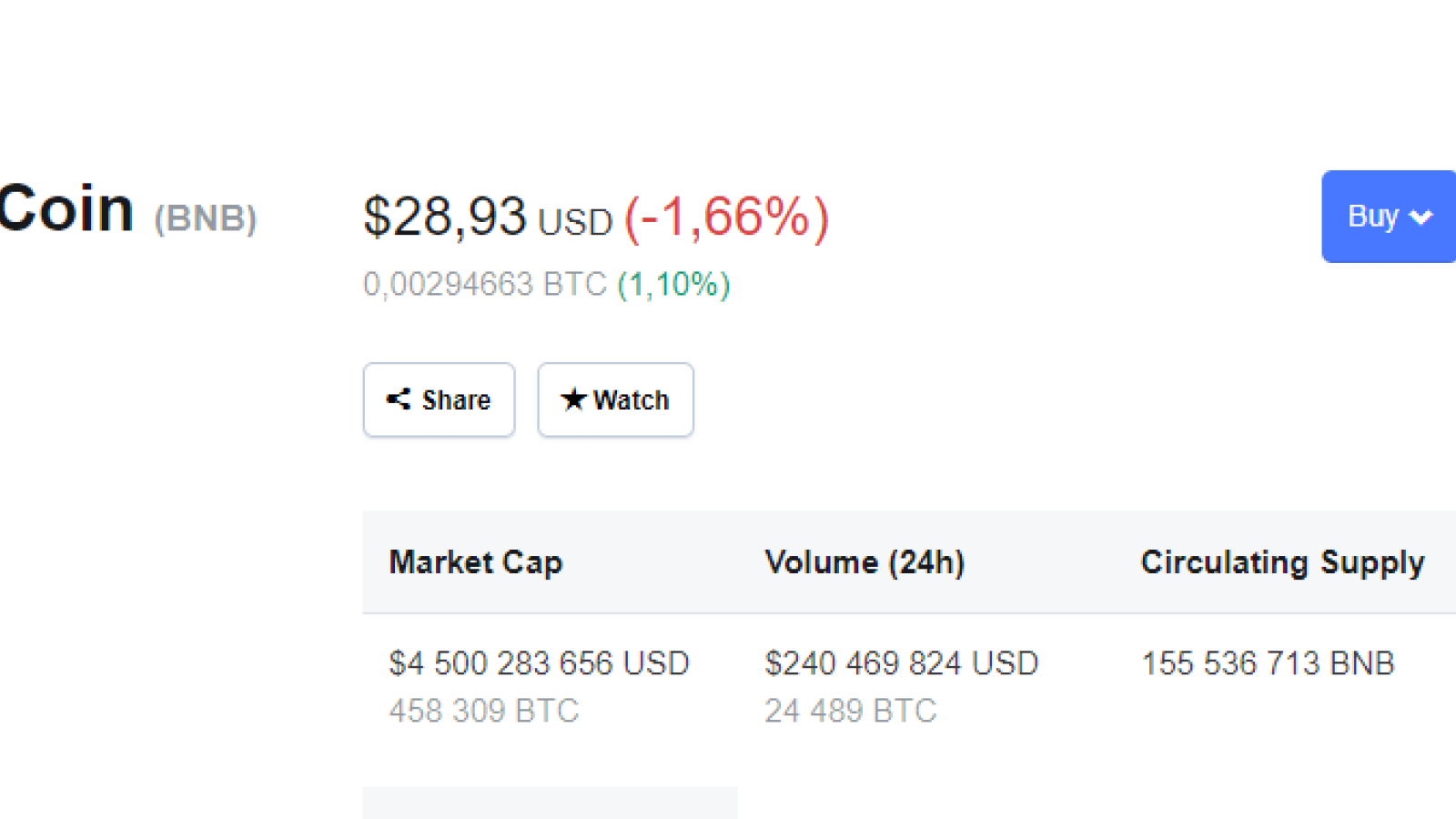 At the year's opening, the coin's market cap totalled only $800 mln, whereas now it is more than $4.5 bln. During the ICO, the coin was worth only $0.10.
During the first several months of the year, BNB quotes were spiking independently of Bitcoin's flat trading.
However, Weiss Rating financial agency believes that the success of BNB is down to its centralized scheme.
Besides, the Binance's CZ always finds new ways and partners for utilizing the coin. This has been raising its market capitalization and liquidity quite a lot.
IEOs on Binance LaunchPad and other BNB use cases
The use cases Binance provides for its coin are first of all to do with paying fees on Binance itself. Many users prefer to use BNB for paying their trading fees with a major discount of 25 percent, instead of Bitcoin.
Besides, investors have to use BNB when buying tokens during Initial Exchange Offerings on Binance LaunchPad – some examples include BitTorrent, Fetch.AI.
However, the next token launch there will be performed in a form of a lottery. The fastest to buy investors will not benefit on these IEOs anymore.
Binance's Blockchain Charity Foundation also uses BNB for its charity programs, such as lunches for schools in Uganda.
Apart from that Binance conducts a regular burn of BNB each quarter. Those make the asset a rarer thing, thus making its price surge.
Contrary opinions
Some in the crypto community, however, doubt that BNB's success is due to its centralized scheme.
In the comment thread on Twitter, some users expressed an opinion that BNB's price was a few times pumped by minting extra USDT. Others believe that regulations which are to touch on Binance soon will put an end to BNB's fast success.