In a stunning turn of events, Ripple won a significant legal battle against the U.S. Securities and Exchange Commission (SEC), with the court ruling that the company's XRP token is not a security. The verdict, widely celebrated in the crypto community, triggered a swift price surge for XRP, which at one point pumped by an impressive 100%.
However, despite this immediate price jump, XRP's long-term performance remains a concern for investors. The digital asset is still down by more than 90% against Bitcoin and 60% against the U.S. dollar, underlining the scale of recovery needed to regain its previous positions. While the double-digit pump certainly created a positive buzz around XRP, the reality is that it barely scratched the surface in compensating for the substantial losses experienced over the past years.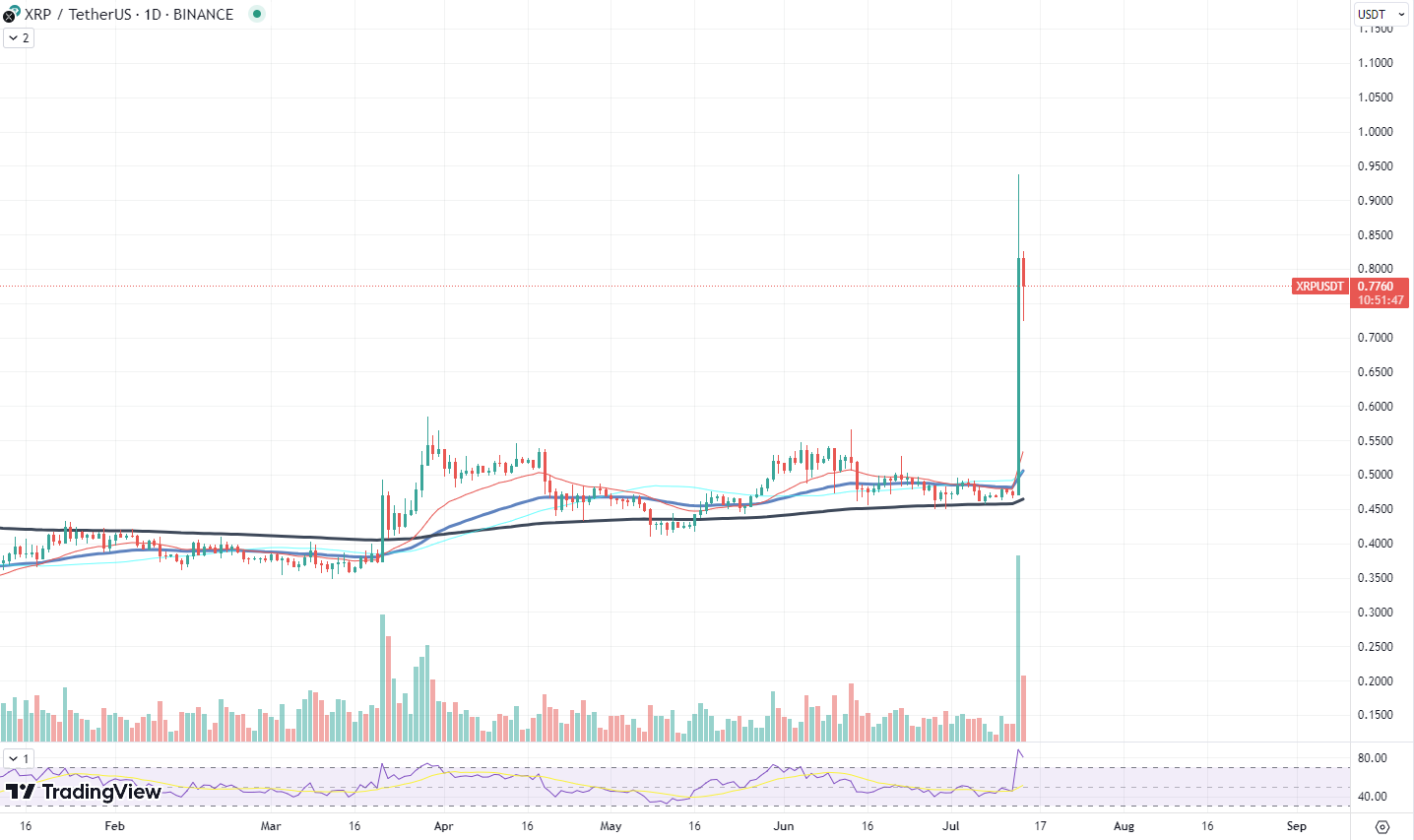 The court ruling is undoubtedly a significant milestone for Ripple and could potentially change the game for XRP. If this legal victory can instigate sustained buying interest, particularly from institutional investors, it might set the stage for a longer-term value increase for XRP.
Yet, investors must exercise caution. The digital currency market is known for its volatility, and while positive news can spark rapid price rallies, they can just as quickly reverse. Additionally, it is important to note that the ruling does not necessarily translate into a green light for all of Ripple's operations. It merely indicates that XRP itself is not a security.
Shiba Inu not invited
In the midst of a broader cryptocurrency market rally catalyzed by Ripple's significant victory against the U.S. Securities and Exchange Commission, one coin is noticeably lagging behind. Shiba Inu (SHIB), the popular meme token, has not quite managed to ride the wave of optimism sweeping across the crypto sphere.
Following the court ruling that Ripple's XRP token is not a security, many digital assets witnessed notable price jumps, feeding into a broad market rally. However, Shiba Inu's growth has been relatively modest in comparison. It has registered an increase of merely 5% and appears to be in retracement mode already, underscoring the relative underperformance of the meme coin during this positive market phase.
Interestingly, while Shiba Inu managed to breach its local resistance level during this phase, the move lacked the usual conviction seen in such cases. The breakthrough was accomplished at low trading volumes, suggesting a lack of strong buying interest, even amid a wider market surge.
The underwhelming performance of Shiba Inu raises questions about its immediate prospects. While the cryptocurrency market often moves in tandem, individual digital assets can also exhibit unique price behavior based on specific factors. For Shiba Inu, it appears that the Ripple-triggered rally did not provide enough impetus for a significant price surge.
Ethereum hits $2,000
Ethereum (ETH), the second largest cryptocurrency by market capitalization, has made a strong resurgence, swinging to a two-month high and breaching the psychologically significant $2,000 mark. The question on everyone's mind now is, what's next for the leading smart contract platform?
After crossing the $2,000 threshold, Ethereum has faced an expected level of selling pressure. This resistance suggests that a reversal could be in the offing, as investors seek to lock in gains from the recent rally. Given the volatile nature of the cryptocurrency market, such fluctuations are not unexpected, and potential investors need to brace for more.
The next significant resistance level for Ethereum lies at $2,130, a local high reached in April. However, Ethereum has a few hurdles to cross before it can consistently hold above this level. One crucial factor influencing Ethereum's progress is the performance of decentralized finance (DeFi) platforms, which primarily operate on the Ethereum network.
While Ethereum has seen a surge in its price, the DeFi sector has been relatively stagnant. For a sustained long-term rally, Ethereum would require concurrent growth in the DeFi market. Therefore, the future trajectory of Ethereum is partially tied to the performance of the DeFi sector.