The price of XRP is on a bullish rampage today as it is up 5.35% over the past 24 hours in what appears as though the token is leading the broader altcoin momentum. Trading at a spot price of $0.4659, XRP has now gained a total of 10.15% in the past seven days, securing its lead as the top performer of all assets ranked in the top 10.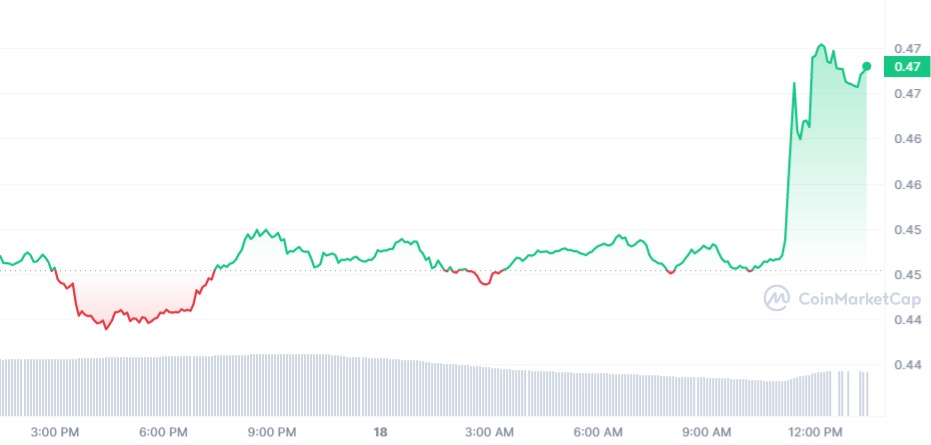 Defying odds to aim higher
XRP's growth is always intriguing to the community. This is in part due to the inherent obstacles to its growth as a result of the ongoing lawsuit between its associated blockchain payments firm, Ripple Labs Inc and the U.S. Securities and Exchange Commission (SEC).
The price action of XRP in recent times has showcased how investors in the digital currency are now largely aligned in their focus to push the coin to a whole new height. To achieve this new focus, the SEC lawsuit will have to be over — decided in favor of XRP — and one of the first signs of optimism will be the breach of the key resistance point at the $0.5 price range in the short term.
A sustained bullish buying momentum as showcased in the more than $1.2 billion worth of XRP traded in the past 24 hours can help cement both its short term and its ultimate growth projection to hit $1.
Refocusing XRP as security narrative
The claims by the U.S. SEC that the XRP token is a security has remained the centerpiece for strong speculation for a few years now.
In a bid to prevent this, key stakeholders with interest in the coin, including Ripple, are now trying to shift focus from this claim by building products and new innovations that can showcase its true potential.
With the recent classification of Filecoin (FIL) as a security, the attention may shift away from XRP, a situation that may further aid its broad recovery in the long term.