XRP is showcasing resilience in a complex market climate. The token's strength is evident as it enters a short local uptrend, indicating a positive momentum swing for Ripple. Currently trading at $0.44, XRP's performance is bolstering confidence among investors.
Technical analysis provides deeper insights into XRP's current trajectory. The token has been struggling to break through the 50-day Exponential Moving Average (EMA), a critical barrier that could signal a potential shift in the asset's price direction. Despite this hurdle, XRP has managed to stay afloat between the 200 and 50 EMA, demonstrating its ability to sustain price levels and avoid severe downtrends.
The Relative Strength Index (RSI), a metric used to measure the speed and change of price movements, is presently at 50 for XRP. This mid-range position suggests a balance between buying and selling pressure. However, traders should remain cautious, as an RSI of 50 often indicates indecision on the market and could precede a price reversal.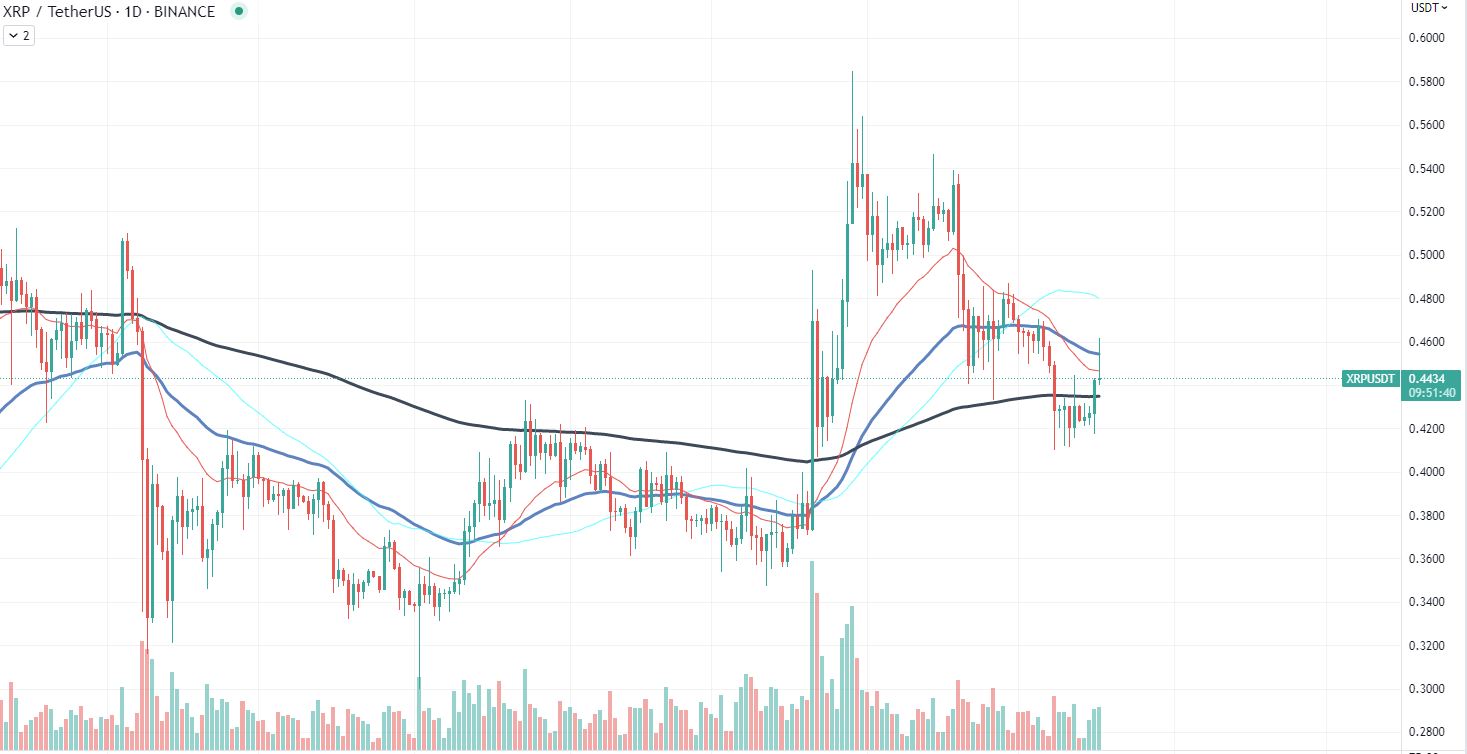 Recently, Ripple scored another major win in the case against the SEC as the unredacted version of Hinman's emails will be available to the public in the foreseeable future, which has been considered a key for the successful outcome of this saga.
Litecoin ordinals push network upward
Litecoin (LTC) is experiencing a resurgence in network activity, reaching pre-all-time high (ATH) levels, following the release of LTC-20. With the introduction of this innovative standard, more investors are expecting the fundamental growth of the Litecoin network as traction continues to increase.
The introduction of LTC-20 has caused a stir in the crypto community. Described as a "fun experimental standard" that demonstrates the potential of off-chain balance states with inscriptions, LTC-20 is built on the top of Litecoin Ordinals Protocols. This standard, a branch of the BRC-20 standard, has been created with 84 million coins, constructed with Ordinals and inscriptions and kept on the Bitcoin base chain​​.
The first LTC-20 is already roughly 20% mined, with each punk bearer receiving 4,000 inscriptions. The Litecoin community, one of the oldest in the crypto market, is excited about the potential changes this could bring. However, the author of the official documentation for the LTC-20 experiment has emphasized its dynamic and experimental nature and discouraged making financial decisions based solely on its design​​.
MATIC is on watch
Polygon (MATIC) is experiencing a significant market shift as the coin enters a potential reversal zone. The digital asset has seen its Relative Strength Index (RSI) plummet to a local low of 32, a level suggesting heavy overselling. Despite its robust Total Value Locked (TVL), MATIC is facing a challenging period as it struggles to keep pace with competitors, such as Ethereum and its Layer 2 solutions.
The RSI is a popular momentum indicator, providing insight into the speed and change of price movements. An RSI below 30 typically signals that an asset is oversold, suggesting a potential price reversal in the near future.
The current price of MATIC is $0.84, a level last seen in January, indicating that the token has been unable to maintain its upward momentum. This stagnation is particularly striking when viewed in light of the substantial TVL that Polygon boasts. However, the network's activity has not matched its locked value, revealing a disconnect between the asset's potential and its market performance.
Competition in the blockchain sector is fierce, with Ethereum and its Layer 2 solutions presenting a significant challenge to Polygon. These solutions aim to solve Ethereum's scalability issues, directly targeting one of Polygon's primary value propositions. This has put additional pressure on MATIC, which already struggles to translate its substantial TVL into network activity and price growth.