There's a huge amount of crypto pundits who believe in might and potency of Bitcoin, thus reckoning that BTC will multiply its cost in the nearest years. Take John McAfee alone: he states that Bitcoin will cost $1mln! However, even if it's true, years should pass for BTC to reach such heights. Let's take a more viable Bitcoin price prediction - $100,000. What are the chances for BTC to rise its value by x12? And most importantly, what will drive its growth?
Let's take a look at several BTC price charts and interesting patterns – that might give you a hint.
The pattern that we missed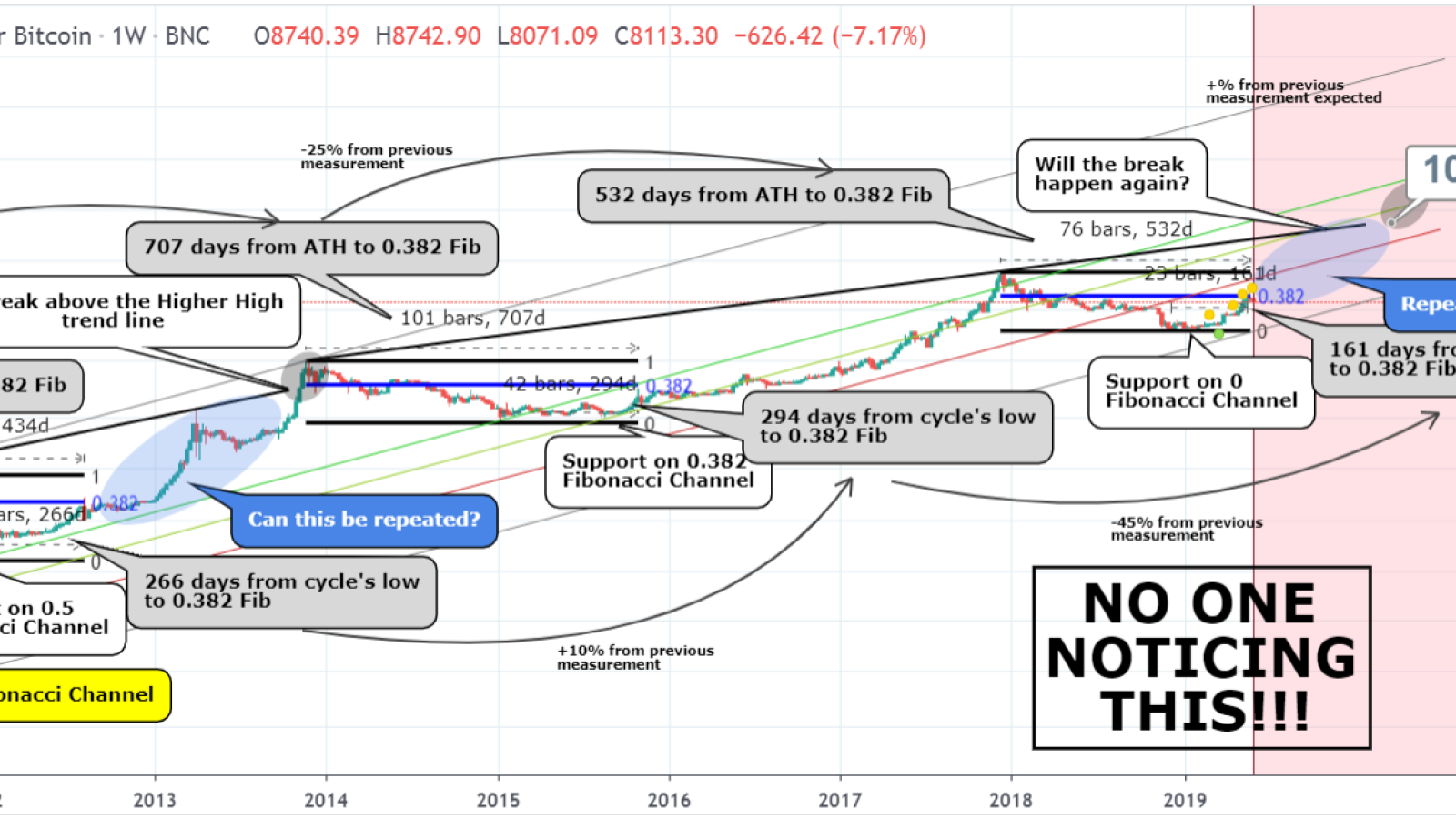 Bitcoin is now next to making the 0.382 Fibonacci retracement test (ATH to $3,150 bear cycle Low) and one thing has shocked the crypto world more than anything: considerably shorter time it has taken for BTC to do so compared to the previous two cycles. Few expected such a strong and continuous rebound since the $3,150 bottom. Is that right? Since most researchers thought that market cycles take longer within Bitcoin's parabola, why are we seeing such a strong rise and such a short test of the 0.382 Fibonacci?
TradingShot has already noticed BTC/USD band shift on the Fibonacci Channel, warning of an upcoming hyper strong bullish sequence while the price was still $3,800, and it is now more relevant than ever before.
Maybe the cycles don't become longer each time. Maybe they take turns. One is longer, the next is shorter and then the process is repeated. So far, the Fibonacci Channel since its inception has been providing very clear supports for the cycles' bottoms (on 0.5, 0.382, 0.236 and near 0 in succession). This process may be reversed from now on with each bottom being on a band higher.
The current strong rebound from $3,150 to $9,100 may be an early indication of this band shift showing that the very aggressive bull cycle of 2012 - 2013 may be repeated. This suggests that the $100,000 land mark may come as early as 2020.
Double bubble: $50-100K in a month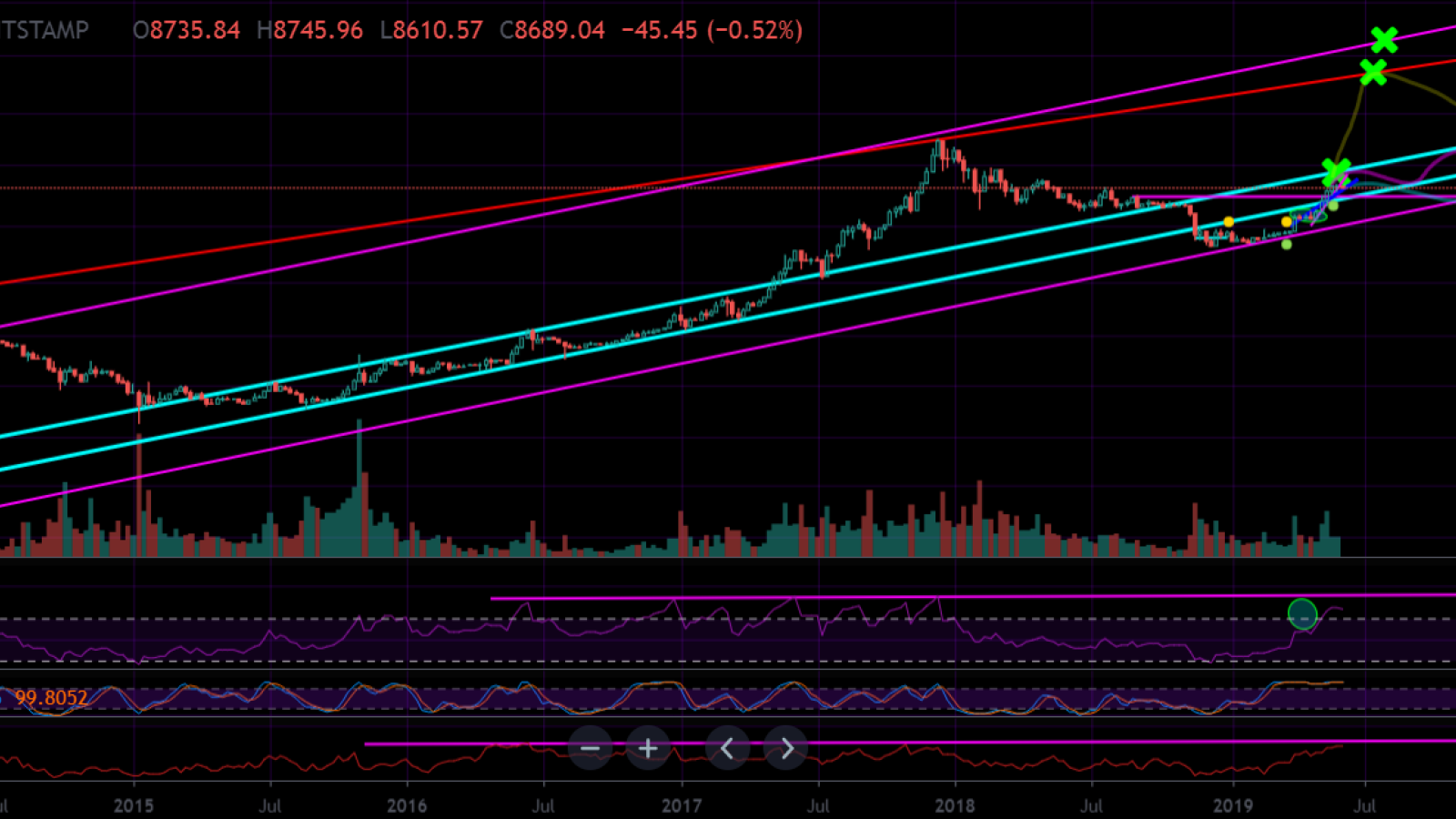 VictorCobra has posted a scenario of the accelerated boom, which is pure speculation, but seems to be interesting.
Looking at the only time Bitcoin behaved this way of a bottom (2013), we can see that it barely corrected before it made its next top. A lot of people have been joking around, saying that Bitcoin may not experience large corrections during this current bull cycle, before the eventual top. They may end up being correct.
If Bitcoin follows a similar path to 2013, something like the past scenario could happen. This also means that Bitcoin could increase by over 1000% within the next several weeks.
This seems to be extremely unlikely, but it was also unexpected for Bitcoin to smash through all the bear market resistances so easily. On the downside, there IS still a possibility that we will have one more drop. This rally seems overextended as it is. But this extraordinary bullish possibility shows you why trying to time this market is nearly impossible. Long term investors "holders" almost always outperform traders for this reason.
The probability of this actually occurring would dramatically increase if the light blue channel resistance in the mid $11K area is taken out. Likewise, it would decrease if we continue to stall in this area for more than another week, and if we break down from the blue uptrend again. What's also really crazy, is that many established altcoins are coiling right at a major neckline resistance - which, if broken, would immediately give way to the possibility of new ATH's.
Through the channel to $140K by mid-2021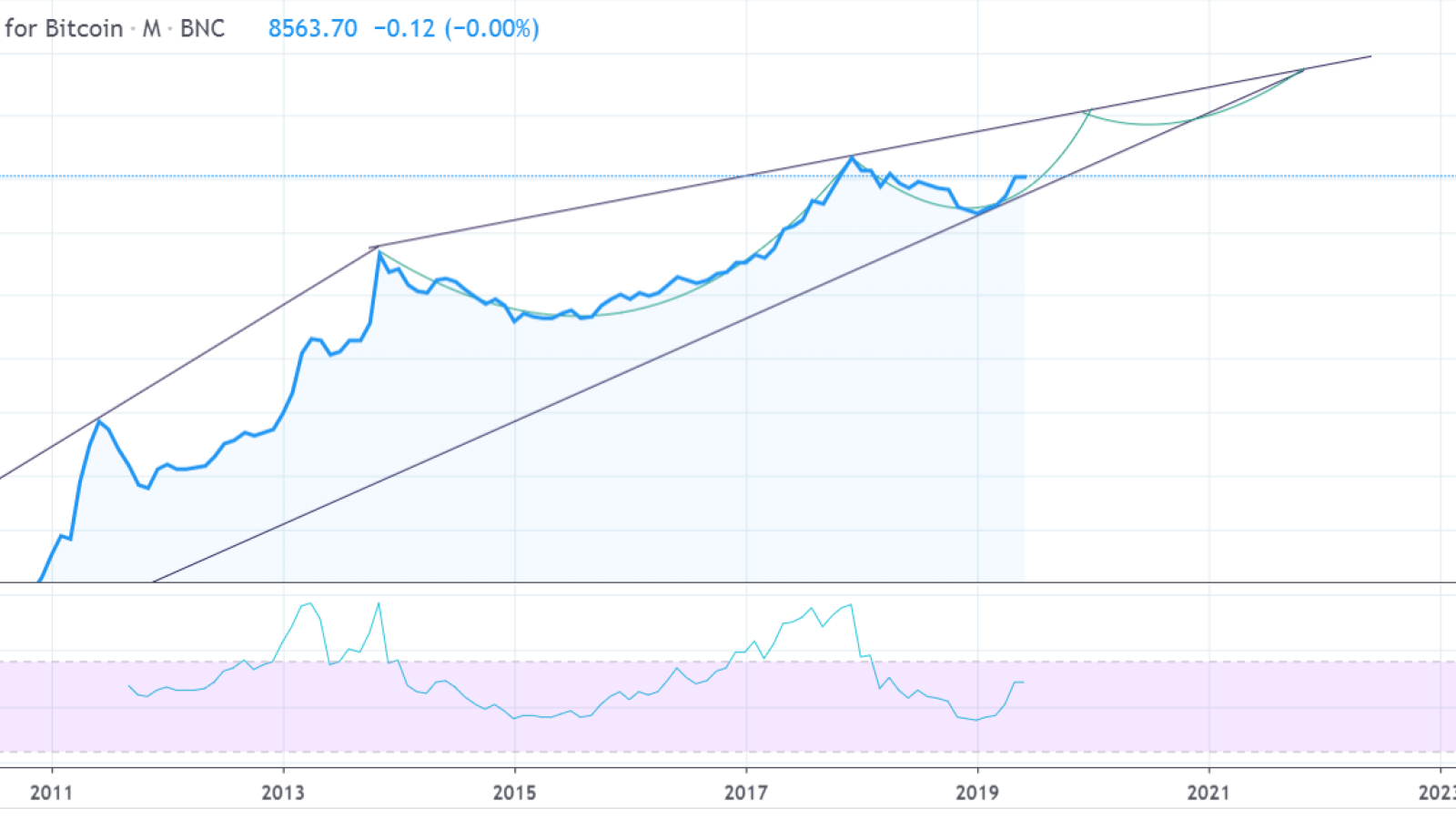 User NickSnydz has made a conservative BTC price chart, which shows more realistic opportunities. BTC will do a double top on this channel between now and November 2021. It will hit the channel top for the first time around $40K at the end of 2019 going into Jan 2020. It then takes a quick dip for a while but begins up again for a double top in this channel. T
The second top before the large bear cycle will happen in November of 2021 possibly into December and has BTC topping near $140K. If you really want to know when to sell in this long term Bull-Cycle, put BTC on the all-time log view. Pull up the RSI. Every bull cycle top goes thru 2 RSI tops near 92-97. Just wait until the second part of that double top starts to come in this time and sell somewhere in that area to be safe.
Final thoughts
It's up to you to decide whether these price predictions are viable. From one point of view, it's less likely that we see the same burst as in 2017, from another – BTC is able of doing unpredictable things. Anyway, it won't hurt to keep some of your assets in Bitcoin – one day, your profits are to multiply.
Bitcoin price charts from TradingView