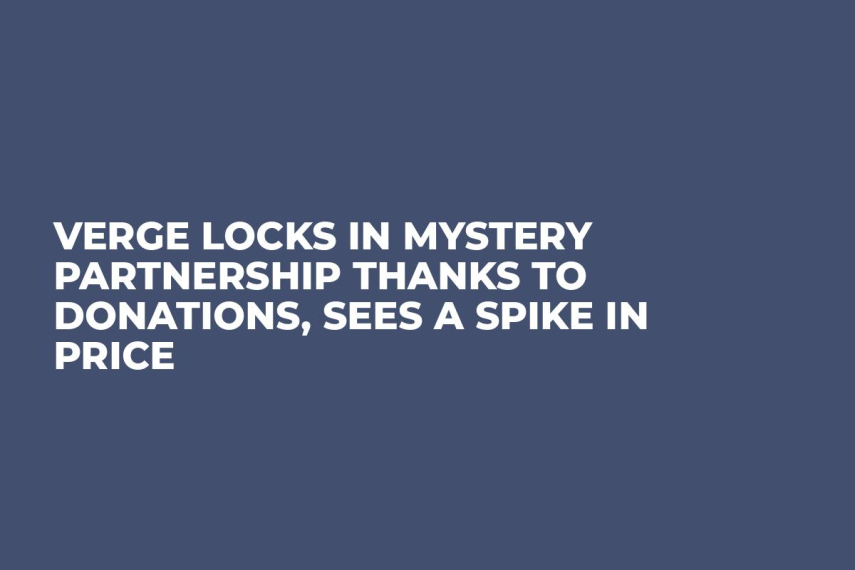 Cover image via U.Today
With the market being in a state of flux, some coins in the green and some in the red, it is Verge, as one of the top 20 coins by market cap, that is impressing. The privacy coin has had a good few days over the past few weeks, but in fact, the last 30-odd days have been good with news of a mystery partnership boosting their profile.
Verge, who was looking for donations to push the partnership along, announced that they had met their goal and secured the partnership, of which there are still no details.
Verge of breaking out?
XVG is trading at 20 percent for the last 24 hours, outperforming all other altcoins in the top 20 easily. Its current price is $0.0675 and its volume has risen significantly also indicating that prices could continue upwards.
In fact, the entire week has really belonged to Verge as it was up 60 percent from $0.040 this time last week. Over the month it is also up around 20 percent where most other altcoins have had heavy losses.
Hitting the partnership mark
The most recent spike has to be down to the announcement that was made on the company's Twitter page which indicated that, after a round of donations, they had reached their target.

Our deepest gratitude to #vergefam for helping us to achieve this partnership! As you know, we've launched a donation rewards program in effort to reward all of those that helped make this happen. Go to our dedicated page https://t.co/ix7A5AcQtK to submit your contribution! pic.twitter.com/5rfA6s0NLG

— vergecurrency (@vergecurrency) April 3, 2018
Because of this, Verge is rewarding its donators depending on the amount they donated to the cause.
Verge was asking for 75 mln tokens, worth approximately $3.1 mln back on March 26, when they had already amassed 20 mln tokens. It was in order to "help progress forward in the crypto space" according to the appeal web page.
This new partnership is shrouded in mystery but maximum effort has been channeled into the hype.
"A global organization with a vast network of high traffic sites is looking to enter the cryptocurrency market and form a strategic business alliance with Verge as the preferred form of secure payment method, offering a quick and private means of transaction to hundreds of millions of potential consumers daily."
"This partnership represents an enormous potential market with a global reach that will compete with multiple fiat currencies."