Some experts are certain that the mass global adoption of crypto is far from being even close to reality since too few people know about digital coins and Blockchain, they do not understand principles of its work or why crypto is necessary at all. E.g., in the UK recent polls show that elderly people prefer to invest in traditional assets and the stock market, whereas it is mostly millennials who are eager to use virtual coins as objects of investment.
Turkish monetary crisis
Too many people, from housewives to professional financiers, do not believe in Bitcoin and consider it and the whole crypto market a bubble.
Hence, the vast majority of well-off European countries, with stable economies are hardly tipping their toes in crypto. However, small, poor countries with their economies going wrong constantly seem to have no other choice but to embrace crypto. Even if it is done not officially by the authorities but just by local residents.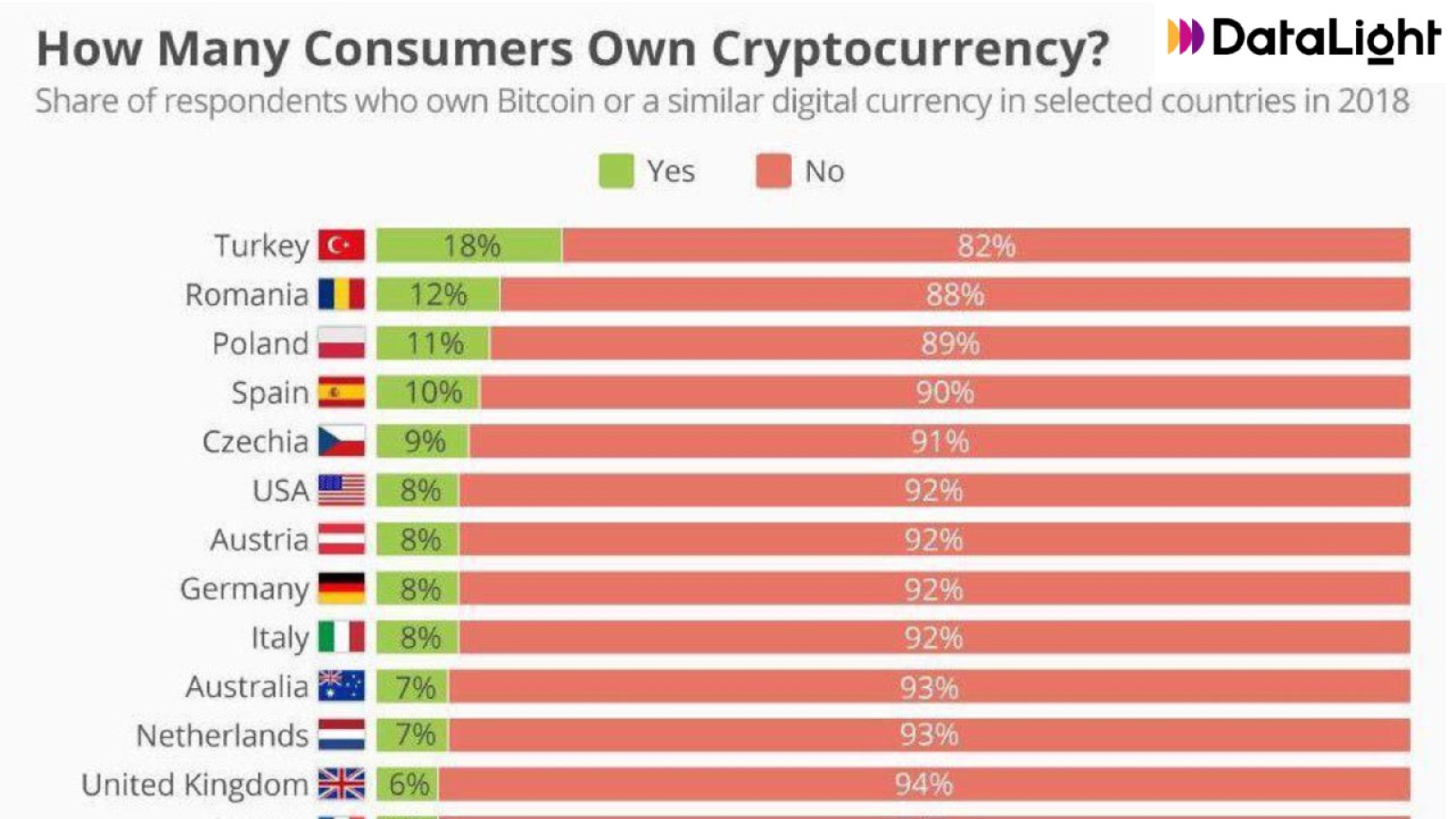 As you can see from the chart, the top four countries whose residents possess most crypto are Turkey, Romania, Spain and Poland. Next is the Czech Republic.
Turkey has recently seen hyperinflation due to the US sanctions, so the people there have taken up Bitcoin. The situation is similar to the countries in South America, Venezuela in particular.
Eastern Europe
Romania is just a former CIS country, and the level of life in it is low compared to France or Germany, which are just thinking what to do with crypto assets and how to protect investors. Romanian people are using coins more as an investment than a replacement of fiat money, the situation is not so bad as in Turkey.
Spain also seems to be into crypto, probably due to the crisis caused by the desire of Catalonians to separate, but Spanish people are also using Bitcoin and other crypto assets as an investment, perhaps instinctively trying to protect themselves in advance.
Poles seem to be attracted to crypto purely as investment objects since this is a pretty well-off country. Overall, there seems to be a high interest in crypto in Eastern Europe– hence, Poland, the Czech Republic own more crypto than the rest of Europe but less than Turkey with its monetary crisis.
Necessity is the mother of invention
The reason for this shows up to be the lack of stability, uncertainty. Stable economies like Sweden, the oil-rich Norway couldn't care less about Bitcoin and Dash unlike Romania, Turkey, Spain and other countries in this region that have been unstable since the collapse of the USSR (or even under its reign) or for other, local reasons.