On Christmas Day, both stocks and digital currencies have experienced sizeable losses. The Dow and S&P 500 had the worst Christmas Eve ever, while Bitcoin plunged below the $4,000 support level, again.
No Christmas present for you
The US stock market has recorded one of the worst weeks since the 2008 recession after sinking for a fourth straight session. For instance, the Dow dropped by a whopping 653 points, making this Christmas Eve historically bad for stock markets. The same goes for the S&P 500, which witnessed a 640-point drop after this Monday's opening bell.
The uncertainty behind the border wall funding is supposedly the main reason behind the crisis with both sides of the political spectrum playing the blame game. President Donald Trump recently took to Twitter to shred the U.S. Federal Reserve.
Crypto follows suit
While it has been in the doldrums for quite a while, the sea of red after a major market uptick could be quite unexpected for those who haven't gotten used to the volatile nature of the cryptocurrency industry. Bitcoin was the first to break the Santa Rally, plunging to almost $3,720 after the news about Bitmain's spree hit the mainstream media. At press time, the price of the flagship currency is sitting at 3,813. Still, BTC remained the best performing currency inside the top ten, with other major altcoins recording double-digit losses.

Even XRP nosedived by 13.40 percent despite a slew of major announcements that have been recently pumping the price of the second biggest coin.


Meanwhile, Bitcoin Cash (BCH) is the number one coin by daily losses with a sharp 21.69 drop. Notably, the Bitcoin SV fork didn't fare much better, tanking by 16.86 percent.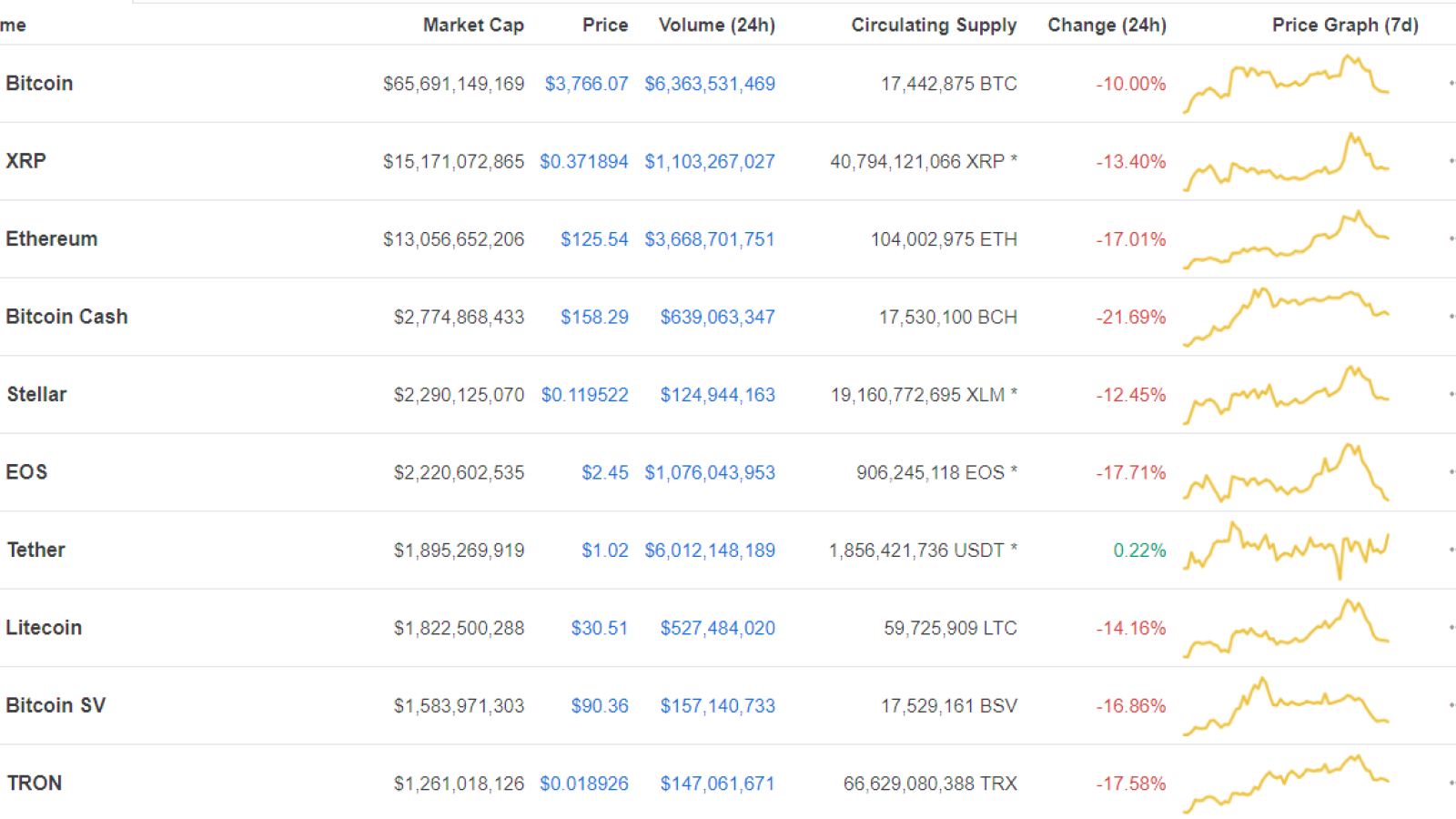 Is there a correlation?
As U.Today reported earlier, there is only an insignificant short-term correlation between the S&P 500 and Bitcoin. However, the situation could drastically change when more 'traditional' investors start dipping their toes in the space.