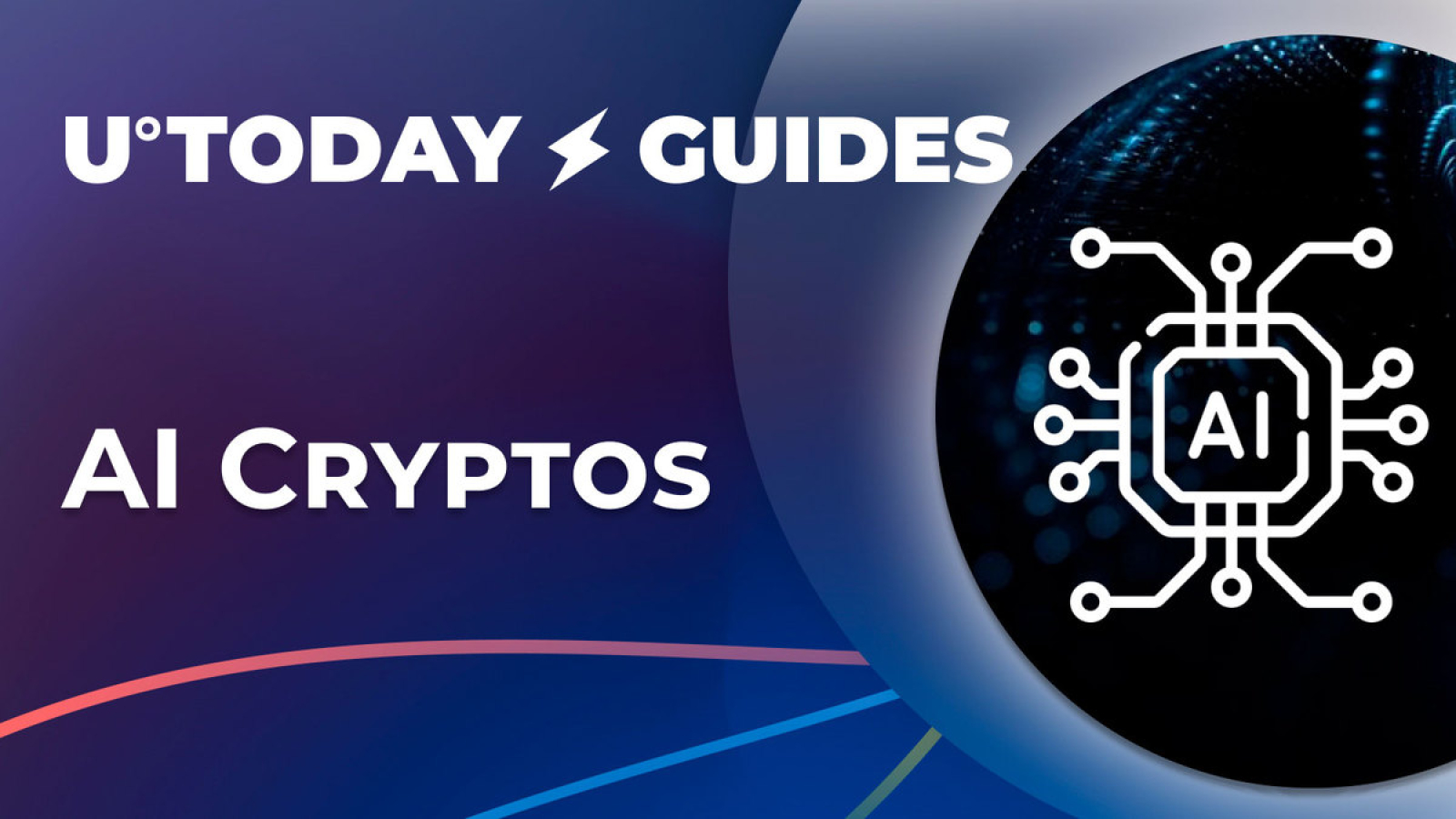 Cover image via U.Today
AI cryptocurrencies, i.e., digital assets that leverage artificial intelligence in their underlying technologies or promo narratives, stole all the headlines in early Q1, 2023. As the dust settled, this segment is still in the spotlight for many crypto enthusiasts.
In this manual, we are going to look closely at the most valuable and promising cryptos of this type and discuss some prospects of this turbulent and thriving segment.
AI cryptocurrencies surging again: What to know
In 2022-2023, a number of major breakthroughs were accomplished in the segment of artificial intelligence, the so-called "Big Data" and machine learning. With the public releases of the ChatGPT chatbot based on GPT-3, and then GPT-3.5 and GPT-4 large language models and the DALL·E 3 image generator, cryptocurrency projects started exploring opportunities unlocked by AI.
AI cryptocurrencies are digital assets (altcoins) somehow associated with artificial intelligence and related computer science spheres;
AI cryptos can be used for fundraising in AI-related R&D projects or serve as utility tokens in systems that use AI and ML;
However, the vast majority of AI cryptos are just using the trending narrative for aggressive promotion;
Numerous AI cryptocurrencies rallied by 100-1,000% in Q1, 2023, following the spike of interest in OpenAI's ChatGPT chatbot based on GPT-3 datasets;
Besides trading AI tokens, cryptocurrency enthusiasts can use AI-powered platforms to learn programming, write smart contracts and dApps and advance their understanding of the blockchain segment.
With the increased popularity of AI tech in various fields of economics, trying to explore its instruments might be a smart bet.
What is AI?
Artificial intelligence or AI is the simulation of human intelligence processes by computers. AI can also be referred to as the field of study in computer science that builds and researches intelligent machines. Most commonly, AI refers to the class of machines itself.
For mass users, AI is interconnected with neural networks or sophisticated machine learning models that emulate the processes that take place between the neurons of the human brain.
There are a myriad of applications artificial intelligence can have in digital and industrial segments. ChatGPT by Sam Altman's OpenAI, a chatbot that mimics human written speech, is a textbook example of a user-friendly application based on AI instruments.
What is AI crypto?
AI crypto is a cryptocurrency somehow connected with artificial intelligence, machine learning and big data. Since the inception of crypto AI euphoria in November 2022, three groups of AI tokens have emerged:
Utility or governance tokens of projects that leverage artificial intelligence for their commercial goals (e.g. NMR, SURE);
Crypto tokens as instruments of fundraising for AI-fueled projects (VXV);
Tokens that just use the AI narrative as part of their marketing strategy without having it integrated into their technology.
The third category is the largest, most speculative and volatile group of AI-related cryptocurrency assets.
How to benefit from AI in crypto?
First of all, ChatGPT can be useful for educational purposes. Basically, you can ask any question about cryptocurrency and it will come up with a detailed answer in simple English. However, the majority of latest datasets in GPT-4 refer to processes and concepts from January 2022, so its data might be outdated.
Also, ChatGPT can help you in learning programming languages. For instance, it can assist in writing your first smart contract or token.
Then, GPT-based platforms can help you in checking the security of certain smart contracts. You can ask whether the code has vulnerabilities and the AI will perform a prompt audit of smart contracts.
Top 10 AI cryptos in Q4, 2023
Now let's have a look at the top 10 biggest AI cryptocurrencies by market capitalization according to CoinGecko, the largest independent crypto tracking portal. On CoinGecko, these currencies can be tracked in the "Top Artificial Intelligence (AI) Coins by Market Cap" dashboard. In the "Categories" section, you can also see the dynamics of the entire segment.
On CoinMarketCap, a similar category is called "Top AI & Big Data Tokens by Market Capitalization." It features a broader range of coins.
Top AI crypto: Render Network (RNDR)
Launched in 2017 by Jules Urbach, Render Network (RNDR) is the pioneering platform for decentralized GPU-based rendering. It allows leveraging of computational resources of geographically distributed GPUs for rendering of 3D images. The platform promotes itself as a two-sided marketplace designed for resource-efficient coordination of GPUs supply and demand.
As AI-fueled image generation is among the most popular and mainstream segments of the current artificial intelligence frenzy, Render Network (RNDR) has an unmatched chance to increase the quantity of its users and contributors.
Top AI crypto: Fetch.ai (FET)
Fetch.ai (FET) is a platform for integration of AI-powered services into business processes. The protocol is designed to allow entrepreneurs to transform their current systems "to be AI ready" without changing existing API configurations.
Fetch.ai (FET) includes an ecosystem of "AI Agents," i.e., isolated modules designed to address various business challenges — from travel booking to EVs management and parking — in a low-code manner. The platform is backed by Fetch.ai Foundation, a Dutch-based non-profit.
Top AI crypto: SingularityNET (AGIX)
Launched by Dr. Ben Goertzel, SingularityNET (AGIX) is well known as one of the veteran AI cryptocurrencies. It is associated with the ecosystem of Cardano (ADA), the second largest proof-of-stake (PoS) blockchain.
The set of developments by SingularityNET includes various products in the sphere of AI, including AI-Domain Specific Language (DSL) and a marketplace for AI/ML tools. Its AGIX token can be staked and moved across Ethereum (ETH) and Cardano (ADA) blockchains.
Top AI crypto: Akash Network (AKT)
Decentralized protocol Akash Network (AKT) positioned itself as a decentralized open-source supercloud that lets users buy and sell computing resources securely and efficiently. Technically, Akash Network (AKT) is an L1 blockchain built on top of the Cosmos SDK and is compatible with the IBC protocol.
The platform also offers an "unstoppable" IP leasing service to allow the hosting of various services. It runs on Kubernetes, the industry-leading container orchestration system, so that Web2 engineers can leverage familiar tooling.
Top AI crypto: Ocean Protocol (OCEAN)
Singapore-incorporated Ocean Protocol (OCEAN) is among the oldest AI/big-data protocols in crypto. In 2020, it underwent contract migration.
Ocean Protocol (OCEAN) pioneered the concepts of Data Tokens, Data NFTs and Compute-to-Data technology. The company is aimed at introducing decentralization technologies to data segments for businesses. The OCEAN token can also be staked by the participants in the protocol activities.
Top AI crypto: inSure DeFi (SURE)
InSure DeFi (SURE) is a cryptocurrency token utilized for sophisticated insurance use cases in the DeFi segment. With SURE, users can protect their portfolios from scams and rug pulls by staking tokens and purchasing "coverage" packages.
Not unlike Nexus Mutual and other DeFi insurance protocols, inSure DeFi (SURE) works in a trustless peer-to-peer manner. SURE can be staked via the official project website with up to 24% APY. In 2024, its team will launch a VC-focused DAO for its token holders.
Top AI crypto: Origin Trail (TRAC)
Origin Trail (TRAC) is a new-gen project that addresses the verification of goods authenticity. It leverages the instrument of Decentralized Knowledge Graph and fosters DKG Hub on top of the Polkadot (DOT) network.
With Origin Trail's (TRAC) AI-ready Knowledge Assets, customers across the globe can easily verify whether they are purchasing authentic or fake clothes, footwear and so on. The startup is focused on U.S. export markets.
Top AI crypto: Iq (IQ)
Iq (IQ), formerly known as Everipedia, is building the largest decentralized encyclopedia on Web3 and cryptocurrencies. Recently it launched a public beta version of IQGPT, a proprietary AI-driven bot on crypto and Web3 knowledge. Also, in Q1, 2023, IQ.wiki integrated OpenAI's GPT-3 model for summarizing Wikipedia articles.
IQ is the utility and governance asset of the platform. With this token, users can access new releases of the product's AI-based tools earlier through limited access waitlists.
Top AI crypto: Numeraire (NMR)
Numeraire (NMR) is an open-source project targeted at building stock price predictions tooling with the power of AI and ML. Users can submit price predictions to control the capital of Numerai's hedge fund. The most skilled and successful traders get rewards in NMR tokens proportionally to their contribution.
Its leading data scientists managed to build strategies with 500% in APY. The platform is backed by top-tier VC team Union Square Ventures, the co-founder of Renaissance and the co-founder of Coinbase.
Top AI crypto: iExec RLC (RLC)
IExec promotes itself as a one-stop Web3 marketplace for computational resources. It is particularly focused on Web3 marketing and retains a high level of privacy for all customers. The platform has its own oracle infrastructure and SDK.
RLC is the only cryptocurrency of the platform: It is used for in-app transactions between various actors.
Top 10 AI cryptos by market cap: See the list
Check this index for basic data about AI cryptocurrencies: ticker, name, and largest exchanges where to buy AI cryptos.
| | | | | |
| --- | --- | --- | --- | --- |
| N | Name | Ticker | Market cap, $ mln (October 2023) | Main exchange |
| 1 | Render Network | RNDR | 646 | Binance |
| 2 | Fetch.ai | FET | 230 | Binance |
| 3 | SingularityNET | AGIX | 222 | Binance |
| 4 | Akash Network | AKT | 206 | KuCoin |
| 5 | Ocean Protocol | OCEAN | 130 | Binance |
| 6 | inSure DeFi | SURE | 92 | Uniswap v3 |
| 7 | Origin Trail | TRAC | 85 | BitMart |
| 8 | Iq | IQ | 80 | Upbit |
| 9 | Numeraire | NMR | 77 | Binance |
| 10 | iExec RLC | RLC | 72 | Binance |
As such, Binance (BNB) is a platform where you can buy almost all AI cryptos
Wrapping up
AI cryptos should be referred to as a wide class of tokens somehow associated with the narratives of artificial intelligence and machine learning. Such tokens can be used in real AI technology concepts, can serve as fundraising tools or just utilize AI as part of marketing narratives.
The frenzy of AI cryptocurrencies was triggered by the inception of ChatGPT OpenAI's chatbot and DALL·E 3 image generator. However, some of them have been around since the cryptocurrency rally of 2017.