Akash Network (AKT) is pushing new boundaries in the digital currency ecosystem with its massively parabolic growth run at a time when most altcoins are still fighting their individual bears. The protocol has soared as high as 15.66% in the past 24 hours to place its price at $1.38 at the time of writing, per data from CoinMarketCap.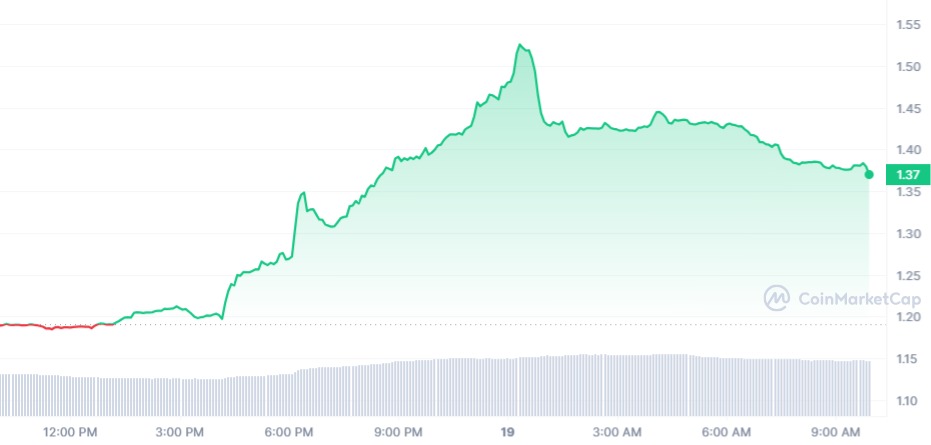 The performance of Akash Network has further extended its weekly gains to 15%, clearly outpacing the majority of top altcoins around today. The growth of Akash Network is an encompassing one with the right metrics to bolster the bull run. The coin's trading volume in the past 24 hours has jumped to approximately $5.4 million, a figure that represents 31.93% growth.
Akash Network is a relatively new protocol with the aim of outcompeting big tech in cloud-related offerings. The protocol has made a significant foothold since its inception, and it has been growing its ecosystem ever since.
The current growth appears to be triggered by some of the key fundamentals the protocol is exhibiting, including the publishing of its entire Cloudmos code base for the public to see. Investors appear intrigued that Akash Network has what it takes to solidify its foothold as a major contender in the decentralized cloud computing world.
Akash Network and growth efforts
Just like most protocols like Solana (SOL), Akash Network is also targeting a massive ecosystem growth initiative through a hackathon that just went live. Dubbed the Akashathon, the protocol has opened room for submissions until September, as it hopes to give some of the industry's most innovative minds an opportunity to be part of its growing network.
Akash Network has been making waves all around, and at this pace, it might set a new standard that other promising AI and cloud computing crypto projects will find hard to trail in the new term.