The lead developer of Shiba Inu who is believed to have co-created it together with Ryoshi, Shytoshi Kusama, has not left any message on the official Shibarium channel on Telegram for a long while already.
His last tweet that would contain any text, except emojis, was spotted last week. Now many SHIB users on Telegram seem to be concerned about their leader's absence and some are wondering if there will be any more Shibarium-themed articles in the SHIB blog before the Canadian blockchain conference in August.
The last actual tweet with a text message was published by Shytoshi Kusama last week – there he warned SHIB users to buy cold wallets only directly from manufacturers. On Saturday, he tweeted a "party face" emoji, commenting on a recent Shibarium milestone, in which the total amount of transactions rose to over 31 million.
Since then, there have been only a couple of retweets. As for the "Shibarium Tech" Telegram channel, there have been no messages from the lead SHIB developer for a while already.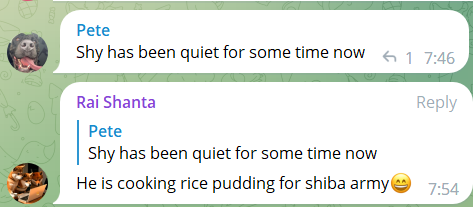 Some SHIB fans on Telegram are also urging Shytoshi to release another article about Shibarium before the ETH Toronto conference takes place in Canada on August 15-16.

Many expect the Layer-2 blockchain for Shiba Inu to be launched in August, despite the warning from the marketing expert of the SHIB team named Lucie that there is no any precise date for the Shibarium release. In a recent tweet, she only stated that the developers are really close to finishing the Shibarium mainnet and launching it.
So far, since March 11, a Shibarium beta titled Puppynet has been running, reaching 32,355,623 transactions in total by today and having 17,062,580 wallet addresses connected to it. So far, a total of 1,840,983 blocks have been created on Puppynet.