According to data from on-chain analytics firm IntoTheBlock, new addresses on the Shiba Inu network have more than doubled in the past few days.
Per IntoTheBlock, Shiba Inu has seen a 115% rise in new addresses in the last seven days.
New addresses are often a proxy of new money coming into a crypto asset. In certain cases, this could be interpreted as a sign of optimism or, potentially, FOMO (fear of missing out).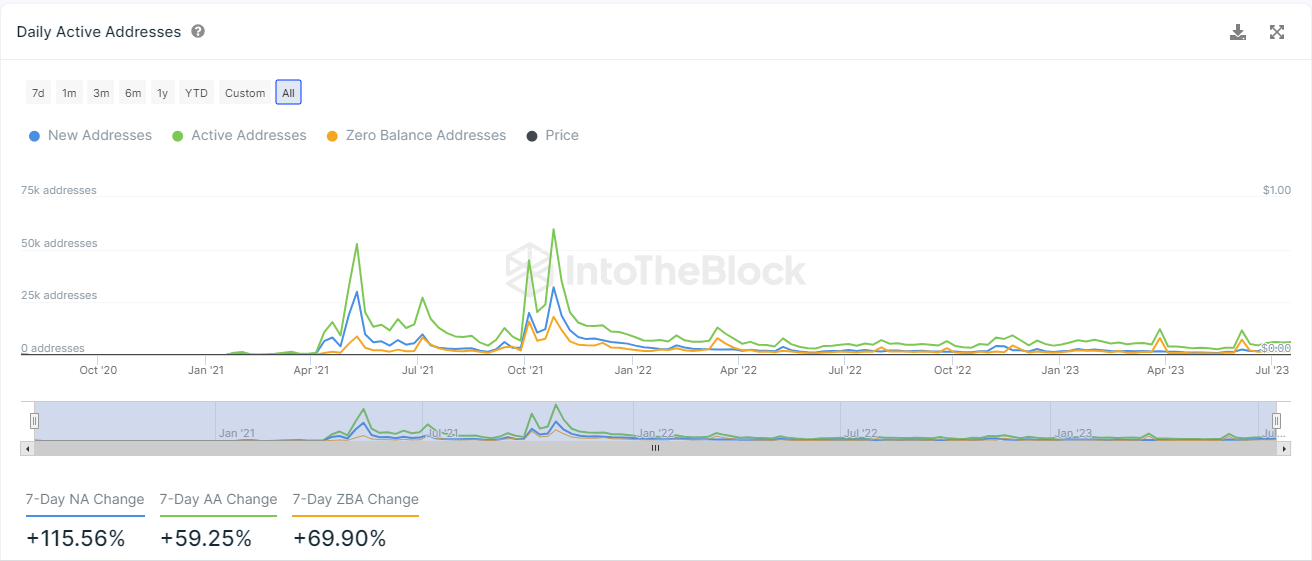 The increase in new addresses seems mostly to be a sign of optimism as Shiba Inu teases exciting times on the horizon.
The official Shiba Inu development team has announced the "summer of Shibarium," a new era for the Shiba Inu ecosystem.
Shiba ecosystem official Lucie highlights an exciting setup for the Shibarium community in a recent tweet. Here, BONE serves as the engine and the gas fee token, while SHIB remains the primary foundation for Shibarium's development. However, LEASH is intended to be exclusive and add that unique "extra" component to the ecosystem.
According to Puppyscan, the total number of transactions on the Shibarium testnet has surpassed 31 million, a milestone that indicates that its utility is growing enormously.
Shiba Inu's lead, Shytoshi Kusama, hinted in an earlier blog post at the next direction for Shiba Inu as it moves toward complete and permanent decentralization. The core tokens of the Shiba Inu ecosystem — SHIB, BONE, LEASH and TREAT — would each have their governance.
This implies that the holders of these tokens would have a say in determining the choices and future of the ecosystem. This might also have partly contributed to the rise in new addresses joining the ecosystem.
In a major listing move, non-custodial cryptocurrency exchange Changelly has added support for the Shibarium gas token, BONE. Users will be able to swap BONE for more than 500 cryptocurrencies on the Changelly platform thanks to the listing.