Per IntoTheBlock data, Shiba Inu billionaire addresses, which refer to those that own 100 billion to 1 trillion SHIB, were found to have increased their holdings the most over the past 30 days.
Notably, Shiba Inu is seeing accumulation from different tiers of holders.
In particular, Shiba Inu holders who own more than 100 billion to one trillion SHIB have seen stunning 20% growth in their holdings, according to IntoTheBlock data.
The past 30 days, from June 19 to July 17, saw the balance held by Shiba Inu large billionaire addresses increase from 103.18 trillion Shiba Inu to 123.53 trillion SHIB. The difference amounts to a gain of 20.35 trillion SHIB.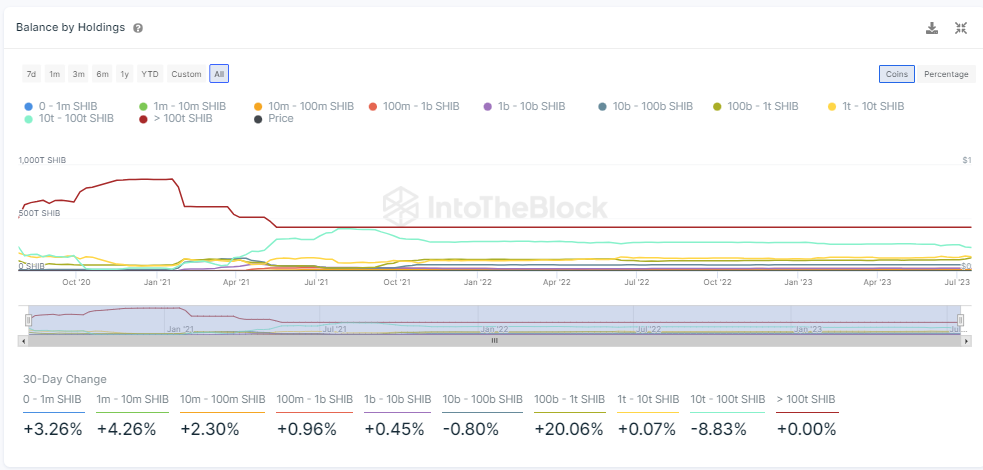 Shiba Inu large holders' inflow is seeing a steady increase, according to IntoTheBlock data, with a 1,498% growth in the last seven days. Large Holders Inflow from IntoTheBlock monitors the funds going into addresses belonging to either whales or investors over specific time frames. A significant increase in large holder inflows could signal active buying.
The optimism for the forthcoming launch of Shibarium mainnet might be attributed to the rise in the holdings of billionaire Shiba Inu addresses. Shiba Inu will be taking Canada by storm as the official title sponsor of the Blockchain Futurist Conference, scheduled for Aug. 15 and 16.
Exciting times on horizon, SHIB ecosystem official says
Shiba ecosystem official Lucie believes exciting times might be on the horizon as the Shibarium launch nears.
"Why no moon?!"
Dev do something 😵‍💫

Crypto prices tend to chill out around a year before a halving event because everyone's like, "Hmm, what's gonna happen? 🤔

During that summer, things may get a bit bearish, and folks might feel a bit down.

But don't worry! As we roll into… pic.twitter.com/SPcb0vR0it

— 𝐋𝐔𝐂𝐈𝐄 (@LucieSHIB) July 20, 2023
Lucie emphasizes that Shibarium is not some pump-and-dump scheme; it is a solid technology with the potential for significant growth in the years ahead.
She adds that Shibarium's innovative features and underlying technology could drive genuine value and utility for SHIB, BONE, LEASH and beyond.
"So, let's buckle up for the long run, because exciting times may be on the horizon," Lucie stated.