Shiba Inu large holders' inflow is seeing a massive jump, according to IntoTheBlock data, which reflects a 3,770% surge in the last seven days.
Large Holders Inflow from IntoTheBlock tracks the funds going into addresses belonging to either whales or investors, either on a seven-day, monthly or yearly basis.
Whales, by definition, are addresses that hold over 1% of a crypto asset's circulating supply, while investors are those holding between 0.1% and 1% of the circulating supply.
Thus, a large spike in large holder Inflows might suggest strong buying activity is taking place. This might be the case, as many of these addresses buy on centralized exchanges and then transfer their acquisitions into cold storage.
Additionally, spikes in large holder Inflows can point to bottoms in price, as these addresses tend to buy in bulk following significant price drops.
However, since entities frequently shift away funds they recently received for business purposes, it is important to keep in mind the outflows from these addresses.
That said, a look at Shiba Inu large holders' outflows in the last seven days reveals relatively mild outflows, with an increase of just 61%.
Shiba Inu net flows are up 616,538% as accumulation increases
It is important to note that both inflows and outflows cannot be studied in isolation without considering net flows.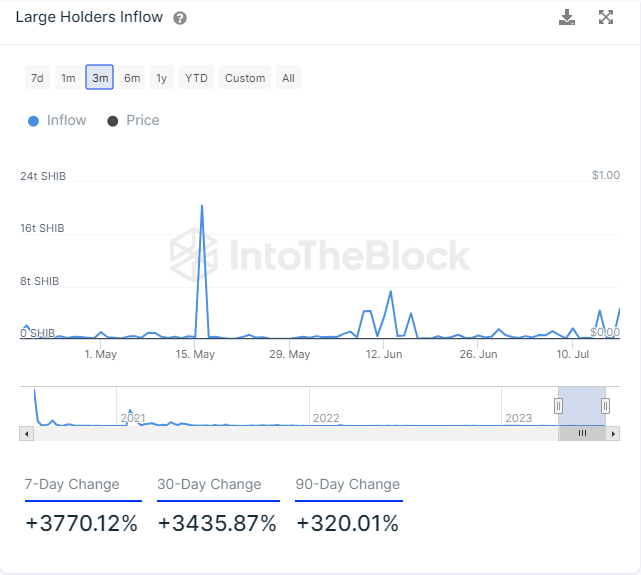 Large Holders Netflow provides an idea of the change in the positions of whales and investors, as defined above. In short, spikes in netflow can be seen as accumulation from large holders or whales, while drops might suggest reduced positions or selling.
A look at the Shiba Inu Large Holders' Netflows to account for the net difference in whales' positions suggests immense accumulation in the last 30 days. The last 30 days saw a whopping 616,538% increase in large holder net flows. The reverse can be seen in the last seven days, which highlights a drop of 6,343% as whales reduce their positions.
At the time of writing, SHIB was marginally down in the last 24 hours to $0.0000077.