The volatility in the broader digital currency ecosystem is clearing away, as showcased in the 0.74% uptick in the combined crypto market value that is now pegged at $1.21 trillion. Despite this, Shiba Inu (SHIB) is among the few altcoins whose bearish slump has been sustained, according to data from CoinMarketCap.
The data shows the meme coin is still trading at a price of $0.00001028, up by a marginal 0.48% at the time of writing but with a loss of 2.77% in the past week. While it is safe to say the meme coin is gradually paring off its losses, only its on-chain metric, the burn rate, gives promising signs that a bullish revival might truly be underway.
Data from Shibburn.com revealed that the burn rate has inched upward by 1,998% from the previous day, with a total of about 1 million SHIB tokens sent to dead wallets. The burn rate has shown some very bearish signs in the past few days, with the figure coming at 0% at some points.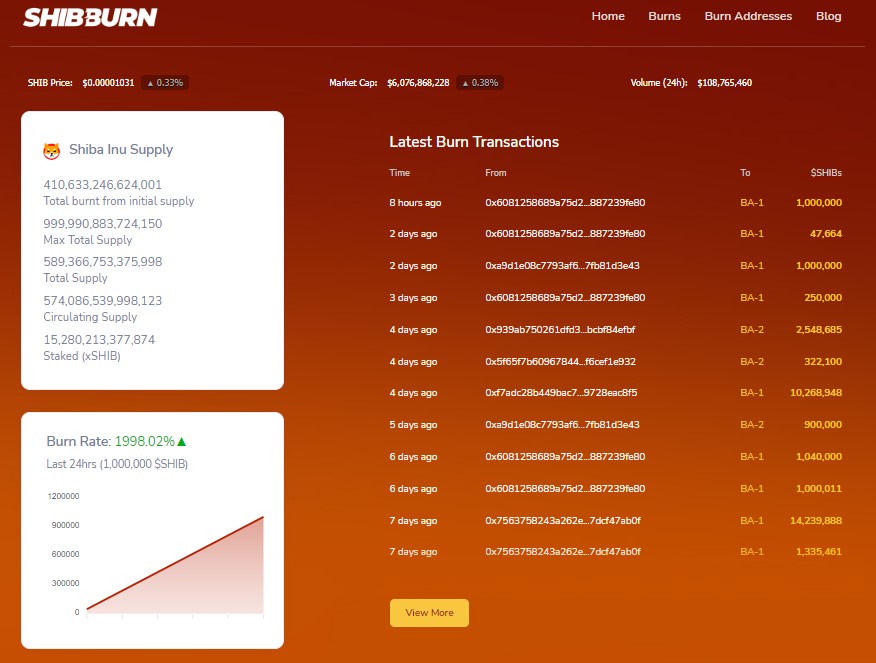 The current outlook is indicative of a revival in transactions that can largely add to the SHIB price's bottom line. At this pace, we can expect SHIB to reenter the profitable zone, provided the broader market momentum remains intact.
Shiba Inu and staunch community backing
There are crypto assets whose growth is completely speculative and devoid of input from the community. Though there are elements of uncertainty as concerns Shiba Inu and the majority of meme coins around today, the community input in SHIB's growth is well defined today.
As reported earlier by U.Today, the strength of the Shiba Inu community was showcased at this year's Consensus conference. With a collective push toward the success of Shibarium and other innovations coming from the Shiba Inu team, the future of the digital asset appears bright.