The lead of the Shiba Inu developer team known under the alias Shytoshi Kusama published a short post today in the official Shibarium channel on Telegram.
Shytoshi Kusama releases a brief post
The community was having a regular discussion on Shibarium and the Shiba Inu ecosystem in general. Many posted a screenshot of a Binance poll about meme coins, which asked which meme token one would hold, choosing from DOGE, SHIB, FLOKI and PEPE. The majority chose FLOKI, followed by SHIB and Dogecoin.
Shytoshi Kusama appeared to say a laconic "there". This provoked a positive reaction from the SHIB army as they seem to have taken it as the Appearance of Shythoshi before people.
Some just greeted Kusama in response, one user thanked him for all the work on the layer-2 protocol for Shiba Inu. Kusama did not explain the meaning of his message, though, but the community was pleased anyway.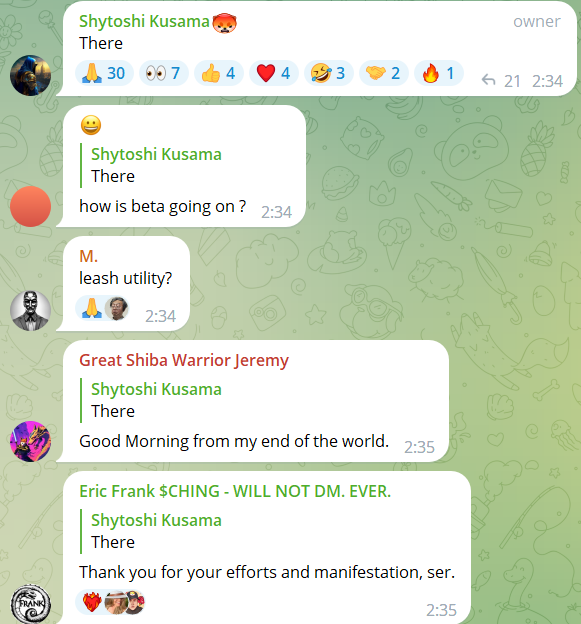 "We're in go mode", Kusama says
Earlier this week, Shytoshi responded in the same Telegram channel to a user who asked him persistently about updates on Shibarium. Shytoshi made a sobering response, saying "we're go mode, not in bro mode".
Kusama stated that there have been plenty of updates since all the chain activity and tokens on Shibarium are open to the public.