The price of Shiba Inu (SHIB) has been garnering attention as it sees an impressive surge off its local bottom at $0.0000065. The token has already racked up a gain of approximately 30%, generating renewed interest among the crypto community.
However, a quick reversal at the $0.00000840 price level, which aligns with the 50-day Exponential Moving Average (EMA) resistance level, has put SHIB back on the 21-day EMA support level. As it stands, the short-term trajectory of SHIB depends heavily on whether it manages to stay above this key support level.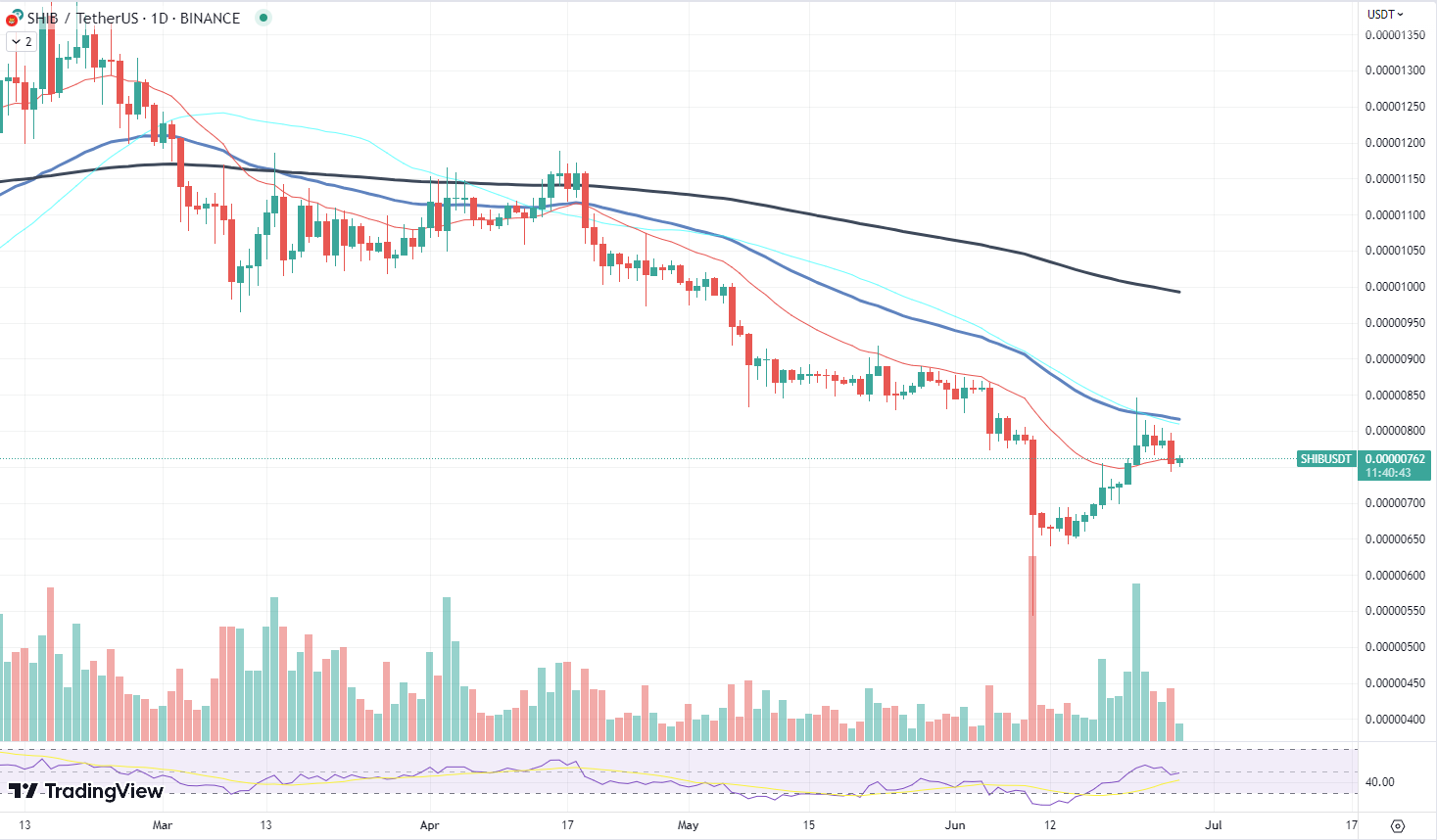 EMAs are significant in technical analysis as they are more responsive to recent price changes than simple moving averages. They place more weight on the latest data points, which makes them particularly useful in fast-moving markets such as cryptocurrencies.
The 21-day EMA level is particularly important for SHIB. Maintaining this support could trigger further buying interest and provide the momentum needed for the meme coin to challenge the 50-day EMA resistance once more. A successful breach of this level could set the stage for a more substantial uptrend.
Conversely, if SHIB fails to hold above the 21-day EMA support, it could indicate a bearish trend in the short term. Such a downturn could push the price toward its local bottom, leading to a period of consolidation before any further significant price action.
BLUR is in spotlight
The BLUR NFT marketplace, known for its innovative technological approach and competitive pricing, recently witnessed an impressive surge in both volume and market capitalization. The surge has simultaneously driven up the value of the underlying BLUR cryptocurrency by 28%.
One of the driving forces behind this robust growth can be attributed to escalating interest in the NFT market, which has seen a considerable resurgence in popularity recently. This resurgence has catalyzed a heightened trading volume on platforms like BLUR, particularly known for its seamless and user-friendly interface. However, the main source of buying power is most likely tied to the listing on Upbit exchange.
BLUR's growth is not just confined to its technology and market trends; its cost-effectiveness plays a vital role too. As gas fees on leading platforms like Ethereum reach exorbitant levels, BLUR's affordable transaction costs become an attractive alternative for artists and collectors alike, further driving its adoption.
Now, let's look at BLUR's price prospects. It is currently trading at the 50 EMA (Exponential Moving Average), marking its highest price level in the last 18 days. This point serves as an essential marker for traders since it suggests a possible price reversal in a bullish market. However, it is worth noting that even though reaching this price level indicates the potential for a significant uptrend, a single metric should not be the sole basis for investment decisions.
Whales pick up Arbitrum
Arbitrum (ARB) is gaining significant traction on the crypto market, breaking through the 50-day Exponential Moving Average (EMA) and reaching a local high of $1.2. Notably, this substantial upturn coincides with the awakening of some significant dormant whales on the ARB market, hinting at a potentially informed purchase.
In the crypto ecosystem, when dormant whales begin to stir, it often signals anticipatory movement on the market. After periods of inactivity, the recent actions of two prominent whales are raising eyebrows on the ARB market.
Whale "0x1b67," who had been dormant for 1.6 years, has now reactivated and moved 450,881 ARB tokens (worth approximately $504K) from Binance on June 25. This substantial withdrawal signifies a significant shift in the whale's trading strategy, potentially indicating an anticipatory move for future ARB price movements.
Furthermore, another whale, "0x3737," also woke up after six months of inactivity. On June 20, they spent a considerable sum of 939 ETH (equivalent to around $1.68 million) to purchase 1.57 million ARB at roughly $1.07. This significant acquisition may hint at an upcoming bullish trend for ARB.
The recent surge in the ARB price coupled with whale movements suggests potentially optimistic market sentiment toward Arbitrum. However, it is important to note that while the activities of crypto whales often precede market movements, they are not definitive predictors of price direction. The cryptocurrency market remains volatile and influenced by a myriad of other factors.