The altcoin growth momentum is mixed today as the broader cryptocurrency landscape is mixed with both positive and negative price trends. Of the altcoins making impressive moves today, Blur has taken an emphatic lead after soaring as high as 25% in what can be defined as its biggest price show over the past month. Blur is changing hands at a spot price of $0.429, according to data from CoinMarketCap.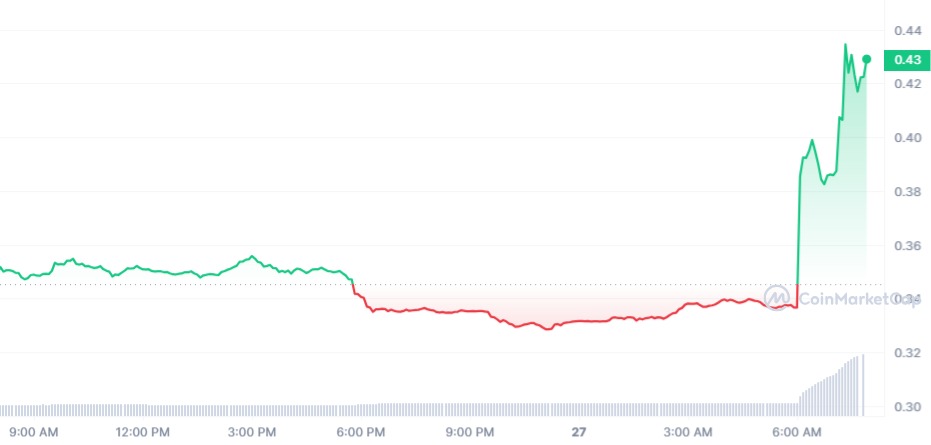 Three triggers
There is hardly any growth recorded on a digital currency that was not precipitated by some triggers, and for Blur, the apparent surge in daily accumulations represents one prominent push for growth. Blur's trading volume soared as high as 466.87% in the past 24 hours to $97 million.
This growth is unprecedented, and despite being ranked 99th in market capitalization, the trading volume is the 44th biggest in the crypto world today. The Blur trigger is also embodied in the overall outlook of the parent platform as one of the best non-fungible token (NFT) platforms around on the Solana (SOL) blockchain.
Known for offering advanced features and functionalities to serve its users, the Blur marketplace is fast becoming the go-to place for NFT collectors in the Web3.0 space. The role of BLUR as a governance token has also helped expand its utility and boosted its demand.
The third obvious trigger for growth is the resurgence in interest in NFTs, a move that the BLUR marketplace has benefited from recently. As a crucial showcase of its growing popularity, the BLUR marketplace recorded its highest Total Value Locked (TVL) last week as a complement to its wide adoption.
Can BLUR sustain this growth?
As it stands, Blur's latest growth rally has helped trigger a positive growth trend in the trailing seven-day period, where it has recorded 27% growth, paring off the losses it has accrued thus far. Most altcoins are defining their own growth as the market is generally favorable, and with more products and new tech enhancements, BLUR may sustain this growth in the near term.