Recently, the CEO of Coinbase posted a link to an article which says that US authorities refused to provide a visa to Zoom's CEO nearly ten times, as well as how he became a billionaire.
The founder of Ethereum, Vitalik Buterin, joined the discussion, sharing some curious details from his past, before he created Ethereum.
Vitalik failed to become a Ripple intern
Replying to Brian Armstrong's post, Vitalik wrote that he had also been rejected a US visa. This occurred back in 2013, when Buterin applied to become an intern with Ripple. However, since the company had only been working for less than a year, he did not receive a visa.
Fun fact: I tried to be an intern at Ripple back in the day (mid 2013), but US visa complications having to do with the fact that the company had only existed for 9 months and the minimum was 1 year stopped me.

— Vitalik Non-giver of Ether (@VitalikButerin) April 19, 2019
A user going by the name 'XRP Bank' jokingly suggested that now Buterin might apply for that position once again, tagging David Schwartz, Ripple's CTO, in the tweet.
The reply came most unexpectedly, with the CTO offering Vitalik an internship position once again.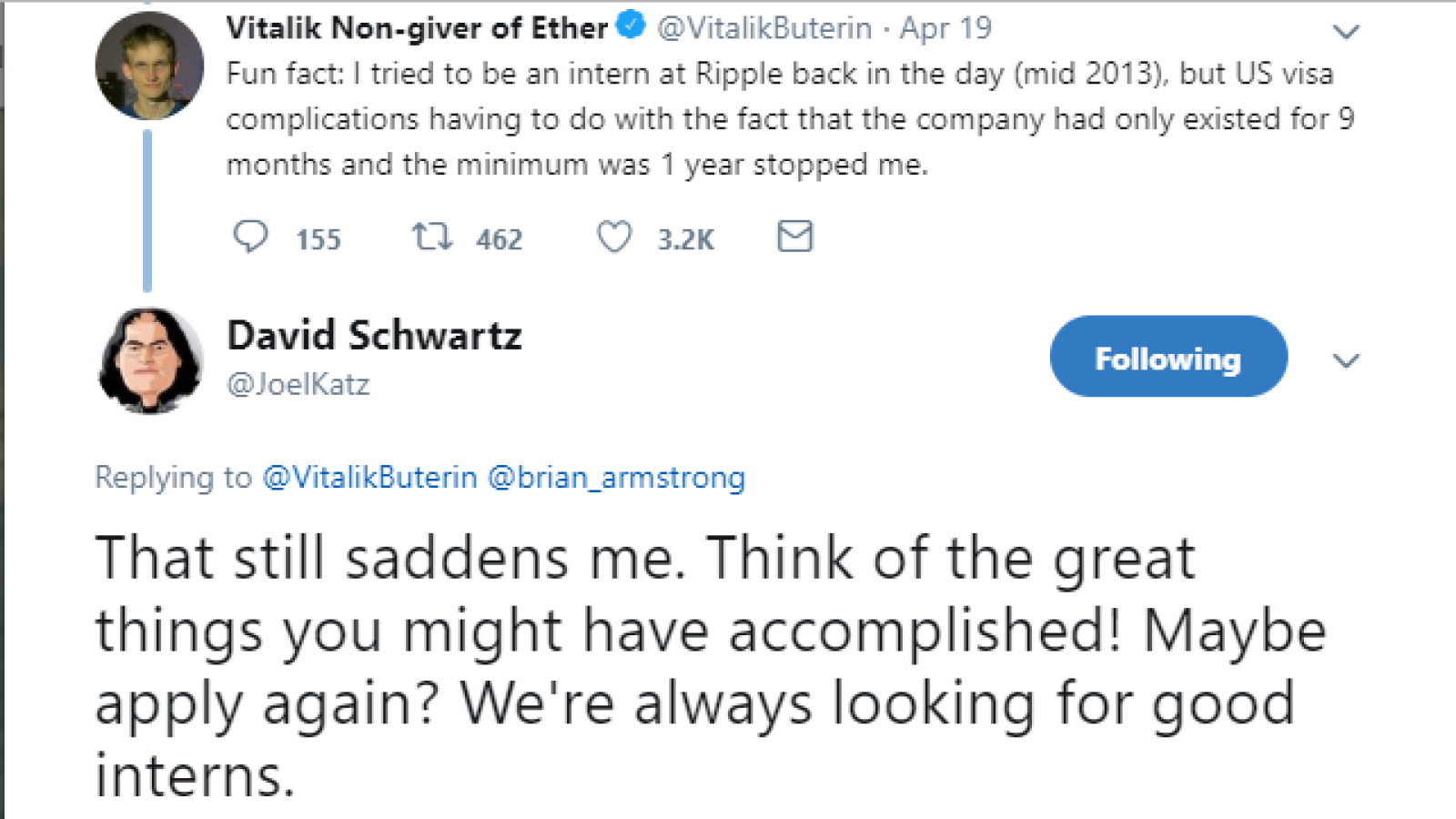 The communities of the two top crypto platforms, Ethereum and Ripple, came together in this thread to watch the dialogue.
One of Ethereum's fans stood up to Schwartz, saying that he might show more respect to Vitalik and his achievements.
The Ripple CTO then had to explain that his comment was a mere joke, with all due respect to Vitalik.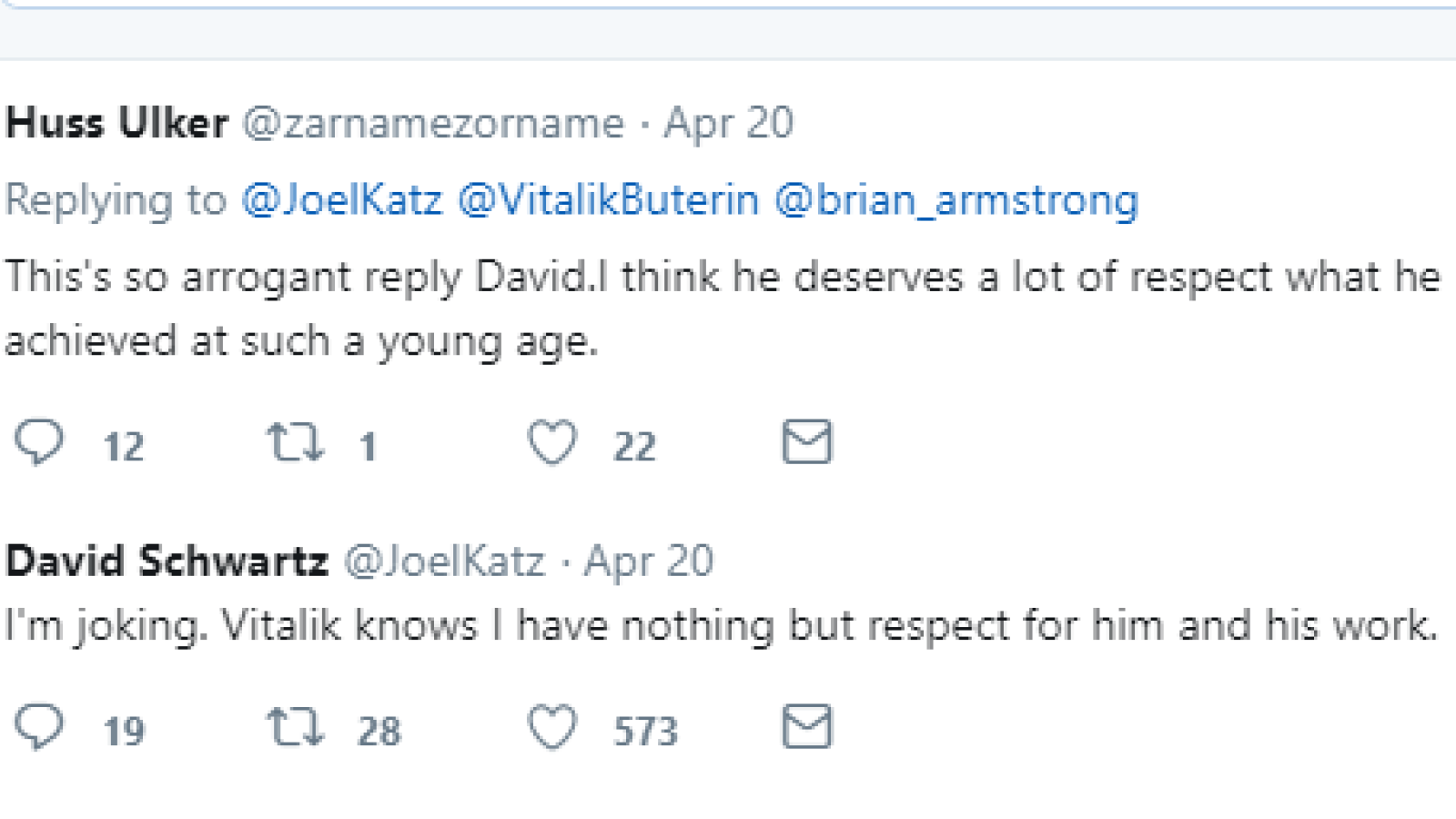 Justin Sun feels sorry he and Vitalik did not meet at Ripple
The founder of Tron, Justin Sun, who also used to work for Ripple once, expressed regret that he and Vitalik Buterin had not met at that company. The semi-trolling comment by Sun says that he and Vitalik would have been mates there, since they would have been the only millennials at Ripple back in 2013.
When I found out these facts from @justmoon in late 2013/early 2014, had we both been at Ripple, I am certain we would have been buddies?since we would have been the only 2 millennials there! @VitalikButerin https://t.co/ese30A1C0f

— Justin Sun (@justinsuntron) April 19, 2019
The community has taken the response to the joke with encouraging comments.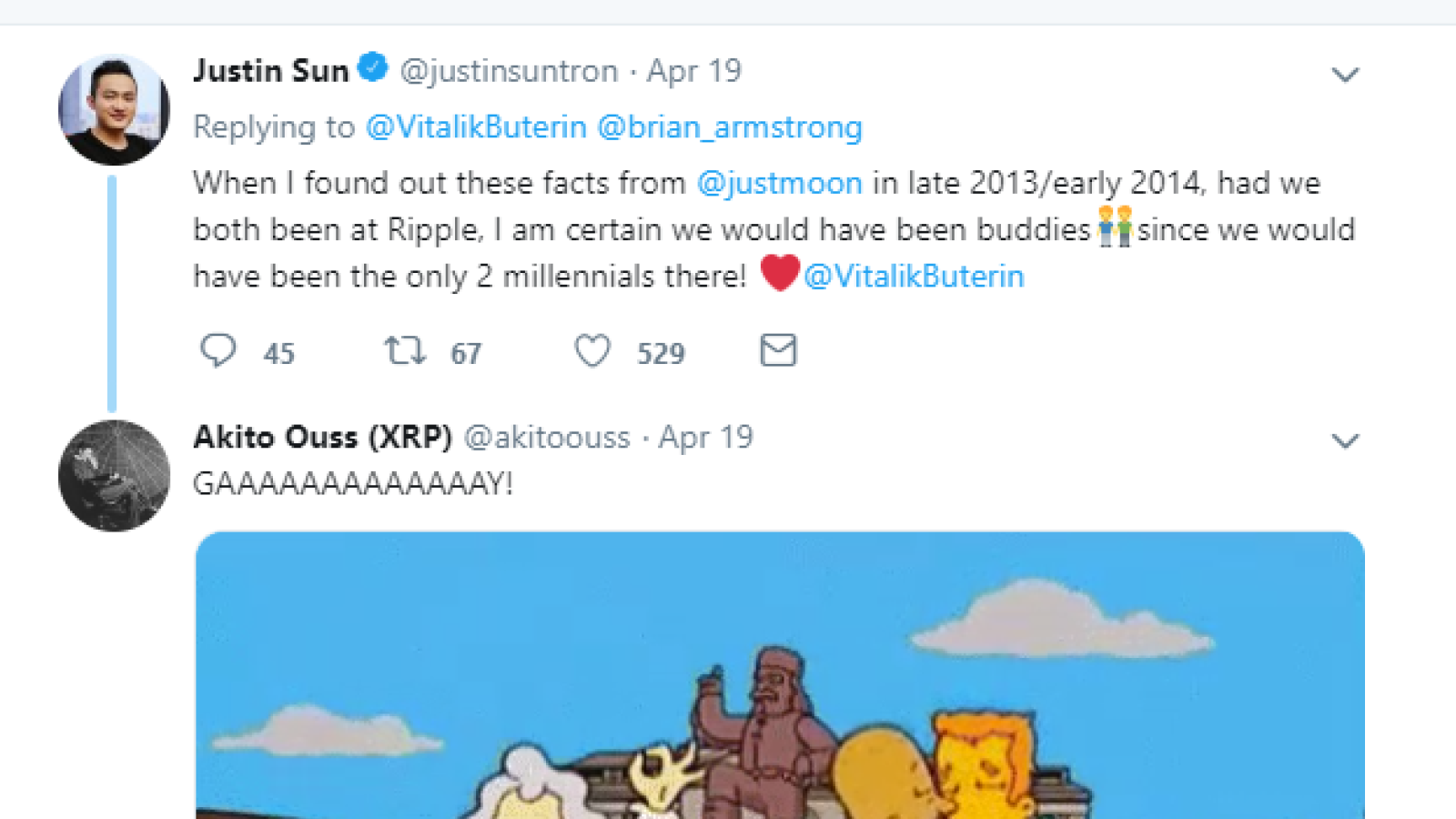 Still, earlier this year, Justin Sun said that in 2019, Tron may well start an official partnership with Ethereum, so a collaboration if not friendship between these two heads of competing platforms could still happen.