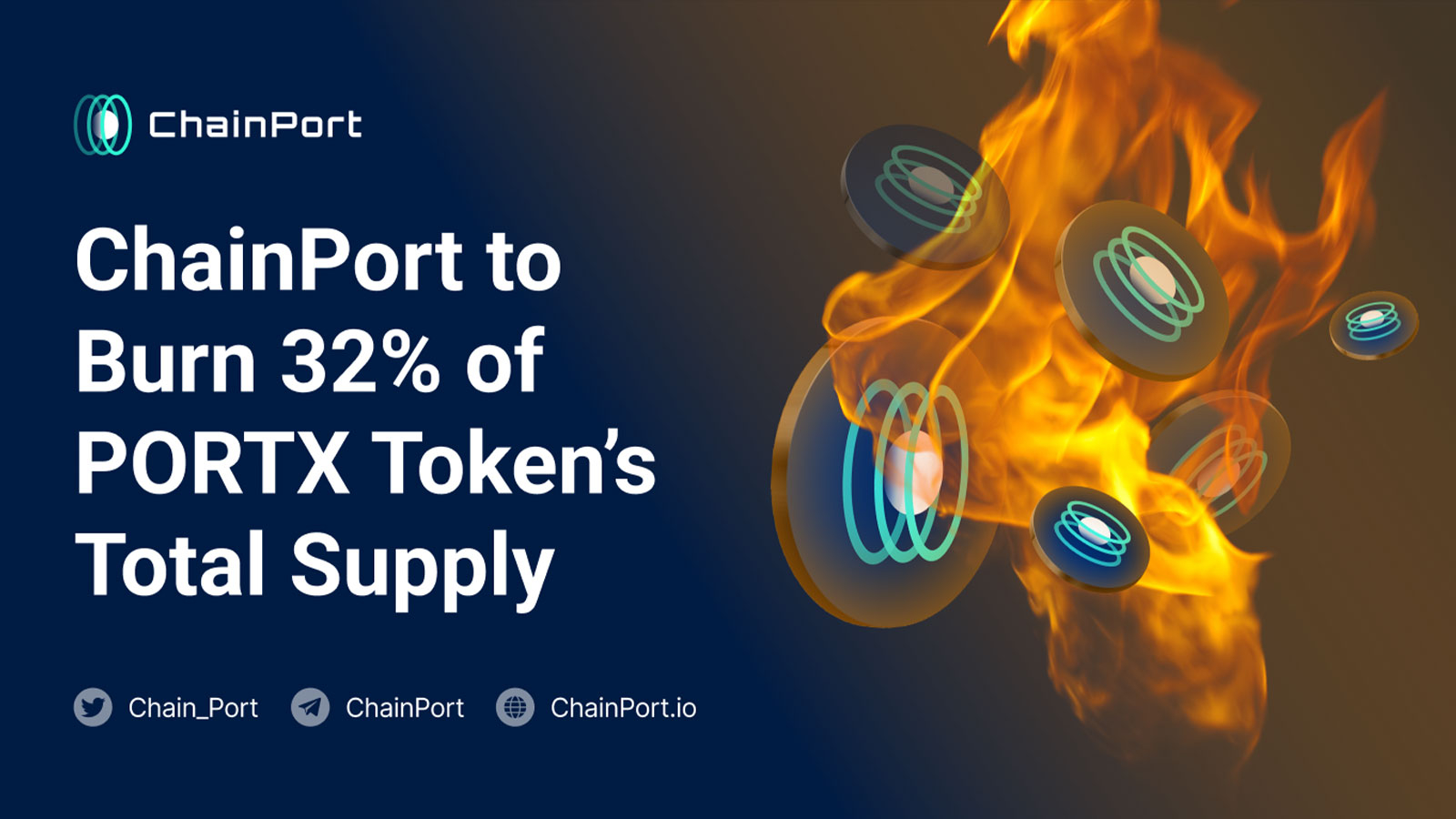 Press Release
The cover image and all the rights belong to the client ordering given press release
We are thrilled to announce that as a reward to our holders, we have decided to commence a significant PORTX token burn event! We have kicked off this initiative with a burn of 320,000,000 PORTX tokens, or 32% of the total supply of PORTX! The burn follows the successful launch of both ChainPort's fee model and the PORTX token.
As a result of the burn, the circulating supply of PORTX tokens has been reduced from 1,000,000,000 to 680,000,000. See the burn Tx here.
At ChainPort, our community comes first. Both the fee mechanism and PORTX were planned to launch earlier. Due to market concerns and perfecting the fee model, there was a slight delay. The delay guaranteed the platform and fee model's performance before launch and ensured PORTX holders would be pleased.
Reducing tokens by burning a portion of the supply should benefit holders. The scarcity of PORTX tokens should increase due to reducing the supply. The burn of PORTX tokens will open up more opportunities for token holders. By combining the burn with a fundamental and practical fee model ecosystem, PORTX becomes even more attractive to investors.
PORTX token has a robust fee model in which fees collected will be utilized and redistributed. The fee model will work as such:
20% to the project of the source token. Claimable in PORTX. The 20% is from the fees accrued on the ports of that token only. Any fees not collected in PORTX will go towards purchasing the PORTX.
20% Participation rewards. For each port in or out made by an address, that address will receive participation points. The participation points will reward them with PORTX, which is claimable regularly.
20% Referral/Affiliation Rewards - distributed to eligible referrers/affiliates who referred the porter to ChainPort.
15% PORTX buybacks - If users didn't pay the fee in PORTX, 20% go towards buying back PORTX. Some to all of this amount may be used for continued R&D funding and/or removing tokens from liquidity (burns).
10% Liquidity provision - ChainPort will utilize this portion to add liquidity in the various DEXs. Half of the amount will be used to buy PORTX, and the other half to purchase the base asset on the DEX pools with PORTX.
10% Redistribution to PORTX Fee Stakers - This portion rewards PORTX stakers on the official ChainPort fees manager contract. If not in PORTX, those funds will also be used to purchase PORTX before distribution as staking rewards. All those ChainPort users who stake PORTX in the official fee manager contract will be eligible to receive APY based on their relative stake in the contract.
5% for ChainPort Future Development - will be stored in the treasury for the project.
About ChainPort
ChainPort is a next-gen cross chain bridge that provides custodian-level security with full interoperability. ChainPort introduces an unprecedented level of security architecture, porting tokens safely across blockchains with just a click.
Security is always paramount for ChainPort, and 95% of the funds are stored in cold storage wallets provided by leading industry security experts: FireBlocks MPC and Gnosis-safe multi-sig.
ChainPort is a permissionless bridge that is already porting more than 140 tokens between blockchains, with additional projects joining daily. Porting is done in just minutes through a friendly and straightforward UI without the need for any technical integration.
Since its launch in 2021, Chainport has managed 35,000 ports and $500,000,000 in volume. Learn more by visiting ChainPort.io or reading our documentation.
Join the ChainPort community for updates:
ChainPort | Twitter | Telegram | ChainPort News | Documentation | Medium | Reddit