After about two weeks of unending meme coin hype, more variants keeps coming out through unknown sources or means. KEK is one of the latest that is copying PEPE, the meme coin that has lead the revolution over the past several days. At the time of writing, KEK is trading at $0.0000002117, up by 1,056% in the past 24 hours.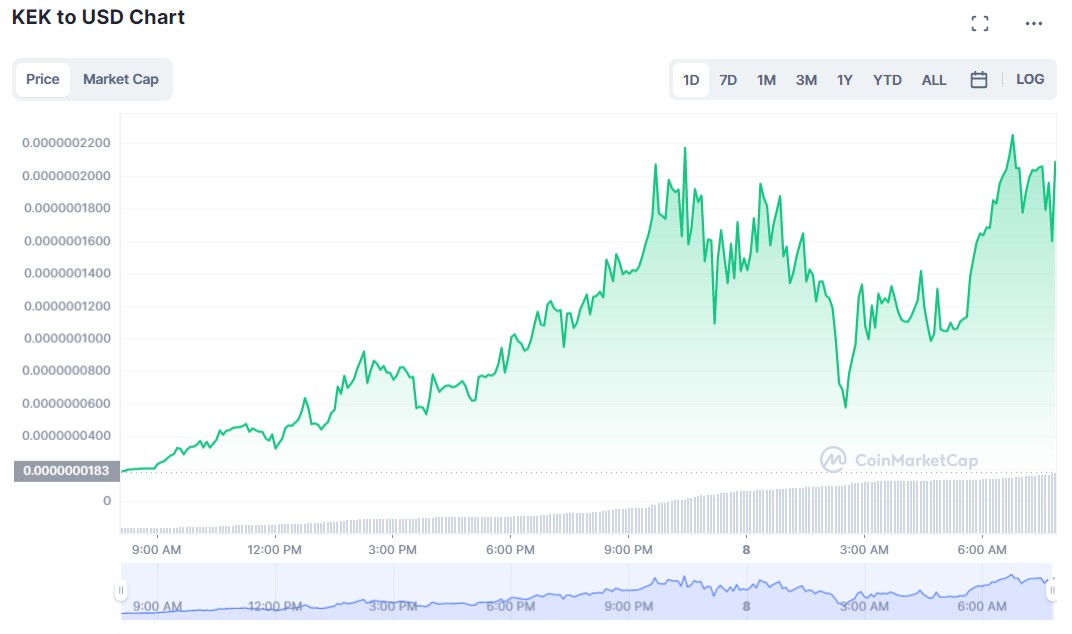 Like most meme coins just getting into the limelight today, KEK is an entirely new token, and it is recording its most significant price actions in tandem with the recent upsurge that was ushered in by PEPE. The altcoin recorded its lowest price action about two days ago and its all-time high of $0.0000002316 a few hours before writing.
One major reason why KEK may be seeing such significant price action is the influence of PEPE. Besides being a relatively new token with a growing community of its own, the meme coin is disguised as a lookalike of PEPE, which might give people the impression that both projects are intertwined.
With users still proving the legitimacy of PEPE despite its recent listing by Binance exchange, the KEK token's growing community is notably filled with only hardcore meme coin maxis for now.
When will meme coin hype burst?
Meme coins are a very volatile crypto asset class whose origin stems from the emergence of Dogecoin (DOGE). Since Dogecoin was introduced, the industry has seen quite a number of other meme coins, including Shiba Inu (SHIB) and Floki Inu (FLOKI), among others.
The hype surrounding these tokens is not ending anytime soon, as it is an easy way for retail traders and even market whales to print massive gains.
The fact that DOGE and SHIB, for instance, have established a thriving community over the past couple of years has showcased that anything is possible even with these upcoming meme coins.