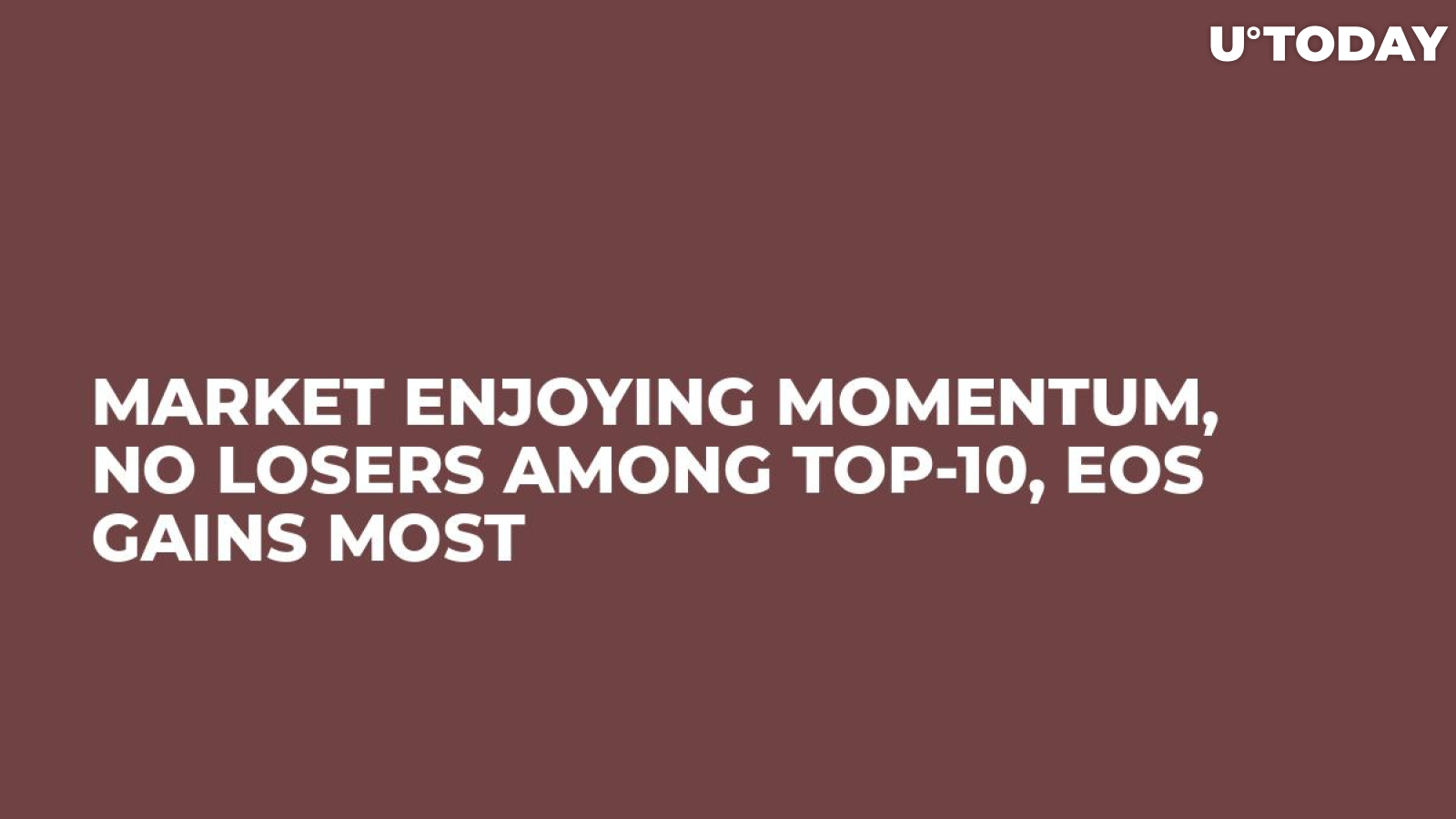 Cover image via U.Today
On the morning of Tuesday, December 18, nearly all coins on the top-100 list are like the grass on the other side – green. Nearly all assets are showing positive dynamics, some rising more, some going up less.
The top-10 winners' club
Bitcoin, the father of all crypto coins, is bullish and trading at $3,494. Over the last 24 hours BTC has demonstrated a growth by 6.25 percent at the time of writing.
The three coins that have shown the biggest gains today are Stellar (+10.82), XRP (+12.98 percent) and the top gainer is EOS (+20.62 percent). Also, EOS at the moment is in position #4, having outrated XLM.
Earlier, the increase totalled around 22 percent. It is worth noting that just within one day, starting on Monday, EOS not only recovered all its losses but also gained a little extra 'fat'. Experts believe that EOS has hit its daily high for now.
Currently, EOS is sitting at $2.38. The market value of the asset now totals $2 158 310 370. Analysts believe that continuing at this pace, EOS may reach the $3 level soon enough.
Among the other coins on the top-10 list, the biggest gains are shown by Tron (+7.22 percent) and Ethereum (+7.42 percent).
Going beyond top-20
Among the top-20 virtual assets, the three best rising coins so far are IOTA (+11.92 percent), DASH (+9.17 percent) and Dogecoin (+16.12 percent). The abandoned, semi-joke coin DOGE seems to feel good enough recently, so it seems it is high time for the project to revive.
Just eight coins on the top-100 list are declining today, among them three stablecoins:
TrueUSD (-0.09 percent), Gemini USD (-0.98 percent), Revain (-5.50 percent), QASH (-1.97 percent), Dai (-2.10 percent), Decentraland (-0.42 percent), Ardor (-1 percent) and DEX (-0.97 percent).
To sum up
Probably, this is yet another green break during which market bulls can catch up on their breath before Bitcoin plunges again, pulling the rest of the market to another low.
However, remembering the optimistic forecasts of such reputed bulls as Tom Lee from Fundstrat, Mike Novogratz, Tim Draper and other prominent crypto investors and billionaires, including John McAfee, who is about to start his pre-election run for the US presidential post against Donald Trump, there seems to be a hope that Bitcoin will raise its head high enough, if not within a week or two but at least in early 2019.