Gulf Blockchain Week 2021
Event details
Location:

Dates:

Fri, 10/08/2021 - Fri, 10/15/2021

Website

https://www.gulfblockchainweek.com/ 

Price: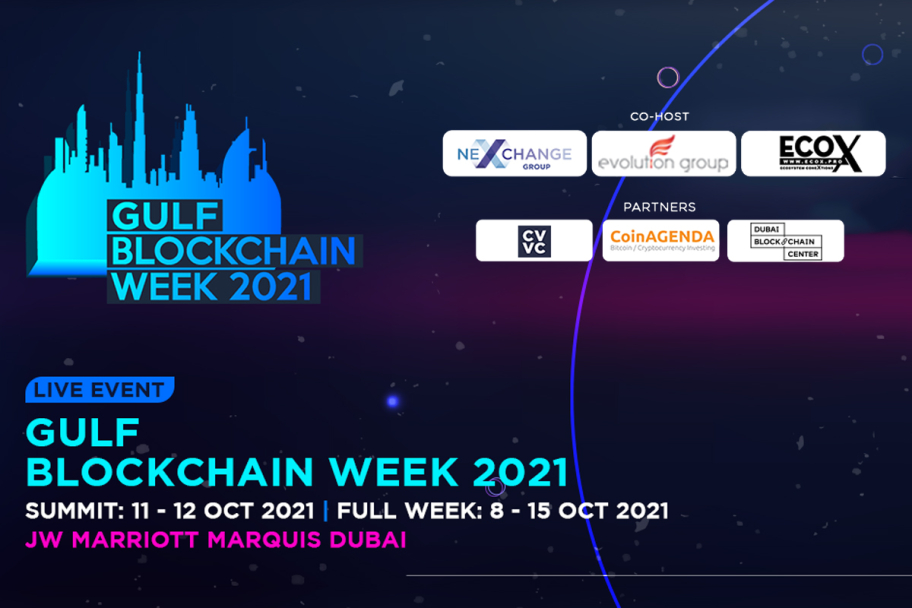 Cover image via U.Today
NexChange Group, Evolution Group and EcoX are proud to present Gulf Blockchain Week 2021 taking place in JW Marriott Marquis Dubai. The week-long event, created in partnership with CV VC and CoinAgenda, will run from October 8 to October 15, 2021. The core Gulf Blockchain Summit is scheduled for October 11-12. Global blockchain community will converge in the biggest UAE city for a premiere conference to discuss the latest industry developments and cement Dubai's reputation as a global technology leader.
The Persian Gulf states refers to a set of countries that border the Persian Gulf. There are seven member states of the Arab League in the region: Bahrain, Kuwait, Iraq, Oman, Qatar, Saudi Arabia and the United Arab Emirates, with combined population of almost 100 million people.
In the context of new digital era and the emergence of disruptive technologies, obviously boosted by economic development of the region and the COVID-19 pandemic, the Gulf states have managed to develop an advanced technological infrastructure via extensive research and piloting real life use cases. Among the wide range of technologies, blockchain has been recognised as a powerful tool which increases efficiency and productivity, and highly improves government services and business and corporate processes.
United Arab Emirates (UAE), Bahrain, and Saudi Arabia have been on the forefront of blockchain research and implementation, researching and examining current and future applications of blockchain systems across banking and financial services, in supply chain management, and in education sector. In these countries, blockchain specific strategies have been implemented on a state level: for example, with the implementation of the Dubai Blockchain Strategy, and with launching the Smart Dubai platform, Dubai has become the world capital of blockchain development. Bahrain became the first country in the world to pass a Law for the Issuance of Letters and Electronic Transactions — codified by Decree Law No. (54) for the year 2018 — to establish the appropriate legal framework and support for using blockchain.
Dubai has a long tradition of leading digital innovation for the region. Being one of the strongest finance and tech hubs in the world, it aims to be the "first city fully powered by blockchain" in order to drive the future economy. The city is home to a vibrant and strong ecosystem that has piloted a number of groundbreaking blockchain projects, exploring innovative use cases across a range of sectors, from municipal services and education, to transportation and security, to tourism and real estate.
Hundreds of world known experts, investors, academics and business leaders will convene for Gulf Blockchain Week 2021 and define the blockchain agenda for the whole region, and asses the influential role that blockchain will play in the development and modernisation of the Gulf's government, commercial, and financial sectors in the future.
GBCW Social Media Accounts:
Facebook (@gulfblockchainweek2021)
Twitter (@GulfBCW_2021)
LinkedIn (@Gulf Blockchain Week)
Instagram (@gulfblockchainweek)
Advertisement
Top
Crypto
News
in
Your
Mailbox
Top
Crypto
News
in
Your
Mailbox