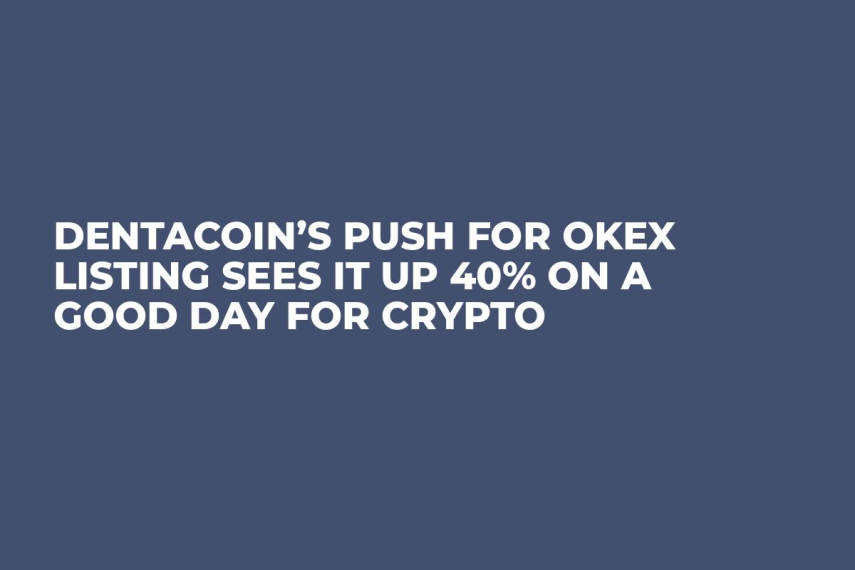 Cover image via U.Today
Much of the market has recovered from a correction that saw the price of Bitcoin down towards $9,100, but it is the surprising digital currency designed for the dentistry industry that is making massive waves today.
Dentacoin, is up 40 percent in the last 24 hours, although still valued very low at $0.001. However, the reason for its rise might well have something to do with the fact that it is starting to gain some traction and could be listed on OKEx in the near future.
Heading for OKEx
For many coins that are starting to find their way, listing on a major exchange, which OKEx is, usually helps their price boost by some distance. This was experienced by Bytecoin which went up by 76 percent when it was listed on Binance.
Now, Dentacoin, even though it is already on the rise with its 40 percent jump, is expecting a further 300 percent jump based on previous indicators on OKEx.
"Listing a token on OKEx can result in up to 300 percent increase in value in just two weeks, according to the results marked by 23 other tokens listed on OKEx in the period November 2017–February 2018," it said on Dentacoin's website.
Green returns
The rest of the market is also faring quite well with the head of the market, Bitcoin, up 2.5 percent and the rest of the top five doing even better. Only five coins are in the red over the last 24 hours, but none of them are down more than a percent.
However, one of those coins is IOTA, which is also sitting ninth in terms of market cap.
It would seem that Bitcoin has found support above the $9,000 mark which is an important indicator in terms of investor confidence in the digital currency, and also would suggest that a bull market is gently building up.