Cardano (ADA) is on a rampage today as it is trailing the broader digital currency ecosystem that has printed a massive recovery atop the 5.79% jump in the combined crypto market cap pegging it at $1.25 trillion. Joining the trend, Cardano is changing hands at a price of $0.348, up by 21.11% over the past 24 hours.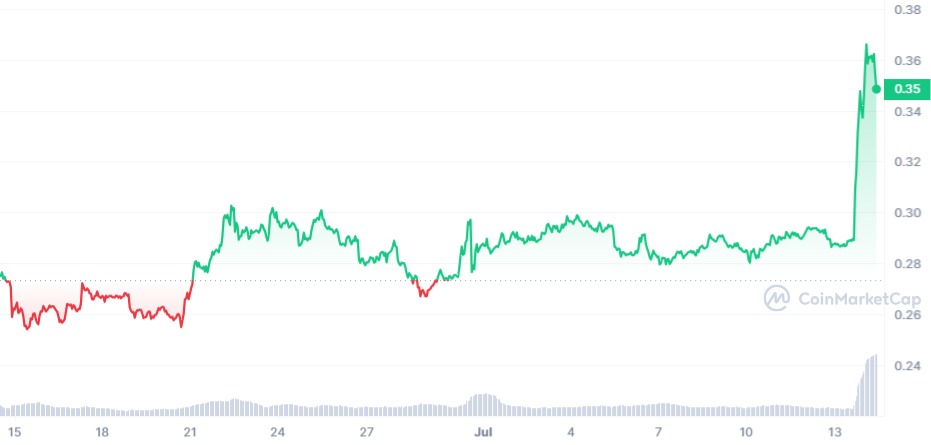 The resurgence in the price of Cardano stems from the favorable ruling from Judge Analisa Torres, who determined that XRP coin issued algorithmically and trading on secondary markets does not constitute an investment contract. The news has been tagged as a major win for the Cardano ecosystem, seeing as it was labeled a security by the United States Securities and Exchange Commission (SEC) when it sued Coinbase and Binance.
Prior to the summary judgment released yesterday, Cardano has been maintaining a very close trading range, with the price hovering between a low of $0.2553 and a high of $0.3027 over the past month.
The new growth recorded has pushed the coin to a multi-month high, a trend that underscores the possibility of Cardano benefiting from the ruling in the near term.
Is Cardano a security?
When the SEC sued Coinbase and Binance and named ADA alongside other digital currencies, including BNB, Solana (SOL), Decentraland (MANA) and Polygon (MATIC) as securities, the Cardano Foundation promptly opposed the motion.
While the market regulator did not sue Cardano directly, the negative classification has had a significant impact on the network's native token, which has now been delisted on top trading platforms, including Bakkt, eToro and Robinhood.
If the designation of Cardano as a security does not change in the near future, investors may find it hard to back the token, just as was done to XRP for the more than two years since the SEC had filed its lawsuit against Ripple Labs.