On Wednesday, one of the major trading platforms, KuCoin, wrote that it had added BNB to the list of its trading assets, pairing it against BTC and USDT.
Binance Coin (BNB) is now on KuCoin. Supported trading pairs include BNB/BTC and BNB/USDT. Deposits will open at 16:00 on June 19, 2019 (UTC+8), trading will start at 18:00 on June 19, 2019 (UTC+8) and withdrawal will open at 18:00 on June 21, 2019 (UTC+8).#KCS #BNB #BTC #USDT pic.twitter.com/e4NxFmTEgg

— KuCoin Updates (@KuCoinUpdates) June 19, 2019
Deposits are to be launched today, on June 19, at 16:00 (UTC+8). Trading is to begin at 18:00.
In the comment thread, the KuCoin community asks when Binance will list KCS in return.
Binance CZ on the BNB listing
On Thursday, CZ responded to this move by KuCoin, saying that the exchange has made a 'smart move' by beginning to support the BNB token and Binance Chain.
CZ enumerated several major benefits that, as per him, KuCoin will now gain. He wrote that KuCoin will now have access to big projects that run on Binance Chain and also attract those BNB lovers that cannot be serviced by Binance at the moment.
Very smart move from KuCoin to support #BinanceChain and $BNB.
1. Access to many strong projects already (and will be) on Binance Chain.
2. Attract BNB traders and holders, especially users we had not been able to service. https://t.co/7EX5bC1kAR

— CZ Binance (@cz_binance) June 19, 2019
People in the comment thread began asking if CZ is going to list KuCoin's KCS in return. However, instead of replying himself, the Binance CEO chose the best answer in his opinion that came from another user – "if KCS migrates to BNB Chain".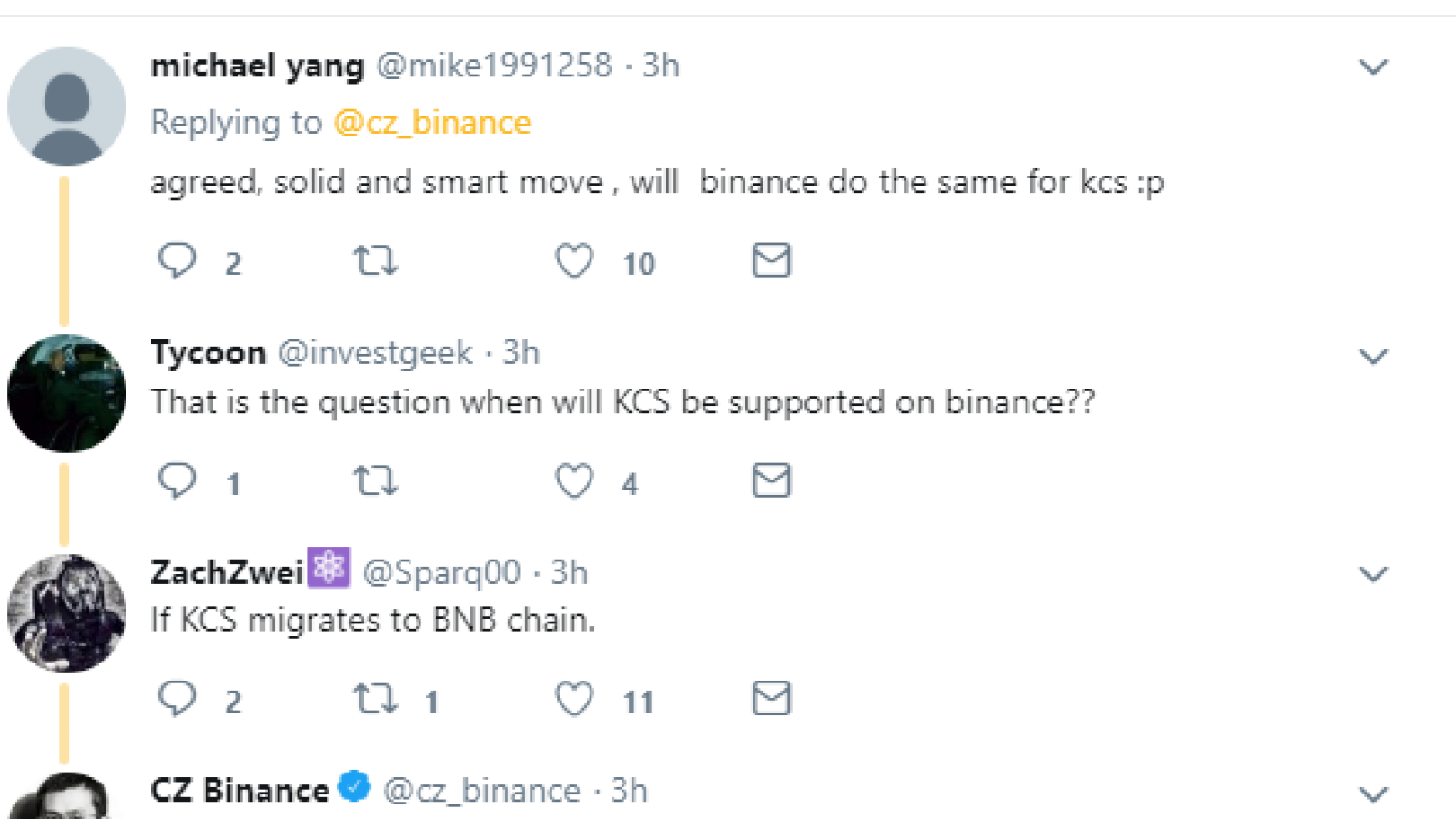 Binance keeps up its global expansion
Recently, Binance has spread the word about several ongoing preparations that confirm its status as the world's most innovative virtual exchange.
Binance intends to set up a US branch with full compliance to the local regulations. While doing preparing to do that, Binance plans to ban US users from trading – this is to be done by early September. By that time, Binance US is expected to begin operating.
Besides, the company has made it public that it is busy preparing to launch a number of stablecoins on its recently launched blockchain network. One of them is to be pegged to GBP, the other – to Bitcoin.