BTC is burning candles at both ends, but will it have the power to ignite bull market again? We are waiting for it to reach the long-awaited $10K level, but it keeps us at the edge of the chair with up-and-down movements.
No one can give you an exact answer, but let's take a brief look at BTC price predictions and technicals from TradingView experts.
Fractal is forming again?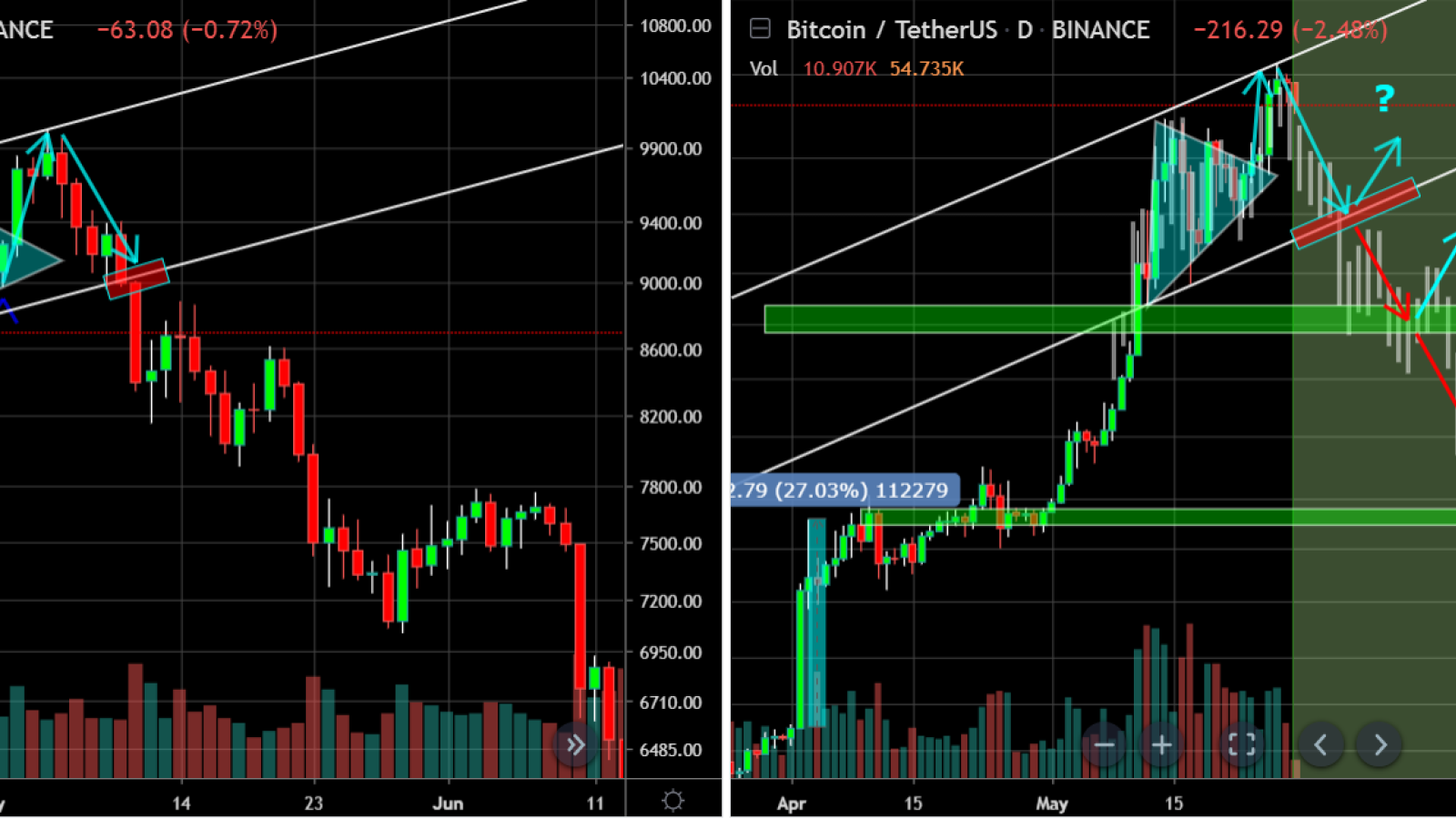 As SpartaBTC has noticed, we are repeating the BTC fractal that happened in May-June 2018. The current situation is pretty similar.
The growth of the market without corrections is observed since February.

4 green candles in a row on the monthly chart.

Two unclosed gaps on SME

Futures expiration on May 31st.

RSI shows a bearish divergence.
What does it mean for us now? The bearish times are ahead! Bears are getting closer and closer, and BTC might not have the opportunity to reach $9K or $10K before its epic fail.
BTC waving the bull flag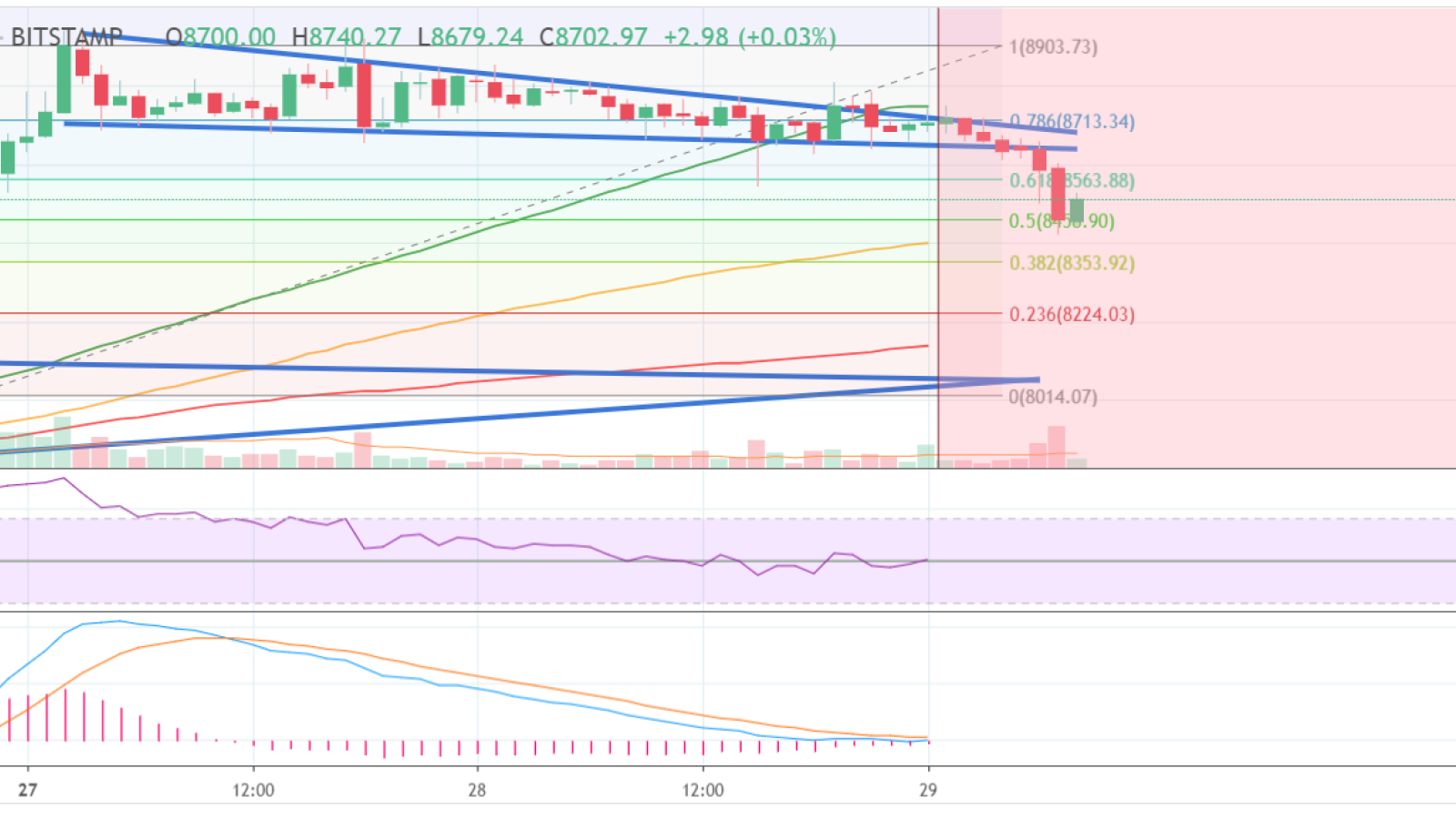 What we can see at the moment is a big waving bull flag in BITSTAMP: BTC/USD. It's clearly shown on the one hour chart you see above.
Perhaps we will see a pump pretty soon, but all we need is more volume - as usual. Otherwise, BTC will inevitably dump.
Parabolic rallies continue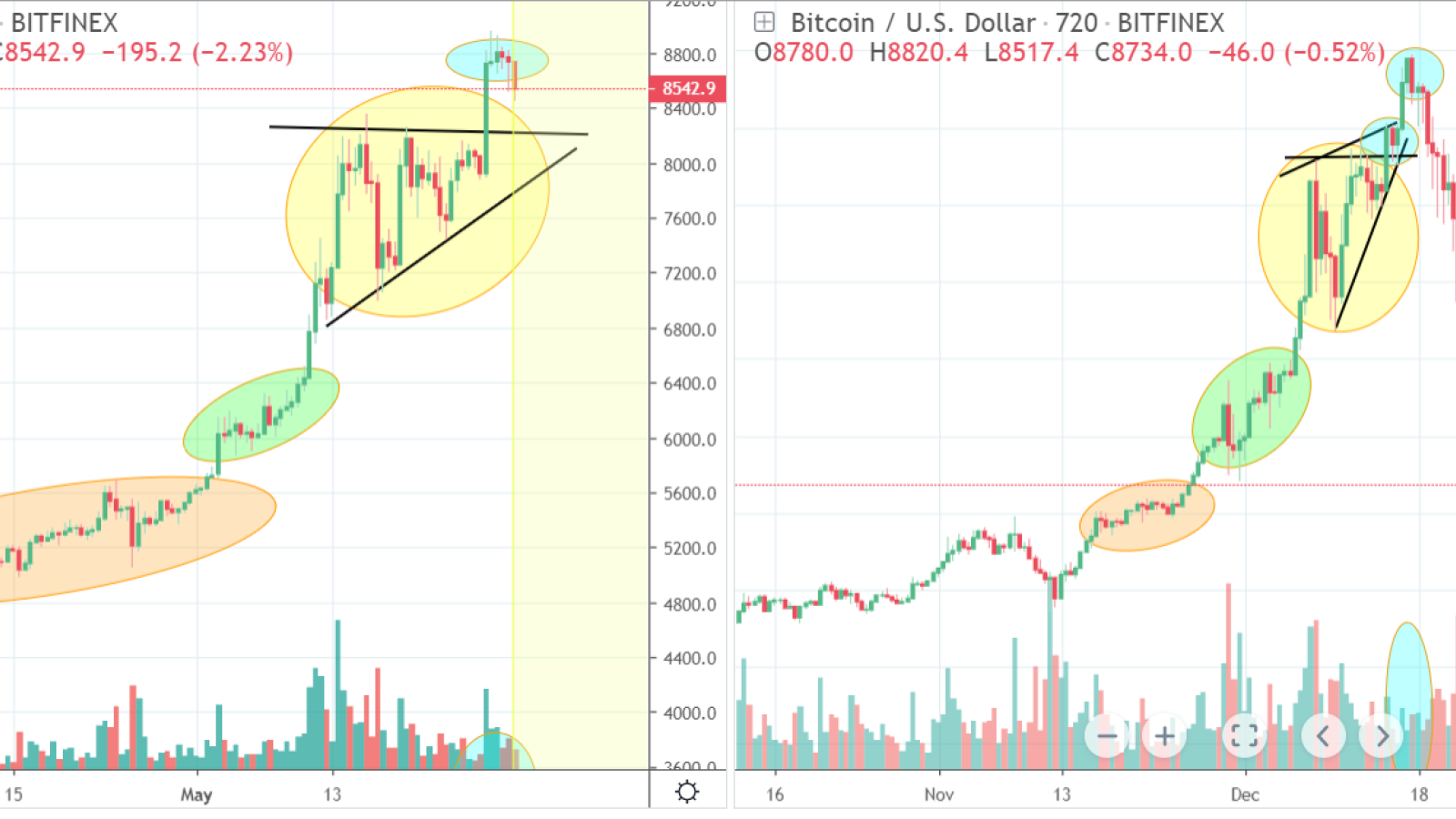 The user compared rallies of the previous months and now. Though it's not a perfect match, we can still compare the stages here. At the ATH, we can see how volume clearly dropped with that last push up.
The key factors will probably be waiting for the moment where selling volume becomes bigger than buying volume. On the left, we can see a triangle while on the right it could be a wedge as well.
Instead of making highs at similar levels (triangle), the hype was that extreme back then, that the bulls had no patience at all and just kept buying the highs. Which turned the triangle in the shape of a wedge.
As for the volume, it does not differ dramatically and does not play any role.
Also, that last push on the right was from $18k to $20k, e.g. around 2000 points. This time, it was the push from $8,000 to $8,950. So both have almost similar percentage increase. This time a slightly higher, but the volume was a bit better as well.
Recently, rallies got smaller and with lower volume. The recent rally is smaller than the one from the $6,300 and the $7,200 3 weeks ago. But the current rally was also almost 1000 points, which is quite significant.
Let's say, we break up from the current consolidation and we only rally 300/600 points, it would mean a high is closing in. This then usually comes in the form of a bearish wedge or an H&S.
Do not get scared because of this chart, it simply points out a possibility, that when things do go wrong, you have something to look at as a guideline.
It's time to worry a bit when we see some real top formation (like a bearish wedge or H&S ), or when we see some high volume breaks of important support levels (like the $8,400/$8,000). Any drop that stays above the $8,300/8,400 can still be seen as a standard correction.
Final words
Traders warn us of bearish possibilities again, so I guess it's not the right time to enter the market and make any impulsive decisions. The following days should help Bitcoin decide upon its path.
Bitcoin price charts are taken from TradingView