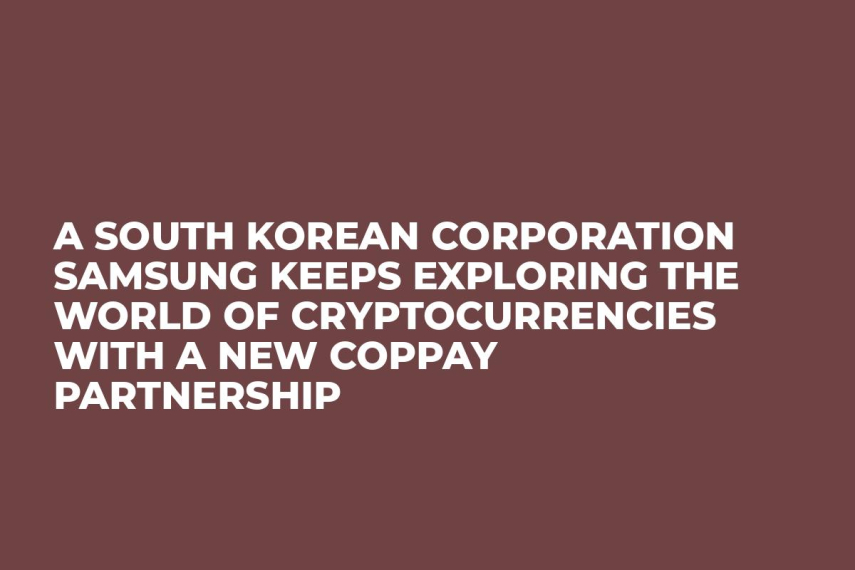 Cover image via U.Today
According to the reports, a tech giant Samsung teamed up with a Lithuanian company CopPay that allows its customers to pay with cryptocurrencies. Now, the residents of three Baltic states (Lithuania, Latvia and Estonia) can purchase any available Samsung products with the help of the aforementioned service.
'Cryptofying' businesses
CopPay made an announcement about its cooperation with Samsung on its official Facebook page. Despite the fact there is only one Samsung store in Lithuania, the company emphasizes that it is a crucially important step on the way to 'cryptofying' businesses around the globe. Experts expect that many companies will follow the suit in the future, as eToro predicts that as soon as in 10 years cryptocurrencies will become the most widespread means of payment.
Apart from Bitcoin, customers will be able to pay for TVs, smartphones, laptops and other Samsung gadgets with the help of Ethereum, Ripple, Litecoin, NEM and Dash. CopPay states that Samsung's online stores will start accepting cryptocurrency payments as well in the nearest future.
Samsung's dive into crypto
Samsung has been eyeing crypto for a long time, so this now the first occasion when this multinational South Korean corporation is involved in such a partnership. In April 2018, Samsung Electronics made an announcement about developing ASIC chips for Halong Mining, most influential company in Bitcoin mining after Bitmain. Samsung's partnership with Halong Mining turned out to be a big success: the tech giant experienced a sudden surge (up by almost 60 percent) in Q1 profit due to a high demand for Bitcoin mining chips.

On top of that, Samsung also recognized the potential of implementing new Blockchain technologies. The electronics giant is mulling over the utilization Blockchain in the shipping industry which would supposedly reduce the shipping cost by as much as 20 percent.