For the second consecutive day this week, whale "BlueWhale0073" has bought several hundred billion Shiba Inu meme coins.
In the meantime, the price of the popular meme crypto SHIB has begun to recover and "burned" the zero it added yesterday on the crypto market meltdown.
215.8 billion SHIB bought by this whale
According to the WhaleStats tracker, which collects wallet data on several major chains, roughly 12 hours ago, the aforementioned Ethereum whale purchased 215,815,570,539 SHIB in total for the fiat amount of $2,209,951.
Earlier this week, on Friday, the same whale grabbed 126,120,815,899 SHIB and on March 7, he added a whopping 200,000,000,000 Shiba Inu to his crypto holdings. Overall, this investor has bought 542 billion SHIB over the past six days.
🐳 ETH whale "BlueWhale0073" just bought 215,815,570,539 $shib ($2,209,951 USD).

Ranked #254 on WhaleStats: https://t.co/RBupemZyZX

Transaction: https://t.co/aAm9da91M9#SHIB #ShibArmy

— WhaleStats (tracking crypto whales) (@WhaleStats) March 10, 2023
Each of these times, this whale sold the SHIB soon after each purchase. Large amounts of this meme coin can bring a satisfactory profit even if bought and then sold on a slight difference in price.
SHIB price rises as 490 million tokens are burned
Over the past 24 hours, the second largest meme token Shiba Inu has demonstrated a rise by 4.22%, climbing up to eliminate the fifth zero in its price. At the time of this writing, SHIB is changing hands at $0.00001014, as per data provided by the CoinMarketCap service.
By now, SHIB has recovered from yesterday's fall to $0.000009764.
In the meantime, the SHIB army has been a lot more active in burning Shiba Inu coins this week. It is likely to be driven by the fact that the official SHIB Twitter account stated that Shibarium beta is finally going to be released this week.
Over the past 24 hours, according to the Shibburn tracker, the SHIB community has transferred a total of 489,895,235 SHIB to dead wallets. This pushed the burn rate 220% up compared to yesterday.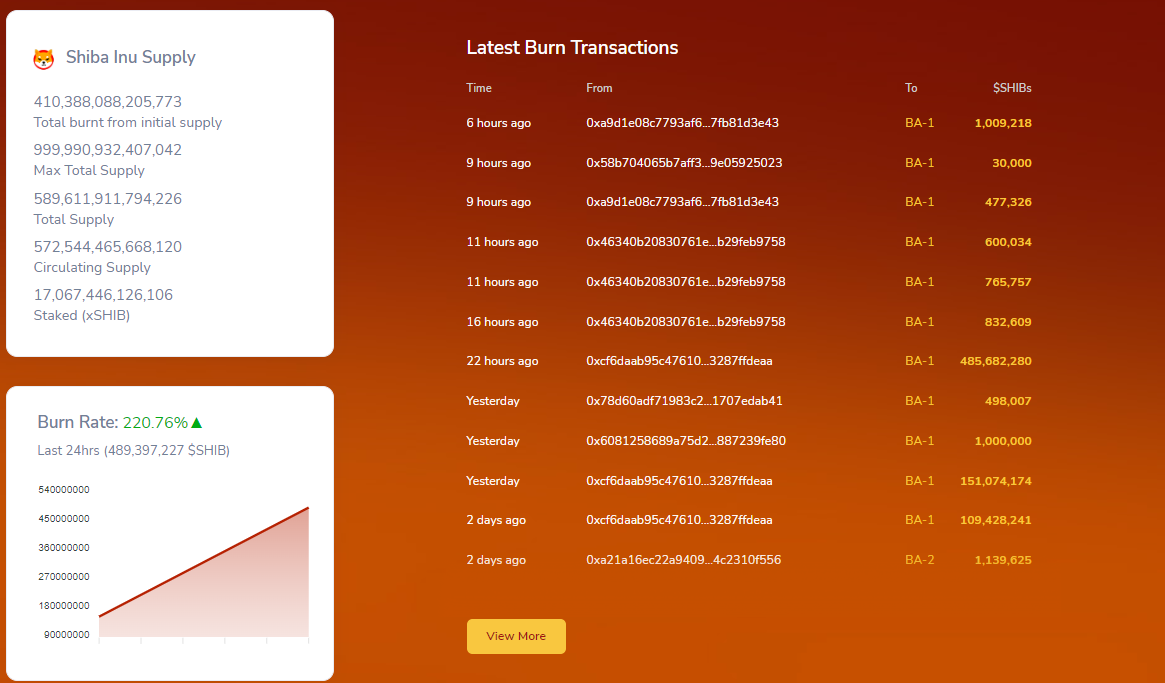 Earlier this week, an astounding jump of 27,000% on the burn rate was registered as 2 billion SHIB tokens was burned in less than 24 hours.