The digital currency ecosystem slipped from its growth path as the combined market capitalization dropped by 2.12% to $1.14 trillion. With this slip, XRP has stayed relatively more resilient in a bid to complement its growth in the past week.
At the time of writing, XRP is trading at a price of $0.5088, up by 1.34% over the past 24 hours. By virtue of its sustained bullish momentum, the digital currency has retained an 11.91% surge over the trailing seven-day period, the highest growth rate of the top 20 digital currencies by market capitalization.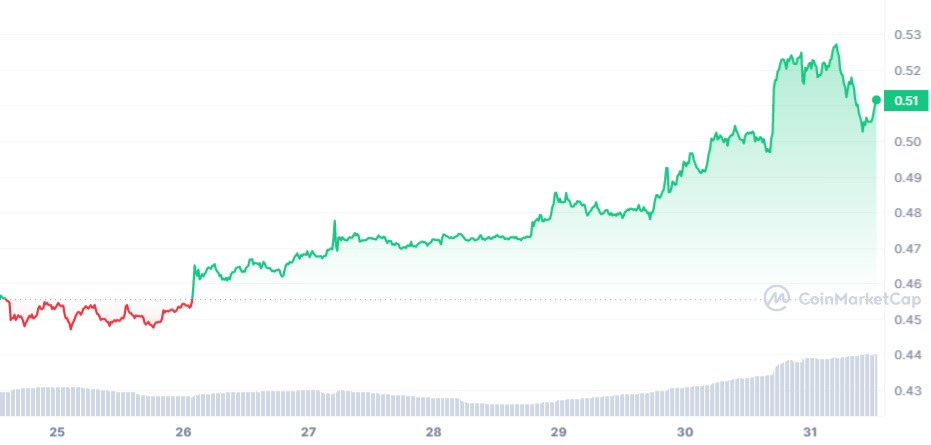 For reference purposes, Bitcoin (BTC) is currently down by 2.97% over the past 24 hours, and the premier coin has seen its valuation shrink by 1.56% over the past week. The bold decoupling of XRP from BTC has stirred the positive prediction that the cryptocurrency is eyeing a new milestone.
With sustained growth through this month, XRP broke the $0.5 resistance point and has been able to turn this price level into a valid support. With this milestone inked, XRP now appears to be gunning to breach the $0.6 level, a feat that may signal a full return to the bull market for the cryptocurrency.
Bullish XRP predictions
Despite the major entanglement XRP has had to endure with respect to the legal brawl between blockchain payments firm Ripple Labs Inc and the U.S. Securities and Exchange Commission (SEC), experts are predicting a bullish future for the digital currency.
Recently, one of XRP's most vocal advocates, Attorney John Deaton, said he is convinced that many investors will not buy XRP now that the price is far below $1 but will likely FOMO in when the coin touches $2. This statement is considered a future price prediction that XRP will attain this height, a sentiment that has become pervasive in today's XRP community.