The cryptocurrency market is currently at a pivotal point as some assets are still moving in local correction channels, while others are showing no traction whatsoever.
XRP is in complicated state
XRP, the fourth largest cryptocurrency by market capitalization, seems to be in a precarious position from a technical standpoint. It has been showing descending volume, a drop in open interest and overall liquidity on the market. Despite recent developments in court, XRP has not been showing any strength on the market.
At press time, XRP's volume is at the lowest level in the last 30 days. This is a concerning signal for XRP investors, as volume is a crucial factor in determining market strength and liquidity.
Currently trading at $0.375, XRP has been hovering around the same price range for the past few weeks. The next support level for XRP is at $0.37, which is a critical level to watch in the short term.
While market conditions have been tough for XRP, there have been some positive developments in court. The ongoing legal battle with the U.S. Securities and Exchange Commission (SEC) over XRP's status as a security has recently seen some progress in favor of XRP. However, these legal developments have not yet translated into positive price movements for XRP.
Ethereum is still in downtrend
Ethereum has recently entered a local downtrend, despite the milestone achievement of 40,000 ETH being burned on the network, which could impact its price according to its deflationary mechanism, but it currently trades at $1,635 without a significant effect from the golden cross signal.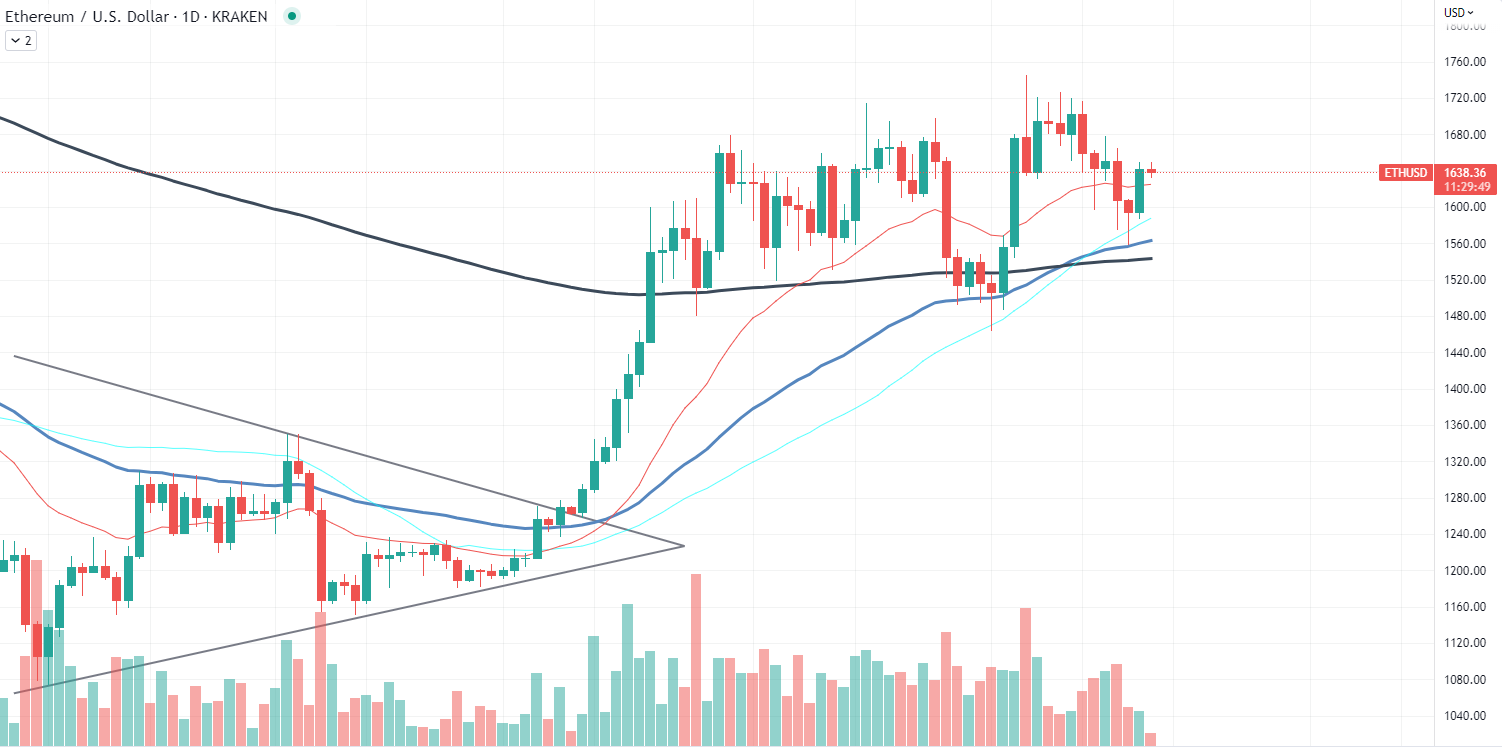 The Ethereum network has been achieving milestones recently, with 40,000 ETH burned as part of the London hard fork upgrade that introduced a deflationary mechanism for the second largest cryptocurrency.
The burn rate of Ethereum tokens is designed to reduce the supply of the cryptocurrency and increase its value over time. As the number of ETH in circulation decreases, the remaining tokens become more valuable, and the deflationary mechanism should help to support the price of the cryptocurrency.
Ethereum currently trades at $1,635, and its price performance has been affected by the recent downturn in the cryptocurrency market. While the burn rate should have a positive impact on ETH's price over the long term, short-term market conditions may continue to exert downward pressure on the asset.
Fantom is at pivotal point
Fantom (FTM) cryptocurrency recently reached the crucial support level of the 50-day moving average, which has historically been a reliable indicator of a trend reversal.
The 50-day moving average (50 EMA) is a widely used technical indicator that helps traders to identify the average price of an asset over the last 50 days. When the price of an asset falls below its 50 EMA support level, it often signals a potential trend reversal, indicating that buyers are stepping in to support the asset's price.
In the case of FTM, the cryptocurrency has recently reached its 50 EMA support level. The last time FTM reached its 50 EMA support level, it gained 45% to its value in less than a week, suggesting that a similar pattern could be observed this time as well. However, it is important to note that past performance does not guarantee future results, and traders should always exercise caution when trading any cryptocurrency.