The digital currency ecosystem is seeing an encompassing price slump today with the combined crypto market cap shedding as much as 1.70% of its value, pegged at $1.10 trillion at the time of writing. XRP has also joined the downtrend, trading at a price of $0.449 atop a 1.32% plunge over the past 24 hours.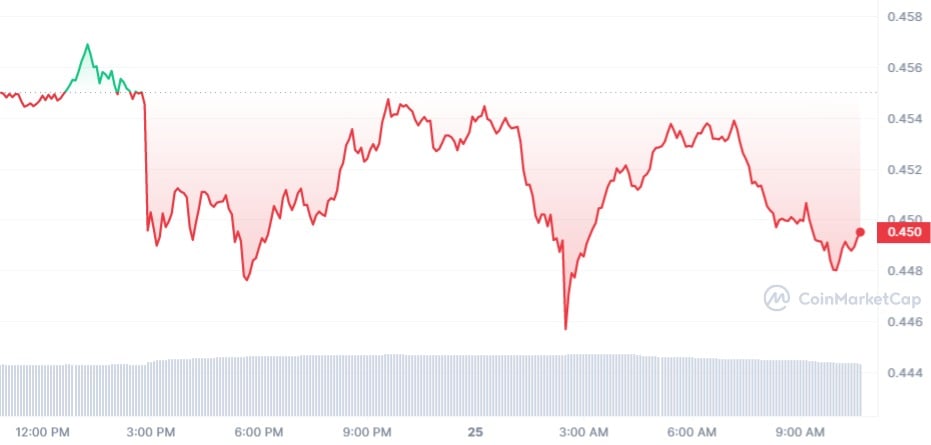 Although the token has barely lost a percentage point in the trailing seven-day period, its outlook is generally bearish, commensurate with the industry. Individually, however, XRP has maintained relatively positive relevance in all of the product services it is known to facilitate.
An earlier update from U.Today showed that the XRP Ledger, which utilizes the digital currency as its native token, has closed its 80 millionth ledger, a historic milestone that could have only been made possible owing to the versatility and growth potential of the XRP coin.
XRP has sustained its growth as a high flier whose performance in the year-to-date period is far from the negativity it is currently embroiled with. That negativity is primarily embodied in the lawsuit between Ripple Labs Inc and the United States Securities and Exchange Commission (SEC).
XRP's plausible bullish trigger
For XRP to ink a bullish reversal in the short term, the digital currency will have to showcase a form of attraction to investors in the face of its numerous challenges.
Such attractions will be triggered in targeted capabilities showcased by XRP Ledger, as well as other core products that utilize the XRP token as assets powering their operations. A key decoupling move will also have to be made so as to reduce the correlation between XRP and Bitcoin.
This decoupling will be the ultimate trigger that will help the asset chart its own growth course in the face of so many depressions.