The broader digital currency ecosystem is veering back into a positive zone today as the combined market capitalization is up by 1.61% to $1.14 trillion. With the rejuvenation most cryptocurrencies are seeing at this time, the XRP price is seeing a relatively pronounced stability that appears to be rivaling the other top assets in most traders' watchlists.
XRP is changing hands at a price of $0.4613, up by almost negligible 0.14% growth over the past 24 hours.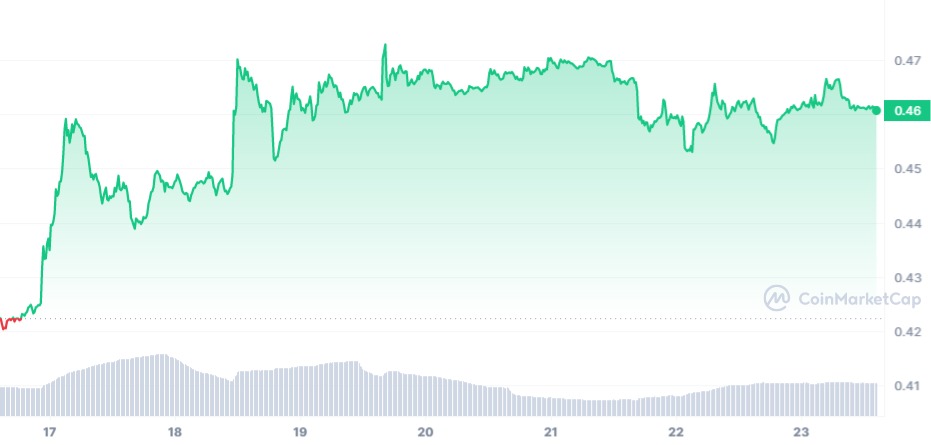 In reality, this daily growth is slow when compared to that of Bitcoin (BTC), which is up 2% to $27,284.34, and Ethereum (ETH), which is trading at $1,852.25 after amassing 2.28% growth in the past 24 hours.
Despite these obvious realizations, XRP has generally maintained higher price growth over the past seven days when compared to these two coins and others in the top 10 digital currencies. Over this period, Bitcoin is up by just 0.71%, while Ethereum has managed to amass a total of 1.78% to its price.
XRP, on the other hand, has recorded a 9.08% jump within this time, showcasing the steady bullish rhythm printed since last week.
Decoupling from general trend
Every digital currency has its own inherent community and woes, all of which have a major impact in determining its growth over time. Despite its apparent challenges as the subject of the ongoing lawsuit between the U.S. Securities and Exchange Commission (SEC) and Ripple Labs Inc, XRP has charted a better growth path for itself, largely decoupling from the broader market trend.
The XRP community is still very tipsy with possible expectations that the price may drop if the outcome of the lawsuit does not favor Ripple. On the other hand, there is also an expectation that XRP will go on a parabolic run if the lawsuit favors Ripple, with the token creating a solo bullish ride devoid of market influence.