In the boom of ICOs it was popular to try and get a celebrity endorsement, or even for celebrities to use their way to start their own versions. However, as time as gone by, many of them have become pure failures.
The latest celebrity coin to become a major flop has come from Wu Tang Clan's Ghostface Killah and his CREAM coin which as dropped 96 percent since its inception in January this year.
But CREAM is not the first coin to flop with Centra another, which was backed by Boxer Floyd Mayweather, having seen the SEC call it a fraud and charging its founders.
Not the CREAM of the Crop
CREAM was hopeful of raising $30 mln in its ICO however, things have not gone well for the music star-backed coin as it has dropped 96 percent. The token initially went on sale back in November of 2017, when coins were sold for as little as $0.02 per coin.
It then spiked in January to a high of $0.12, before being hit with a downward wave that struck the whole cryptocurrency market. The current value of the coin is just $0.0045.
Warning signals
While celeb-coins are nothing new, the warning that have come with them have been around for almost as long.
Andreas Antonopoulos, an early Bitcoin investor, and well-respected voice of cryptocurrency warned against such investments in these celebrity-backed coins. He said:
"The worst reason to make an investment is a celebrity endorsement. Unfortunately, this tactic works, and that's why they're doing it."
Centra knocked out
Centra is another company that went the way of celebrity endorsement and felt the sting of basing their entire hope on one gimmick. Mayweather was pictured in September promoting Centra, a cryptocurrency project that raised over $32 mln during its ICO.
Spending bitcoins ethereum and other types of cryptocurrency in Beverly Hill https://t.co/q9VZ3MzpK8 pic.twitter.com/BYyOFUnm8W

— Floyd Mayweather (@FloydMayweather) September 15, 2017
However, it only took six months for the project to fail as the SEC got involved and indicted the three co-founders for securities and wire fraud.
DJ Khaled was another celebrity that was in on the Cetra promotion racket as he made an Instagram post promoting Centra and its ability to be used in the same way as a debit card.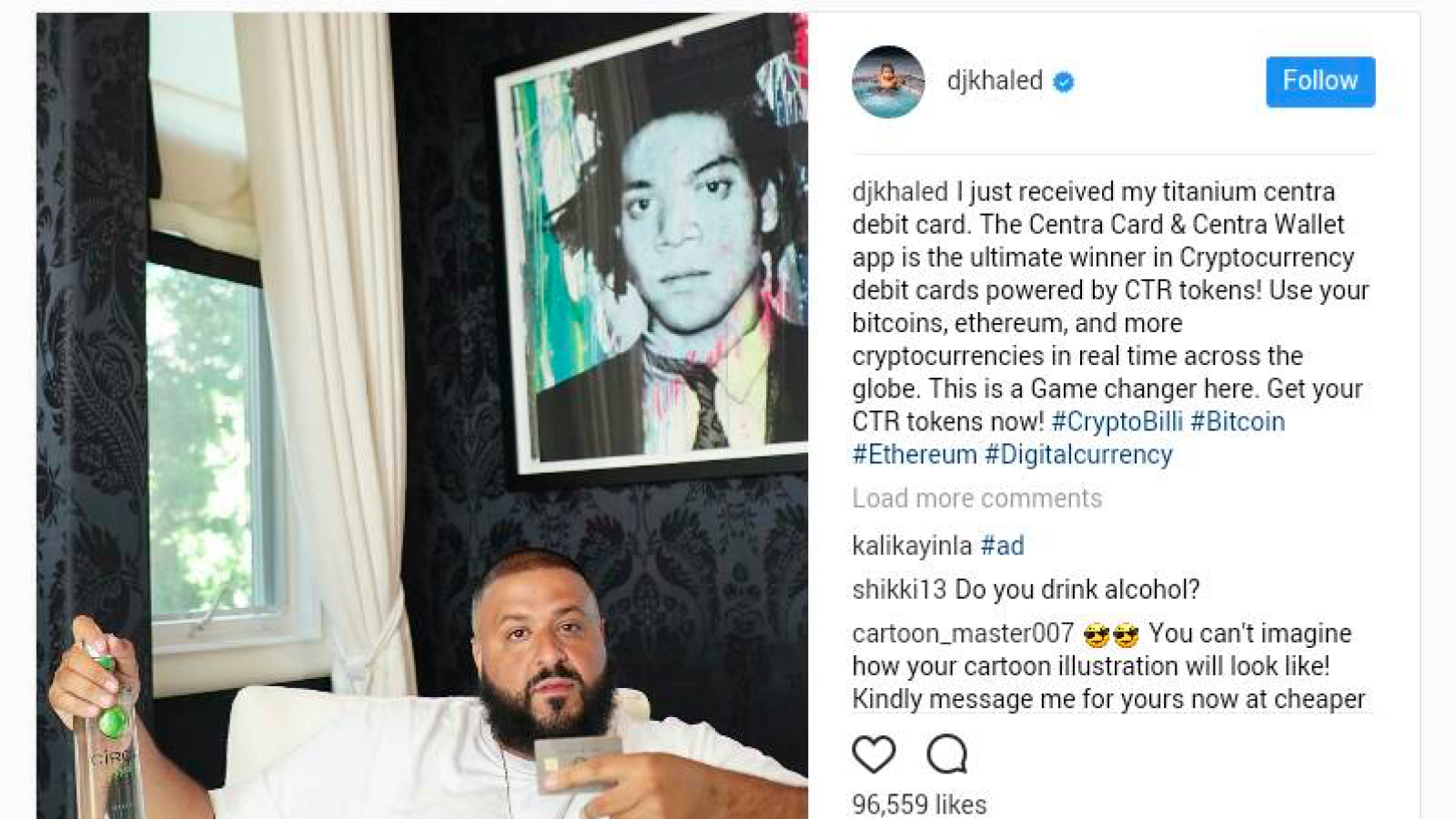 Bitcoiin2Gen pyramid comes crumbling down
Steven Seagal, the famous action movie actor, was also part of an ICO which was quickly labeled as a pyramid scheme which quickly came crashing down.
Bitcoiin2Gen was launched in January, with Seagal named as a brand ambassador. But just after the ICO ended, Segal and the coin's founders parted ways, then, soon afterwards, Tennessee Department of Commerce & Insurance (TDCI) Securities Division issued a warning to consumers about the nature of the project.
Game over
The Game is another celebrity that endorses a Blockchain project that was focused on the emerging marijuana market growing in the US. Paragon Coin was going to build a marijuana Blockchain environment, however, the project ultimately flopped when they failed to register the ICO with regulators- leading to a lawsuit from investors.