A short while ago, the recently opened centralized crypto-fiat exchange Nauticus announced that it had added the TrueUSD (TUSD) stablecoin to its trading pairs. Currently, it allows customers to trade BTC and ETH against TUSD. This was announced on the Twitter account of Trust Token, the platform, on which TUSD is built on.
TrueUSD trading is now live on @nauticusen! https://t.co/gR9XaVCj5t #blockchain #bitcoin #stablecoin pic.twitter.com/ckTgYinYLh

— TrustToken (@TrustToken) January 2, 2019
TUSD promised back in November
When Nauticus was being launched in the middle of November 2018, it promised to add TUSD pairs 'within a few weeks'. Back then, the Tether crisis was in a full swing, with USDT dropping hard and losing its US dollar peg.
Exactly at that time, Nauticus selected TUSD as the 'heir' of Tether. USDT has long been a controversial asset with serious doubts as to whether the company has enough USD to back all the issued USDT coins.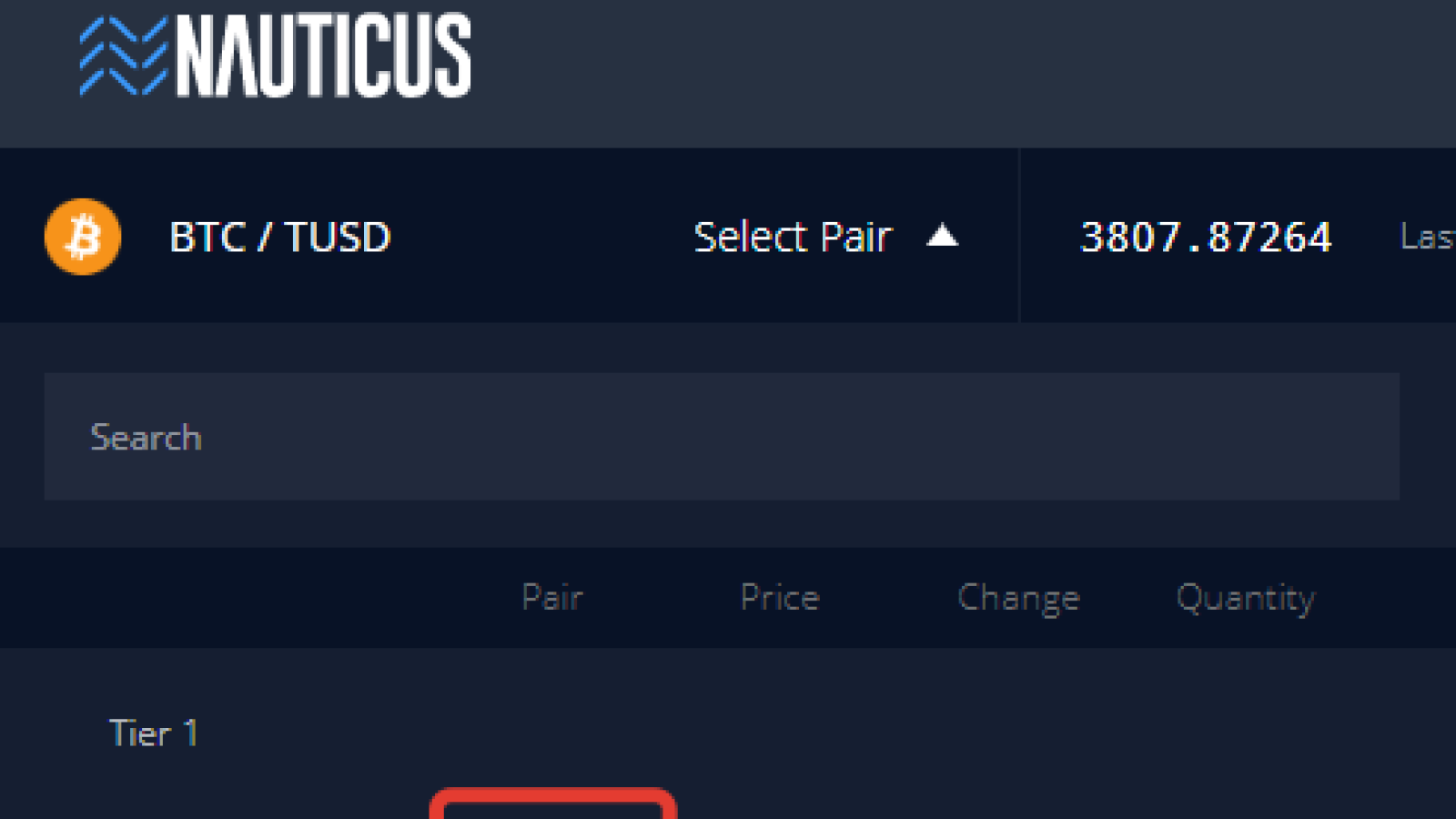 Now, several weeks later, one might say, TUSD pairs have been launched.
Recently, before 2018 was over, though, U.Today reported that another exchange had opened support for the TrueUSD stable coin – that was the Blockconix dex.
Proof-of-keys day
Unlike Blockonix, Nauticus is a centralized platform, just like, Bitfinex, Binance or many others. This type of exchanges has recently got under doubts among a certain part of traders and investors as to whether the claimed trading volume matches the actual one.
Some of them suggested everyone withdraws their BTC from centralized exchanges on January 3, 2019, the 10-year anniversary of the Bitcoin's genesis block creation. People are encouraged to transfer their assets to their own hardware (or other) wallets that are controlled with their own keys that no one else has access to. This will prove that centralized exchanges are not selling fractional reserve BTC.
The reaction from the teams of crypto exchanges varied. The CEO of Binance, CZ, turned indifferent and self-assured, saying that Binance is 'safu' and people can do what they wish.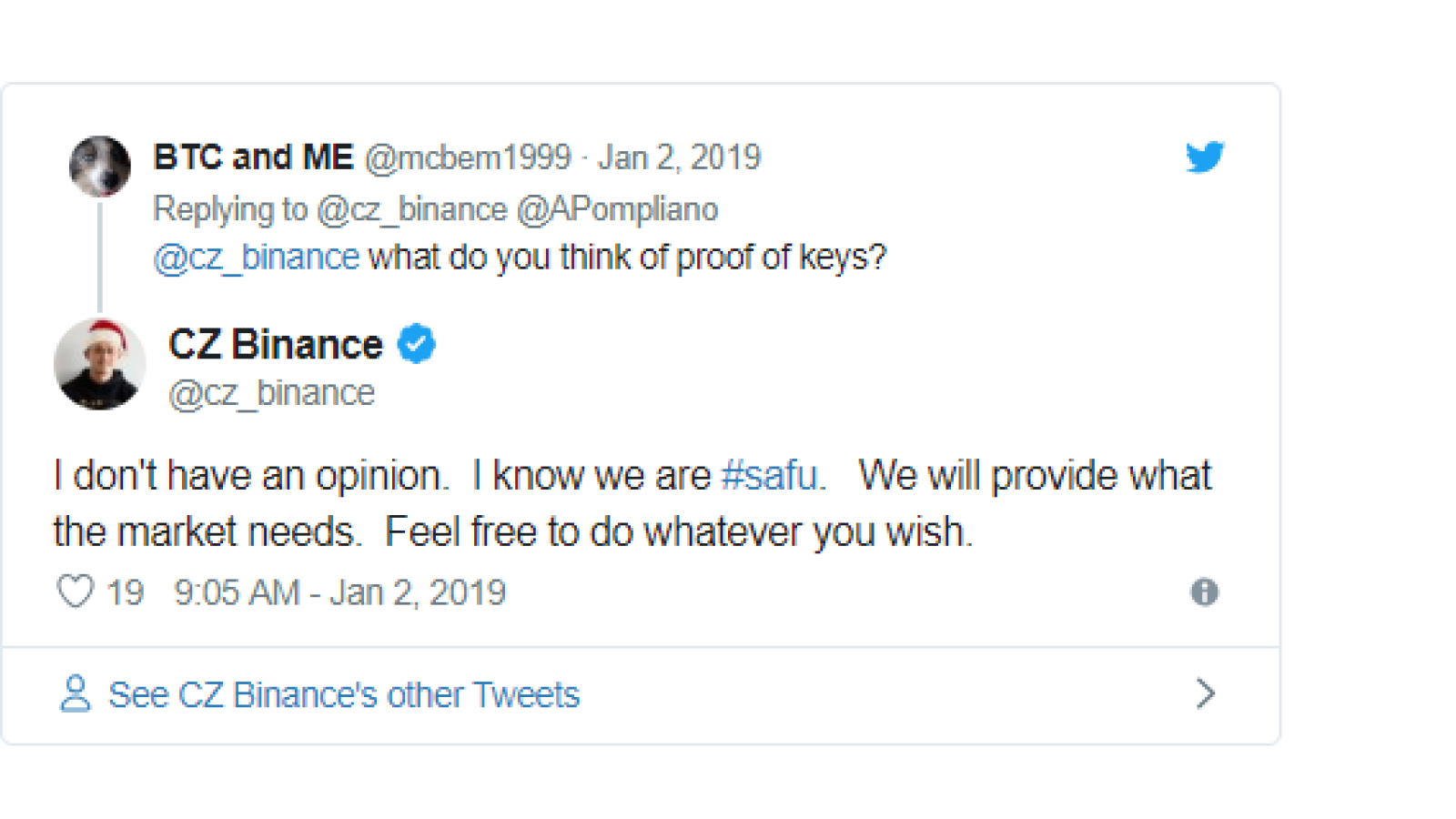 McAfee shoots a tweet at HitBTC
On 31 December, the HitBTC exchange refused one of its users in withdrawing his funds. Now, HitBTC has, reportedly, shut down all withdrawals for customers, allegedly, to prevent mass taking out of Bitcoin from the platform ahead of the proof-of-keys event.
John McAfee, the old opponent of all centralized crypto exchanges and HitBTC in particular, tweeted that he had warned everyone a lot of times not to store their crypto on centralized exchanges.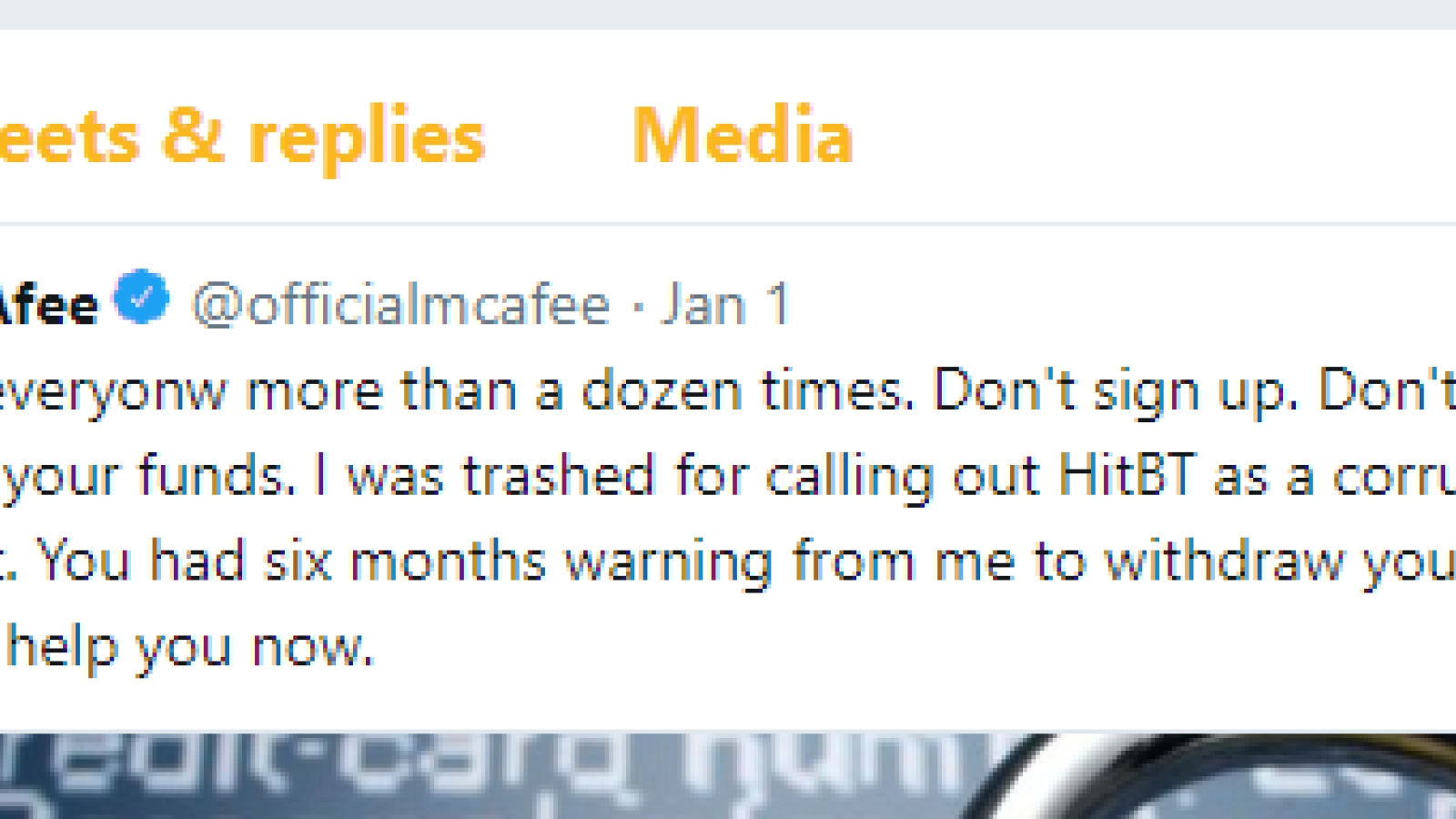 Besides, McAfee and HitBTC have an old bone to pick, since in the summer of 2018 McAfee sued the exchange for its actions against the Docademic coin, supposedly McAfee's favourite. Besides, the 'crypto baron' accused HitBTC of making their entrance fees so high that numerous poor unbanked people cannot afford to trade crypto there.