As the cryptocurrency market is updating its year-to-date lows, the big winners are stablecoins, which recently saw a significant increase in the trading volume, suggesting fast adoption. Even though it has been surrounded by much controversy, Tether (USDT) remains the most popular stablecoin as of today, with a market capitalization of nearly $1.8 billion, which puts it in the eighth position on Coinmarketcap's list of largest coins.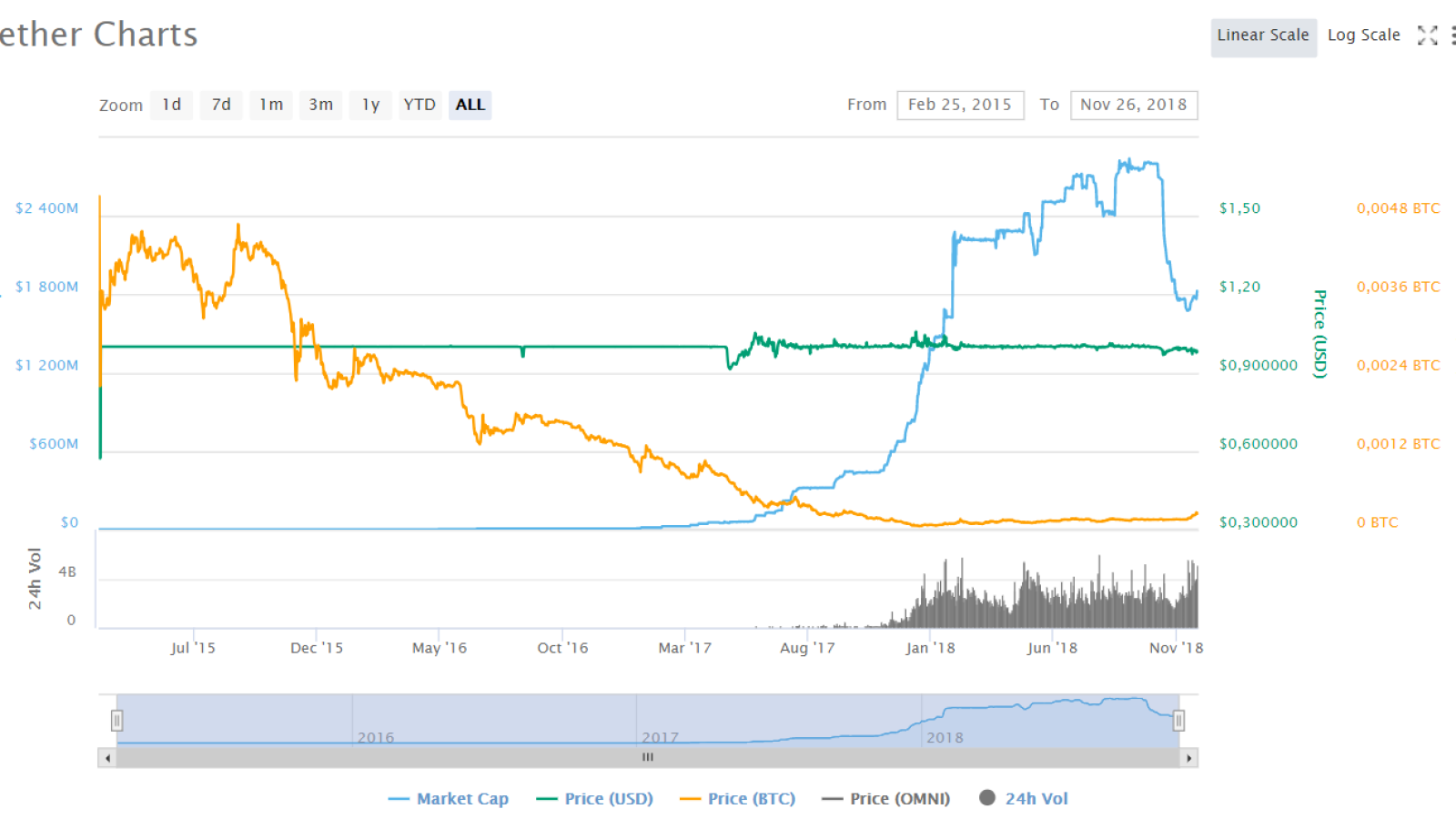 Besides USDT, there are five more stablecoins that are currently expanding at a fast pace: True USD (TUSD), Circle-backed USD Coin (USDC), Paxos Standard Token (PAX), DAI, and Gemini's GUSD. It's worth mentioning that all of these coins are backed by US dollars with a 1:1 ratio.
Balaji Srinivasan, CTO of US-based crypto exchange Coinbase, reportedly said:
"Stablecoins bring some of the early potential of crypto into view, and they make possible payments that are very small, very fast, very large, very international, very transparent and very automated."
Indeed, stablecoins can easily smooth the volatility noise found in most of the cryptocurrencies out there. While speculators are looking for digital currencies with potential returns, stablecoins are attractive through their stability and functionality.
Antoni Trenchev, managing partner at crypto loans service firm Nexo, told Forbes that the volatility associated with Bitcoin and similar coins was both a blessing and a curse.
"Unfortunately, volatility works both ways so the corrections are heavy as well. I think that is the foundation for the rise Stablecoins - the search for price stability. They also come with the ease of transferability and cost-efficiency, which we all like with regards to crypto assets," he added.
As the crypto market is in free fall, many cryptocurrency holders are worried about the new lows and are selling their coins in exchange for stablecoins. This is because many major crypto exchanges don't provide fiat-based pairs, which suggests that traders cannot directly buy or sell their coins in exchange for US dollars, euro or other fiat money options. Instead, investors can access any cryptocurrency through one of the few stablecoins, especially USDT. This is the reason why the present massive selloff has driven the trading volume of USDT-like coins.
Stablecoins are rapidly expanding
Major crypto exchanges and payments services are in a hurry to add the newly created stablecoins. For example, on Tuesday, Nov. 20, crypto payment service BitPay added Paxos to the list of payment options. The partnership between the two entities comes a month after BitPay added USDC and GUSD.
In October, Paxos boasted that it had reached 20 top exchanges and OTC trading desks, such as OKEx, Binance, KuCoin, and Gate.io, among others.
Last week, BitGo said that it was providing custody solutions for most of the major stablecoins, including USDC, DAI, PAX, TUSD, and GUSD, which was the most recently added coin. Thus, the crypto security firm reached and even expanded its target to support 100 cryptocurrencies by the end of this year.
At the end of September, crypto exchange Poloniex gave up the trading fees for USDC to support the coin's trading volume. The decision is valid until the end of November and might be extended.
USDC publishes positive audit report
As we reported on Thursday, Circle, the company behind USDC, announced that it had successfully passed an audit performed by Grant Thornton LLP. The leading audit firm found that the Circle's tokens are sufficiently backed by US dollars.
The report says that, as of the end of October 2018, Circle's token assets were worth $127,412,250, while the amount of stablecoins at that time was $127,408,827.