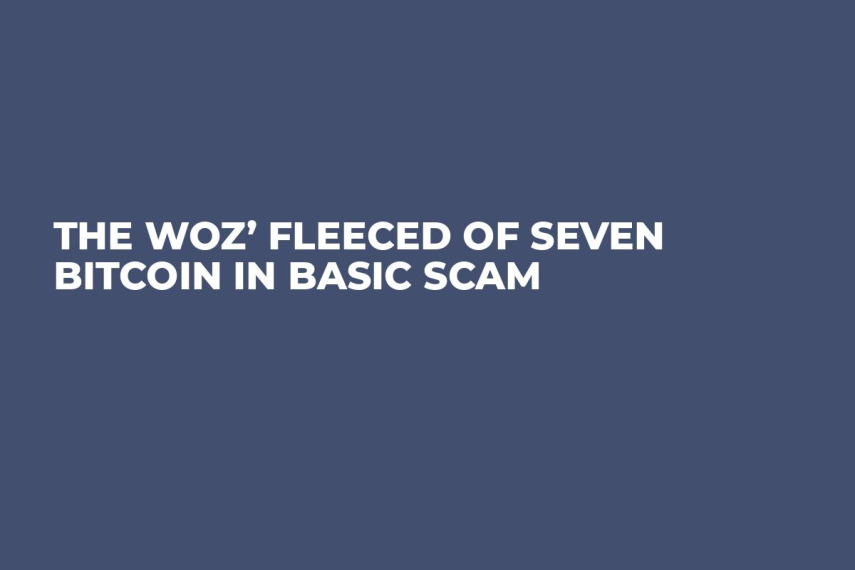 Cover image via U.Today
Apple co-founder and well-known tech mogul, Steve Wozniak has admitted that he has had seven Bitcoin stolen from him, amounting to about $70,000, in a credit card fraud of the most basic level.
Wozniak was trying to sell the seven Bitcoin to a person online, and they used a credit card for the purchase, however, once the Bitcoin was sent by Wozniak, the transaction was canceled, leaving the Apple co-founder short of $70,000 and seven BTC.
Simple as that
Wozniak was well and truly fleeced by a simple scam that does not even relate to Bitcoin, but it does draw attention to the difference in the payment systems, from cryptocurrency to centralized credit card payments.
"I had seven Bitcoins stolen from me through fraud," Wozniak said at the Times' Global Business Summit. "Somebody bought them from me online through a credit card and they canceled the credit card payment. It was that easy. And it was from a stolen credit card number so you can never get it back."
The fact that once a Bitcoin transaction is made, it cannot be reversed nor canceled and it goes to an anonymous wallet address that is near impossible to tie to a certain individual.
On the other hand, a credit card payment is in the hands of the bank, and individuals can request for their payments to be canceled, returned, and modified thanks to the central authority. However, Wozniak was left empty-handed because it was also a stolen card.
Still a supporter
Wozniak has often spoken about his support of Bitcoin and is known to have bought in when the price was as low as $700. He bought this as an experiment but seems to have stuck with it, and clearly has profited as well.
"Bitcoins to me was a currency that was not manipulated by the governments. It is mathematical, it is pure, it can't be altered," Wozniak said in the report.