The head of the SHIB developer team, the pseudonymous Shytoshi Kusama, has made two major announcements on the official Shibarium channel on Telegram.
He issued a major warning to the SHIB community about Shibarium and Puppynet and made an announcement about other upcoming matters.
Here's what Shytoshi has to say to SHIB army
Kusama interfered in a heated discussion related to the Shibarium testnet Puppynet and tokens on it — LEASH and BONE in particular.
He again warned the community of Shiba Inu that Shibarium is currently in beta test mode and they must not buy any tokens on it since, as he said earlier several times, all tokens on Puppynet are not real; they are for testing purposes only. No real tokens are being burned so far, he added.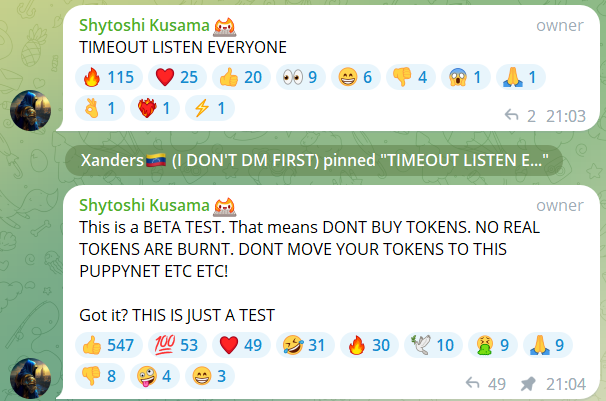 Earlier, U.Today reported that an admin in the Telegram group warned that neither stablecoin SHI, nor TREAT token, have been deployed yet.
Promising "many updates"
Shytoshi Kusama has also promised the SHIB army that he and his team on Telegram and other social media platforms will provide "many updates" as they are moving forward in many directions simultaneously.
He added that he and the developers are as excited to advance with Shibarium and other projects as the SHIB army.

As reported by U.Today, earlier this week, one of the admins of the Shibarium Telegram channel made an announcement, answering multiple questions "wen Shibarium" and "wen updates?" The nickname of the admin on Telegram is "Someone smart (maybe)." He told the SHIB army "very soon" there will be news about the Shibarium mainnet release.
He also stated that there are "multiple things to come"; however, he cannot reveal the details now, so the SHIB army should wait for announcements from the developers and Shytoshi.
Recent updates on Shibarium from Unification
As covered by U.Today, a major developer of Shiba Inu and Shibarium, Unification Foundation, has announced two major updates for Puppynet. These are two tools, Verified Open Randomness (VOR) and Oracle of Oracles (OoO).
The first one will be utilized to ensure true randomness in various DeFi applications: on-chain gaming, lottery, etc.
Oracle of Oracles will make sure Shibarium dApps on it are protected against price hacks and ensure the best price levels for investment dApps.