Today, during a discussion in the official Shibarium chatroom on Telegram, one of the local admins, Ragnar Shib, poured cold water on the expectations of the Shiba Inu community that the SHIB ecosystem stablecoin is ready to be launched.
He also issued a major warning regarding the upcoming TREAT token.
SHI stablecoin not deployed yet
During a discussion with several SHIB users, who seemed to believe that Shiba Inu ecosystem stablecoin SHI has been already deployed but not released, admin Ragnar Shib cooled them off by saying that SHI has not been created yet.

Last year, the pseudonymous lead of Shiba Inu known as Shytoshi Kusama spoke to the community about SHI through a blog post. That happened in June after the UST stablecoin created by the Luna Foundation Guard crashed.
The depegging of that stablecoin, as well as that of USDN, raised concerns, so the work on SHI slowed down. However, Shytoshi said that the developer team may create its own, independent decentralized protocol, which would be a pure experiment, to support SHI.
Explaining purpose of TREAT
Ragnar Shib also reminded the community that it should be careful and not fall for scams. Scammers, he said, may promote their crypto, stating that they are part of the Shiba Inu ecosystem.
However, this is not true, per the admin, unless this token is mentioned in the official announcements.
As an example, he referred to the TREAT token, which was also initially promised to be deployed by Shytoshi Kusama last year. The actual TREAT will be part of the SHIB ecosystem. It will be used as a "reward for staking and for liquidity, among other things," according to Ragnar Shib.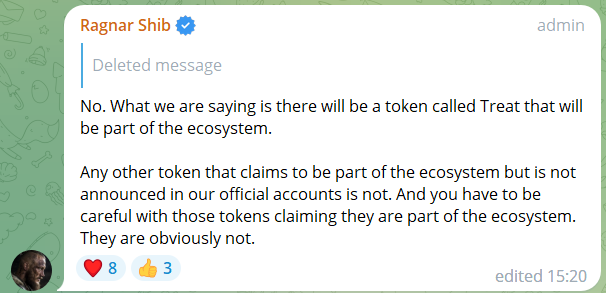 In March this year, the marketing content specialist of the SHIB team, @LucieSHIB, also warned the SHIB army that scammers are launching tokens named TREAT, targeting easy-to-deceive investors. This warning came after several SHIB users on Twitter posted screenshots of TREAT transactions conducted on the Shibarium testnet (Puppynet), which was rolled out on March 11.
Aside from that, Kusama had warned the community that all tokens used on Puppynet are not real and are utilized for testing purposes only. These tokens will not be exchanged for actual crypto anywhere, so users should not expect to profit on them, the lead developer of SHIB stated.