Shytoshi Kusama has sent a new message to the Shiba Inu community. In the meantime, a top member of the SHIB team has compared Kusama to Vitalik Buterin and mentioned an "upcoming surprise" for the SHIB army.
SHIB army puzzled by Shytoshi's new status
The new Twitter bio status of the pseudonymous leader of the Shiba Inu developer team says the following: "It is easier to attack a castle when they have no moat."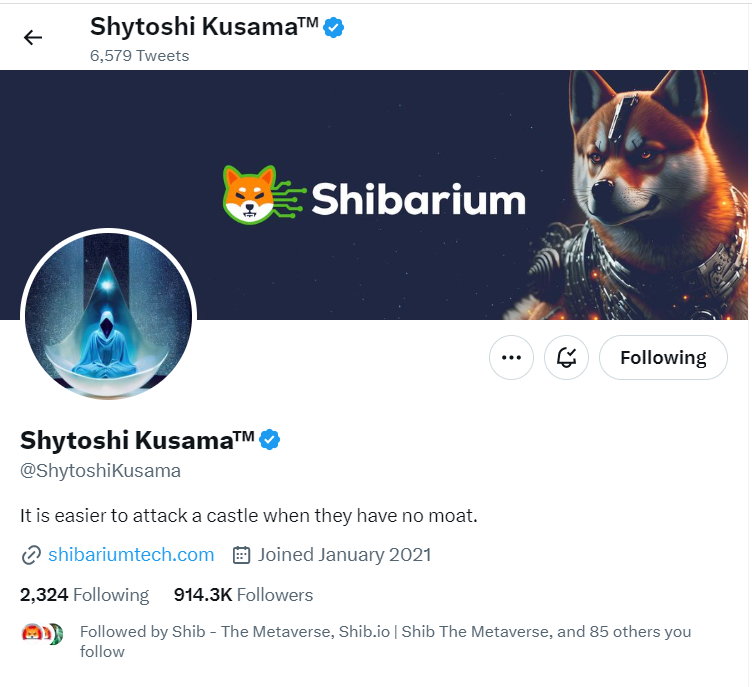 A screenshot of it was shared by a member of the SHIB army in Japan @kuro_9696_9696. Under that tweet, many Shiba Inu holders began wondering what Kusama meant to say by this, sounding clearly puzzled.
Several SHIB users assumed that this mysterious-sounding phrase may refer to the creation of the Shibarium-Ethereum bridge that was announced recently. They recalled Shytoshi's popular response "soon" to the question "wen Shibarium".
Now, that the beta network called Puppynet was rolled out on March 11 and the mainnet promised before May, users began asking Shytoshi and those close to him "wen Shibarium mainnet?" and also when the promised bridge will be launched.
Perhaps also Shytoshi was referring to SHIB rivaling projects – earlier this year, he several times stated that competitors were trying to compromise Shiba Inu several times.
Shytoshi compared to Vitalik Buterin and Polygon founder
In a recent tweet, @LucieSHIB, content marketing specialist of the Shiba Inu team, posted a response to the numerous demands for "constant updates" on Shibarium and other SHIB-focused projects.
She was indignant at seeing on Twitter, Discord and Telegram frequent questions addressed to Kusama, demanding that he talks to the community and provide news for them.
Lucie expressed a doubt that Vitalik Buterin, who co-founded Ethereum, or Sandeep Nailwal, a co-founder of Polygon, provide their communities with updates all the time.
She reminded the SHIB army of what updates have already been rolled out – the beta version of Shibarium (Puppynet) on March 11, an update on SHIB metaverse in a blog post on April 10.
Besides, she said, that since then Lucie herself and admins on Discord and Telegram have been constantly spreading the news about various partnerships of SHIB "discussed behind the doors".
@LucieSHIB reminded the community what these partnerships may lead to – SHIB-branded cold wallet, as one of them. Aside from that, she said, Shibarium Spaces was created for discussions of all that is happening in the SHIB ecosystem now, Shiboshis rewards and an "upcoming surprise". She did not shed any light on what the latter might be, though.
Does Vitalik or Sandeep Nailwa provide constant updates?

Why do #SHIBARMY keep feeling the need for @ShytoshiKusama to talk to them?

March 11, 2023 - Shibarium Beta has been launched on the testnet

April 10 - https://t.co/dGVPmgdaak update on Metaverse

Since then, me & the… https://t.co/trz0jiQYK6

— 𝐋𝐔𝐂𝐈𝐄 (@LucieSHIB) May 8, 2023