As the Shiba Inu community keeps asking when the Shibarium mainnet will be finally released, some have been wondering the same about the "Shibarium bridge" feature, whose development was announced recently.
One of the admins of the official "Shibarium Tech" channel on Telegram was there when these questions began to pour in, his response to them somewhat reminds readers of the lead developer Shytoshi Kusama last year answering "wen Shibarium" with "very soon."

"Multiple things to come, wait for announcements"
When asked whether there is any major news, the Shibarium admin under the nickname "Someone smart (maybe)" in the Telegram group said, "yes, very soon." However, persistent users tried to get some details from him, to which he responded that these would be "multiple things, can't say now so wait for announcements."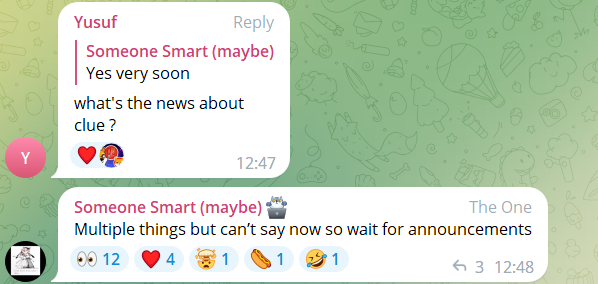 Image via Telegram - "Shibarium Tech"
Users reminded the admin about the promised Shibarium bridge and asked if there would be an AMA (an acronym for "ask me anything") with the developer team next week.
The building of the Shibarium-Ethereum bridge was announced at the end of May by Twitter user @LucieSHIB, who is a content marketing specialist for the Shiba Inu team. The bridge is expected to allow a seamless transfer of Shiba Inu from Ethereum to the new network.
Shytoshi Kusama responds to "wen Shibarium"
As reported by U.Today earlier, in the above-mentioned Telegram channel, SHIB fans began asking SHIB lead Kusama about the news of the release date of Shibarium. Some reminded him that he stated in January that things would come "before May."
In response, Shytoshi stated that those words were taken out of context, and this is why he has stopped focusing on dates regarding SHIB-related projects.
Shiba Inu price performance
Over the weekend, the price of second biggest canine cryptocurrency Shiba Inu fell by over 10% following the 5.64% drop of Bitcoin and the 3% slump in Ethereum's price.
Besides, there were $120 million worth of liquidated crypto positions over the weekend; traders began locking in their profits after a fruitful week with meme coins, PEPE in particular, which surpassed $2.7 trillion in trading volume on spot exchanges on Friday and Saturday.
However, since then, the trending meme coin went down by around 50% from its all-time high of $0.000004354 reached on May 5.
PEPE was released to the market in April by an anonymous team and is believed to have no utility and be simply a meme coin inspired by the Pepe the Frog character. This seems a purely speculative asset, while SHIB already has Shibarium beta Puppynet behind it. The team is also working on metaverse, a customized cold wallet, and has already launched mobile game Shiba Eternity.