According to IntoTheBlock data, Shiba Inu's large holders' inflow has jumped a staggering 2,210%. This increase represents growth in the last seven days.
The Large Holders Inflow metric from IntoTheBlock tracks funds flowing into addresses belonging to whales or large holders on a weekly, monthly or yearly basis.
A spike in significant holder inflows could indicate one of two things: first, large-holder inflows can signal market bottoms because major addresses or whales prefer to buy in bulk after significant price declines.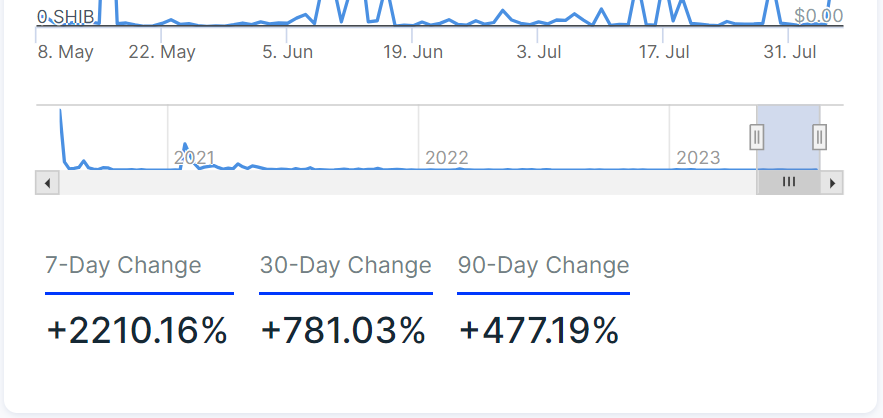 Second, a substantial increase in large-holder inflows may indicate that strong buying activity is taking place. This is possible because many of these addresses buy on centralized exchanges and subsequently transfer their purchases to cold storage.
Both scenarios seem plausible, as SHIB is currently experiencing a price drop due to profit-taking. After a massive spike on Aug. 5 to highs of $0.0000105, Shiba Inu witnessed a price drop as investors took gains.
At the time of writing, SHIB was down 4% in the last 24 hours to $0.000009. Crypto data tracker Whale Alert spotted massive movement in SHIB tokens in the last 24 hours.
A whopping 8.7 million SHIB tokens have been shifted between whales' wallets, per Whale Alert data.
A single transaction saw 4,382,252,578,938 SHIB tokens worth $40,064,744 between wallets. Another 4,412,252,578,938 SHIB tokens worth $40,672,144 moved between wallets.
The Large Holders Netflow indicator shows how whales and investors' positions have changed. Netflow spikes may indicate accumulation from major holders or whales, while declines may indicate reduced positions or selling.
Netflows fell by -3,354% in the last seven days as whales cut their positions, whereas this increased by 3,172% in the last 30 days.